Genshin Impact Moonlight Merriment Guide: How To Get 100% Moonlight Seeker Completion
The Genshin Impact Moonlight Merriment Event is up now. In addition to a Liyue food-themed story between heroines Xiangling and Keqing, the limited time event features a Moonlight Seeker and Trail of Delicacies questline.
These quests will reward you with Primogems and exclusive Moonlight Merriment content, so it's worth checking out before it's over on 11th October (12 days from now). Here are some guides for both event quests.
Genshin Impact Moonlight Seeker Event: How To Start It
You need to be at Adventure Rank 28 or higher and have completed Chapter 1 Act 3 – A New Star Approaches and Trulla Chapter: Act 1 – Mondstadt Gastronomy Trip main quests. Then, complete the Moonlight Merriment Part 1 questline and then the Many Matters of the Moonchase Festival questline to get started.
Once you have enough Moonchaser points from the Moonlight Seeker and Trail of Delicacies quests, you can access the second and final part of the Moonlight Merriment questline.
Moonlight Seeker: How To Get 100% Progress
The Moonlight Seeker will have you being tasked by Linyang in Liyue Harbor to find all the Moonchase Charms and Mystmoon Chests. We'll start with the Path of Stalwart Stone, as the other two paths aren't open yet until later this week and the next.
You can talk to Linyang to get some locations of the charms and chests, but you have to find the majority of them on your own. For now, you can find all of them at Qingyun Peak, around the giant-as-heck lake on the west.
Path of Stalwart Stone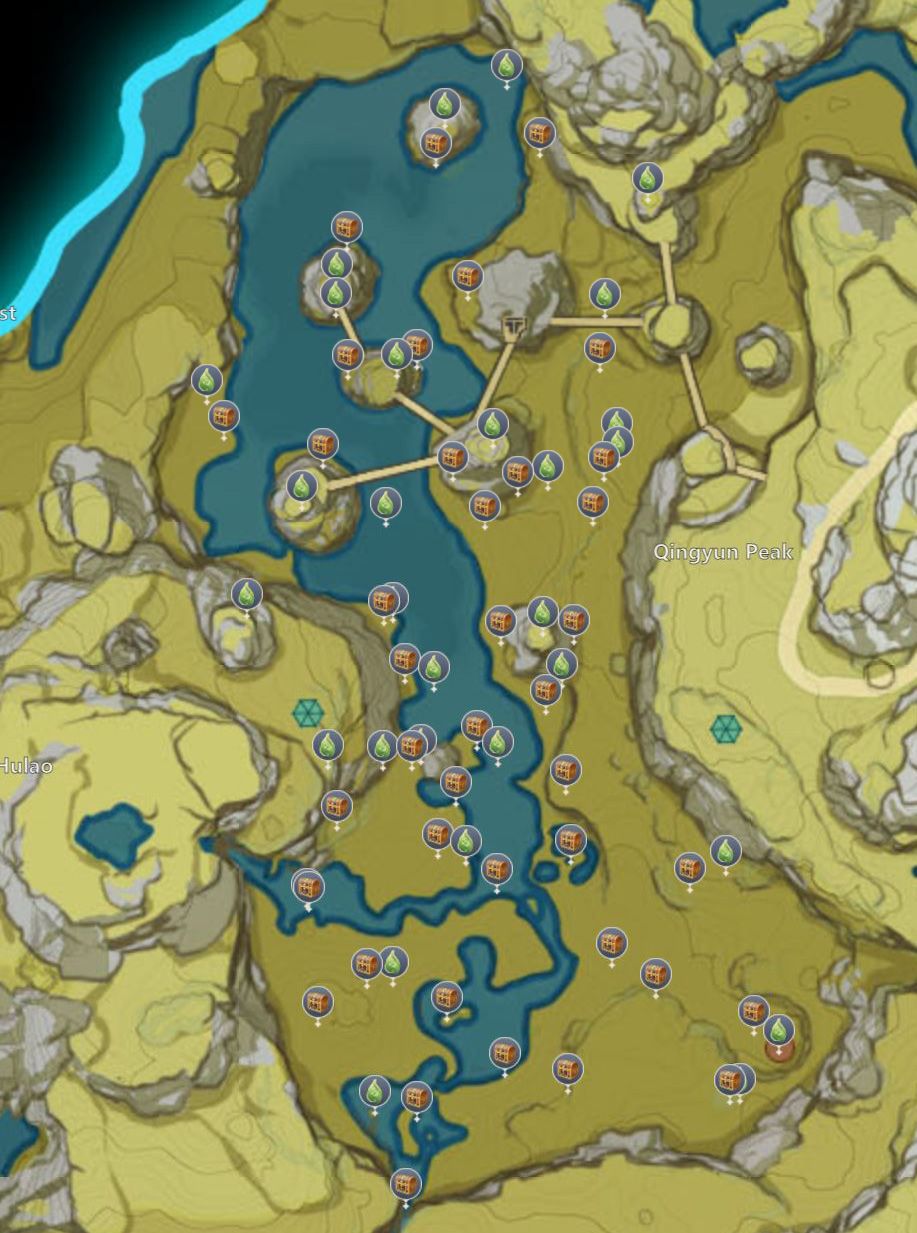 Getting 100% completion will reward you with the Moonlight Seeker event-exclusive weapon, the Luxurious Sea-Lord claymore. The special claymore has the following stats:
Base ATK:Â 41
ATK:Â 12.0%
Oceanic Victory:Â Increases Elemental Burst DMG by 12%. When Elemental Burst hits opponents, there is a 100% chance of summoning a titanic tuna that charges and deals 100% ATK as AoE DMG. This effect can occur once every 15 seconds.
Path of Gentle Breeze (via Game8)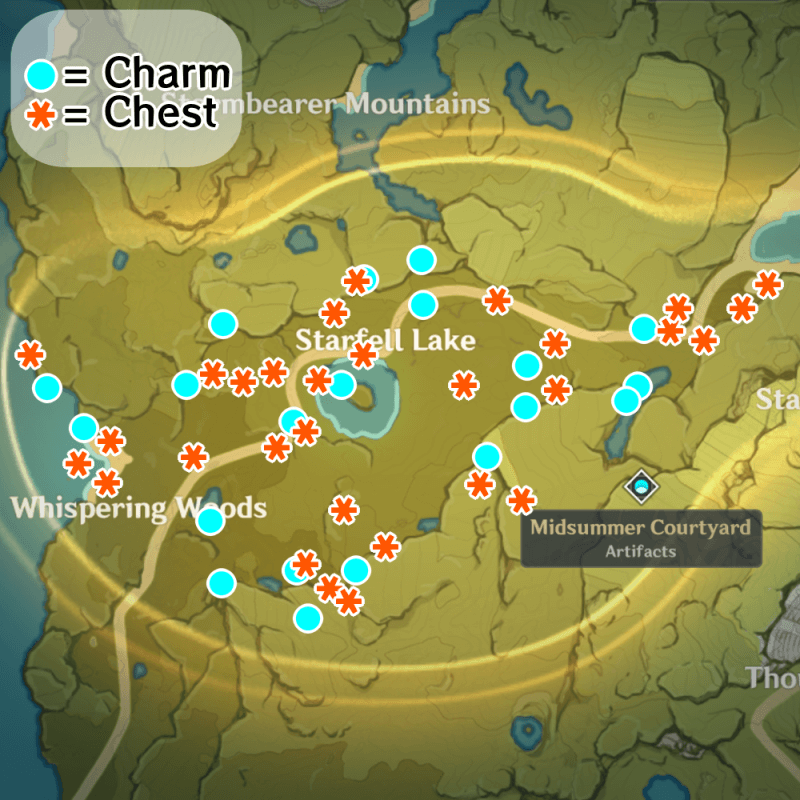 Path of Austere Frost (via Game8)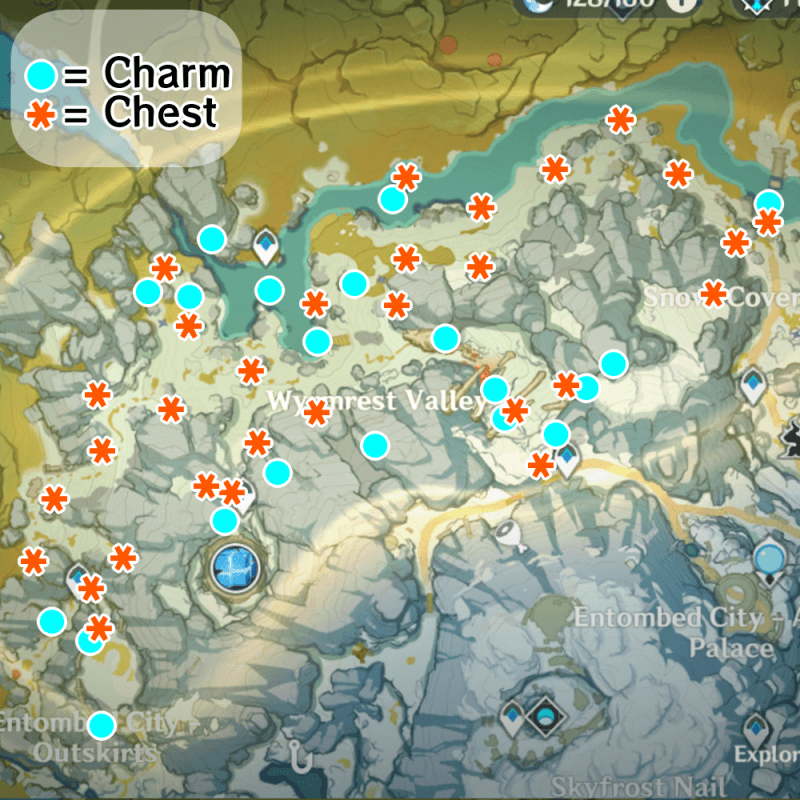 Trail of Delicacies: How To Complete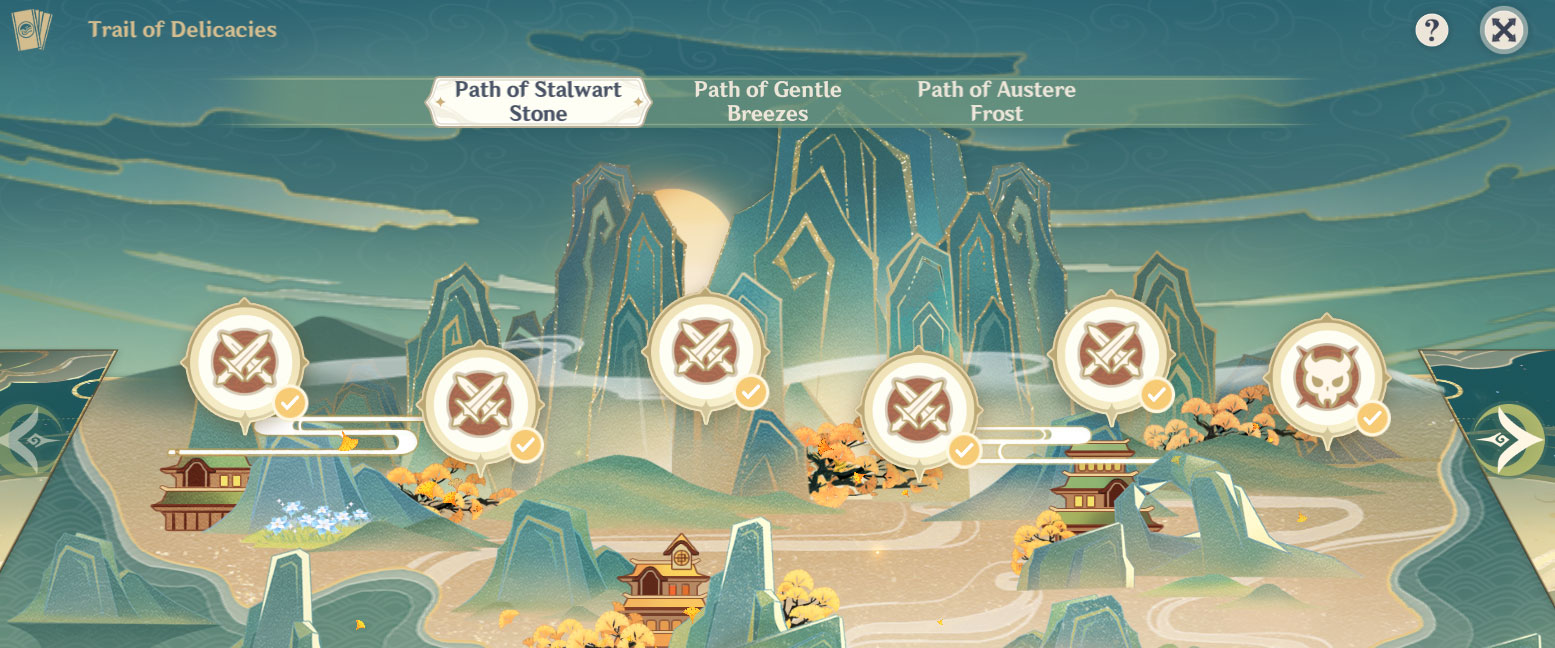 The Trail of Delicacies quest is a slew of fights against enemies in Liyue. Basically, you head to the designated area, kill off the enemies there, then proceed to the next one until all six bouts are complete.
The catch? There will be special rules in all the fights. For the Path of Stalwart Stone, the camp Leader's HP will restore a large amount of HP after 10 seconds if its HP falls under 30%. Fortunately, you can offer delicacies to get buffs for the whole bouts per path.
The dishes you can offer are Delicious Grilled Tiger Fish, Delicious Mora Meat, Delicious Almond Tofu, Delicious Crystal Shrimp, and Delicious Golden Shrimp Balls.
Here are the buffs & rewards you can get:
Offered 2 Delicacies: During the challenge, your own party members will gain 30% ATK for 10s upon using an Elemental Burst. Max 4 stacks, each stack has an independent duration.
Offered 4 Delicacies: During the challenge, all your own party members' Shield Strength is increased by 60%.
Offered 5 Delicacies: get 2x Hero's Wit and 20,000 Mora.
Path of Stalwart Stone Fights