It's been almost a year since the hit online RPG Genshin Impact has been out. The game is now on its 1.6 update and features a ton of colourful characters to gacha for with Primogems.
From Pyros to Cryos, here is the updated tier list featuring all the latest heroes. Just keep in mind: tier lists are subjective; your base characters can still get you through a lot of the game's content, though not as quick and as efficient.
Genshin Impact Character Tier List
SS Tier
Ayaka, Kazuha, Zhongli, Ganyu, Hu Tao, Raiden Shogun, Yelan, Bennett, Xiangling, Nahida
Ayaka – The Cryo Sword user may not have the best damage output, but she has everything else skills and Element Burst-wise.
Kazuha – If you like damage, the Anemo Sword user ronin is your guy. Put him in a team that focuses on Element Reactions, and watch the numbers skyrocket.
Zhongli – His past update in 1.3 still stays; he's the best defense-heavy Geo user right now. His damage is just as great as most S-tier and A-tier characters in the list, but his Jade Shield is the standout skill for him.
Ganyu – This Cryo archer is not only one of the best DPS characters for that element, but also one of the best damage dealers in the game, period.
She provides consistent Cryo AoE damage with Trail of the Qilin and Celestial Shower, as well as increased crit rate from her passive, Undivided Heart. Just watch the video above for visual proof of her skills.
Hu Tao – Wansheng's polearm-wielding Funeral Director Hu Tao hits like a truck on fire. Literally. Not only does she deal massive Pyro damage with her Elemental Skill and passive, but her burst, Spirit Soother, inflicts AoE Pyro damage and heals her when it hits.
Raiden Shogun – She may deal less damage, but her support Electro abilities let her build a ton of energy for her other DPS pals to use.
Yelan – Essentially a five-star version of Xingqiu, but with more hit points and has better DPS overall.
Bennett – A great four-star support character who is better at his job than his backstory lets him out to be. He can use his Elemental Burst for healing, has a decent attack buff, and acquires Pyro infusion after unlocking Constellation 6. He goes well with Pyro DPS characters like Diluc or Klee due to that 25% attack boost from Elemental Resonance.
Xiangling – One of the better Pyro 4-star characters due to her auto-targeting fire-breathing teddy bear and useful Elemental Burst.
Nahida – This brand-new 3.2 character synergizes with everyone in the roster. She can't do much on her own, but her abilities can power up every other person in your party.
S Tier
Xiao, Albedo, Klee, Tartaglia, Venti, Mona, Keqing, Kokomi, Itto, Ayato, Eula
Xiao – Yet another Anemo character with crazy DPS abilities.
Albedo – This alchemist's key ability Solar Isotoma provides a consistent source of AoE Geo damage, a fast cooldown, and produces elemental particles to fuel other abilities. It also creates a raised platform that your characters can use for plunge attacks, or to rain destruction from above, wonder Klee likes him so much.
Klee – This little girl can bring in the boom. Klee is one of the best Pyro DPS characters due to the high AoE damage her attacks inflict. Her Elemental Burst, Sparks 'n' Splash, is similar to Xingqiu's except inflicting Pyro damage, so much so that if you pair them you can keep triggering Vapourize on foes.
Childe/Tartaglia – The hybrid polearm-and-bow user is versatile. oul Legacy: Raging Tide allows him to switch weapons and his Elemental Burst, Havoc: Obliteration, is a strong Hydro AoE that changes depending on weapon stance. His only real drawback is the lengthy cooldown for switching between stances.
Venti – A veteran from the first iteration of the game, the tone-deaf bard is still a powerful Anemo character even with the tweaks and buffs the rest of the cast received up to 1.6. He can use his Elemental Burst to summon an AoE damage hurricane that sucks in enemies and absorbs other elements to trigger Swirl. This makes Venti play a versatile support role for most damage-dealing characters.
Mona – This astrologist is a great source of Hydro damage who comes with kiting kits and traps that can bring in the damage. She can also become water while dashing; that's a nice touch.
Keqing – She's the best Electro damage dealer out there despite going down a tier. Her fast attack pattern and Stellar Restoration skill allow her to move quickly between opponents, but also infuse her blade with Electro for Elemental Reactions.
Kokomi – The addition of Dendro makes this healer more relevant and useful than before, especially when dealing with bleed effects.
Itto Arataki – Probably the only Geo character with high defense and damage. His party may need more support abilities to complement his playstyle though.
Ayato – Not as good as her sister, but still a great primary DPS character.
Eula – She deals great damage and is the fastest Claymore user in the Genshin Impact roster, as well as deal AoE damage better than most. Vengeance is strong with this one.
A Tier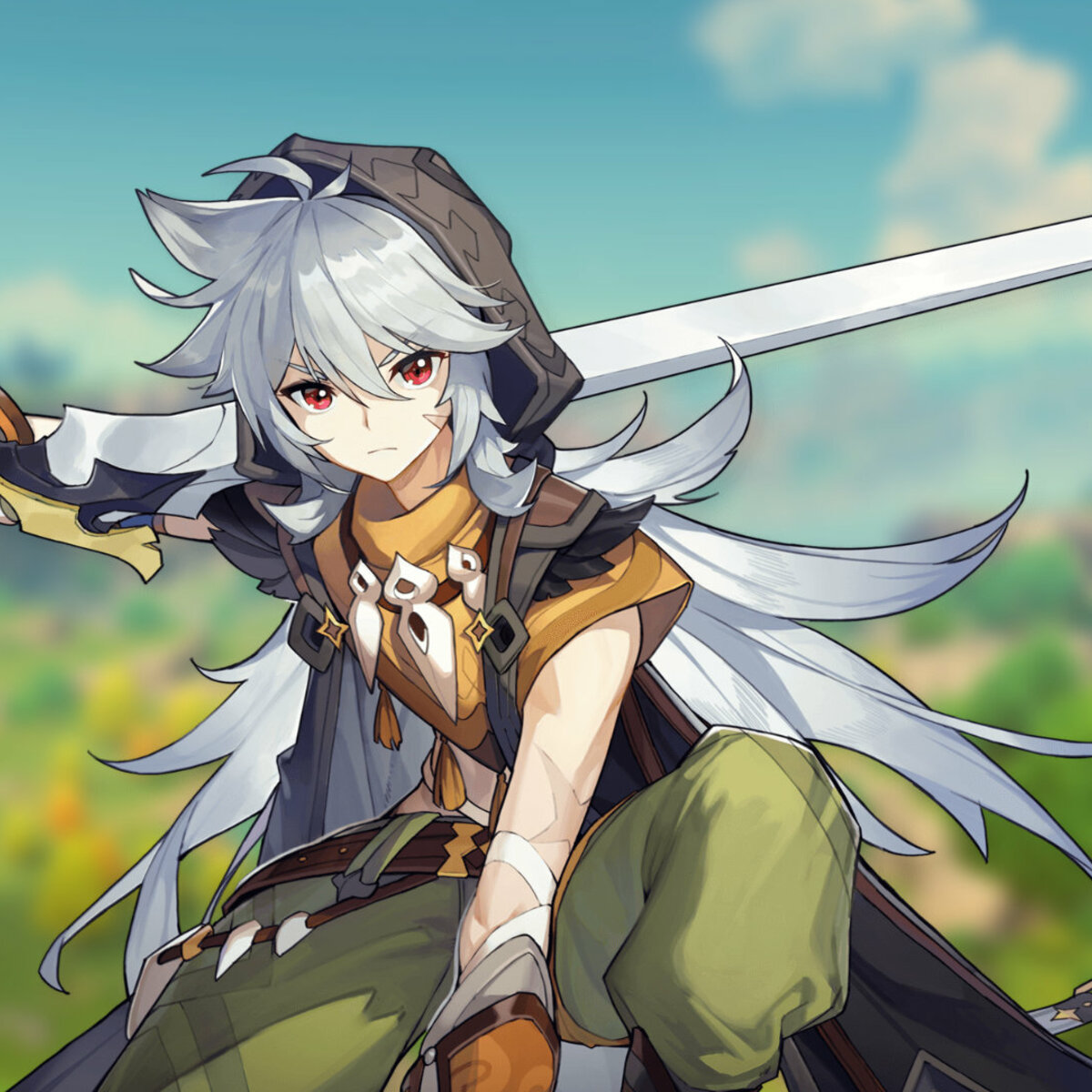 Razer, Jean, Rosaria, Yanfei, Fischl, Barbara, Yoimiya, Thoma, Yae Miko, Diluc, Tighnari, Cyno
Razer – You don't need a 5-star DPS character if you have this guy around, at least in the early parts of the game or if your gacha luck is bad.
Jean – Since Jean's healing is based on her attack stat, she's a strong support and DPS rolled into one. Dandelion Field provides a powerful AoE healing burst, while her passive, Wind Companion, keeps your party topped off, as every time Jean attacks there's a 50% chance everyone gets a heal.
Rosaria – She's versatile enough to be in any party, given her 4-star status.
Yanfei – She's discount Klee. But she can offer a consistent source of ranged Pyro to pop off those Elemental Reactions. Pair her with Xingqiu's burst to Vaporize anything.
Barbara – The songstress deacon is still pretty top-tier if you gacha'ed her into your group. It's just that other folks have been getting buffed up. All in all, a great healer who lacks damage and utility bits like Jean and Bennett.
Fischl – Still the OG Electro damage dealer even at 4-star status. If her constellation is built up to max, her damage output can do wonders.
Yoimiya – Not the best DPS character, but her damage and AoE abilities are still noteworthy.
Thoma – He's best as a shield support character than anything.
Yae Miko – She got better thanks to Dendro elemental; her Electro support abilities work well with a DPS party.
Diluc – Still one of the better DPS and damage dealers out there, despite others already at the top seat.
Tighnari – His Dendro abilities open up possibilities for better Elemental Reaction builds.
Cyno – A good Electro damage dealer.
B Tier
Xinyan, Sucrose, Diona, Xingqiu, Sayu, Kujou Sara, Gorou, Yun Jin, Shenhe, Heizou, Candace, Nilou
Xinyan – Discount Diluc. 'nuff said. She's pretty decent if you need a Pyro DPS.
Xinqiu – A lovely support character. He can summon damage-reducing swords that heal, and his Elemental Burst follows up attacks with rain swords that inflict Hydro damage.
C Tier
Noelle, Lisa, Kaeya, Traveler, Nigguang, Beidou, Qiqi, Aloy, Kuki Shinobu, Collei, Dori, Layla, Amber
Noelle – Best go-to Geo tank if you don't have Zhongli. Her recent buffs and game mechanic changes means her self-made barrier is more useful than ever.