By Alleef Ashaari|November 25, 2021|
The spice is life, as Dune is set to start streaming on HBO GO from 2 December 2021.
Denis Villeneuve ("Arrival," "Blade Runner 2049") directs Dune, the big-screen adaptation of Frank Herbert's seminal bestseller of the same name. Dune tells the story of Paul Atreides, a brilliant and gifted young man born into a great destiny beyond his understanding, who must travel to the most dangerous planet in the universe to ensure the future of his family and his people.
Set thousands of years in the future, Paul Atreides, the son of beloved, embattled ruler Duke Leto and powerful warrior priestess Lady Jessica, will be given the ultimate test: to conquer his fear when fate—and powerful unseen forces—pull him inexorably to the sands of the remote planet Arrakis.
Arrakis; home to an indigenous human civilization called the Fremen and known to these natives as Dune, has been fiercely contested for generations. Humanity fights for control of the Spice, a rare, highly valued, mind-expanding natural resource upon which space travel, knowledge, commerce and human existence all rely. But those seeking to harvest the Spice must survive the planet's inhospitable heat, hurricane-strength sandstorms, and monolithic sandworms that are justly feared with the kind of reverence usually reserved for gods.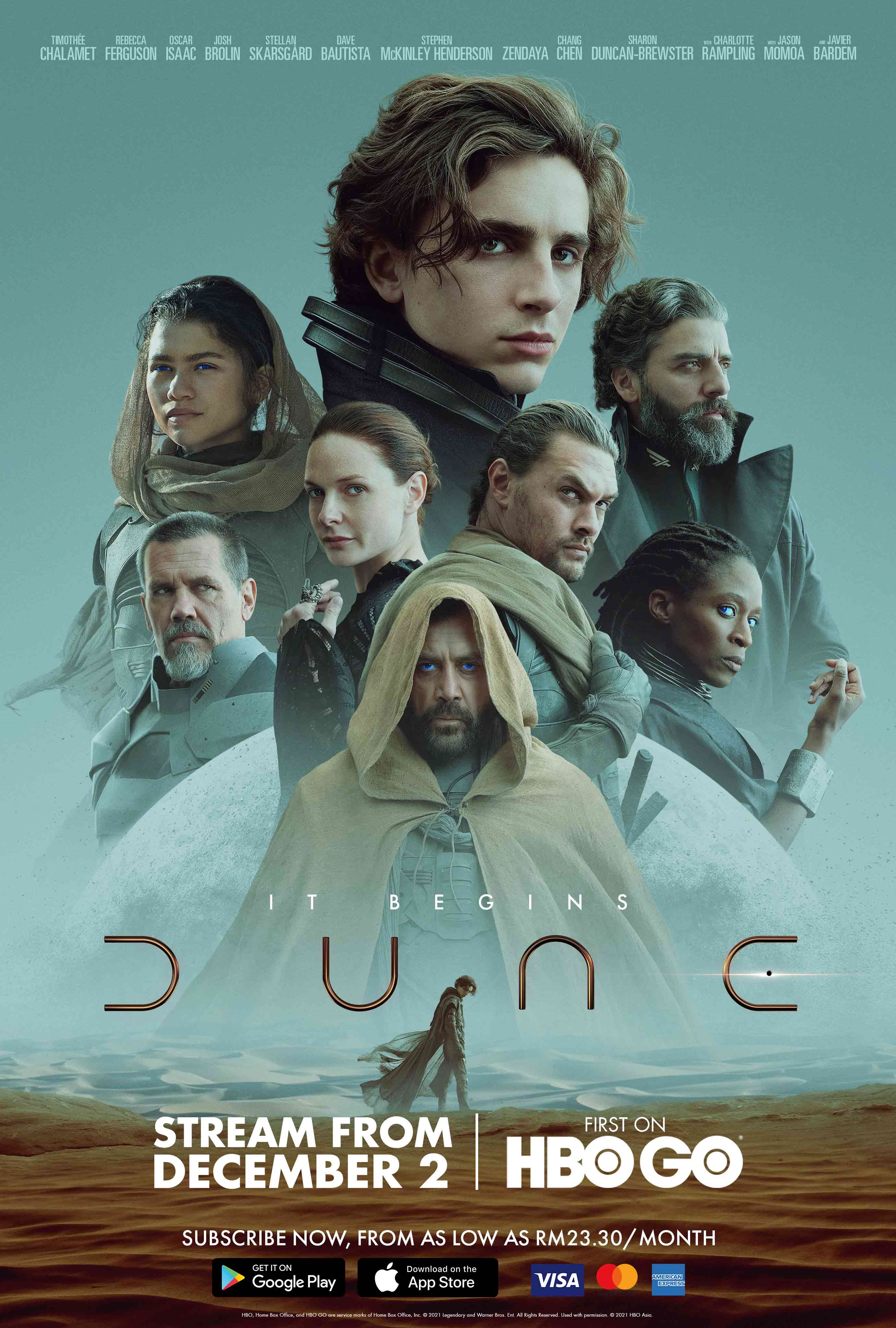 The film stars Timothée Chalamet, Rebecca Ferguson, Oscar Isaac, Josh Brolin, Stellan Skarsgård, Dave Bautista, Stephen McKinley Henderson, Zendaya, Chang Chen, David Dastmalchian, Sharon Duncan-Brewster, Charlotte Rampling, Jason Momoa, and Javier Bardem.
You can stream Dune by subscribing to HBO GO online at https://www.hbogoasia.my/ or the mobile app via the App Store or Play Store for as low as RM23.30/month. HBO GO is also available on Android TV, Apple TV, LG TV and Samsung Smart TV – and comes with AirPlay and Google Cast functionality.
Dune Part One turned out to be one of the best movies of 2021 and you can check out my full review of the movie by heading over here. The movie has already garnered over US$366 million globally to date. Warner Bros has already greenlit a sequel, which is slated to arrive in 2023.
Related