HBO GO & Cartoon Network Celebrates Harry Potter's 20th Anniversary With Movies & Merch
Break out your wands and ready your best spells, charms and potions as Cartoon Network and HBO GO mark the 20th anniversary of the film Harry Potter and the Sorcerer's Stone.
For the very first time, the first four of the Harry Potter 8-movie series will air on Cartoon Network (Astro Channel 615) every other weekend, starting with the one that started it all on Saturday, November 13 at 8pm. Mark these dates to follow the amazing tale of The Boy Who Lived and his battles against Voldemort:
Harry Potter and the Sorcerer's Stone, on 13 November 2021
Harry Potter and the Chamber of Secrets, 27 November 2021
Harry Potter and the Prisoner of Azkaban, 11 December 2021
Harry Potter and the Goblet of Fire, 25 December 2021
All movies are also available to stream on HBO GO. The final four titles will debut on Cartoon Network in early 2022.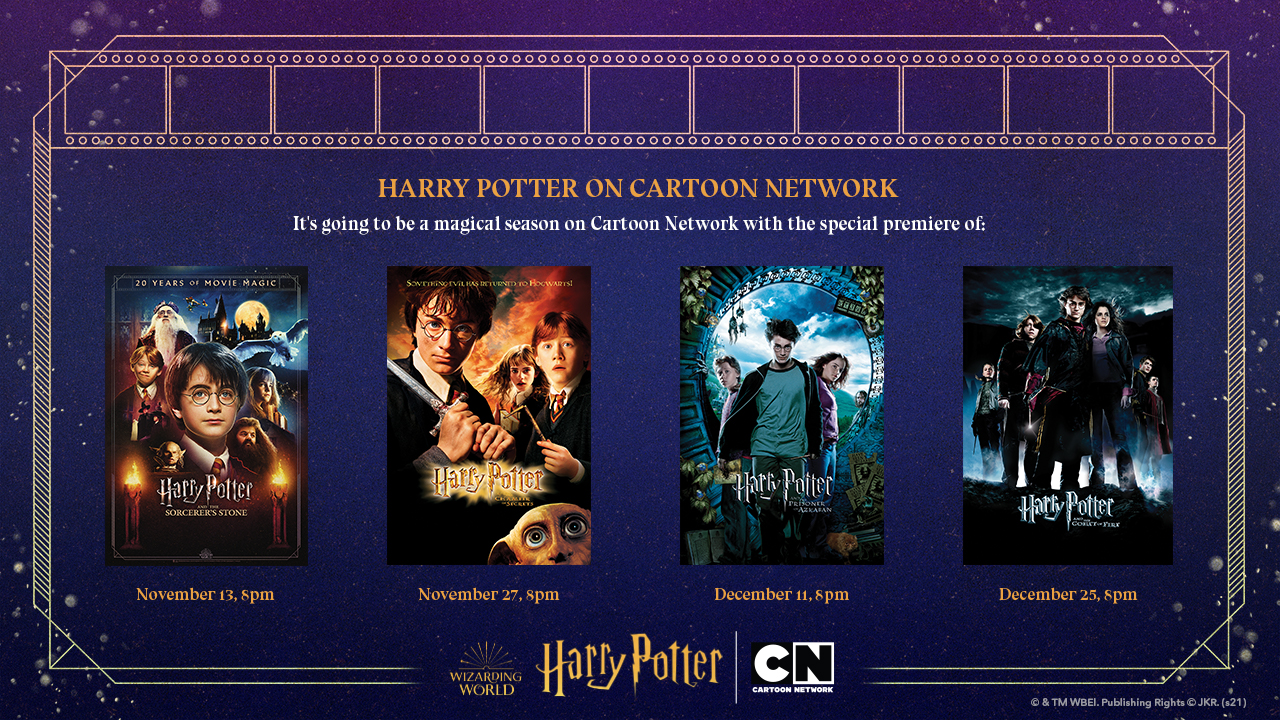 And if that's not enough magic for you, check out the brand-new Wizarding World competition event, Harry Potter: Hogwarts Tournament of Houses, which streams on Monday, 29 November 2021, exclusively on HBO GO.
The show, hosted by Academy Award-winning actress Helen Mirren, continues the Wizarding World spirit showcasing ultimate fan glory on a never-before-seen scale. Featuring hundreds of trivia questions and special guest surprises, this unforgettable event of a lifetime will unveil which fans know the vast, intricately detailed universe like the back of their hand as they compete to take home the Tournament of Houses championship trophy.
Here's what else fans can look forward to before the end of the year and remember to follow and share all the excitement on social media with #20YearsofMovieMagic.
Discover More Magic Online
Fans are also invited to visit HarryPotterMovie20.com, and unpack exclusive content from the most iconic moments of the movie that started this global theatrical phenomenon.
Reminisce from the first film, test your knowledge with a host of quizzes, catch a glimpse of the work behind the scenes and learn more about everyone's favourite boy wizard and his friends, fantastic beasts, magical items and so much more. Packed with fascinating facts and features, the site will make you fall in love with the Wizarding World all over again!
Fans will also be able to see if they've got the skills to be a seeker by trying out the new "Catch the Snitch" Wizarding World Instagram filter.
[videopress 7ngpr7ix]
Top Up Your Hogwarts Trunk
Also, don't miss the chance to grab some can't miss collectibles, together with toys, accessories and DIY kits to transform your home and bring the Wizarding World to life, in your own special way.
In Malaysia, get ready for spellbinding adventures with Spin Master this year-end by checking out its Wizarding World collection of wands, playsets and dolls launching in November.
If you are looking for activities to spend with your loved ones, Mattel has launched its special edition board games – Harry Potter Scrabble and Harry Potter Pictionary Air.
For more details and information, head on over here.