Developer Slolap previously delayed Sifu from its previously planned 2021 release window to early 2022 back during the PlayStation State Of Play July 2021. Now, they have finally announced that Sifu will release for the PS4, PS5 and PC via Epic Games Store on 8 February 2022.
Sifu is a stylish yet gritty beat-em-up, featuring visceral hand-to-hand combat in a contemporary urban setting. Sloclap is best known for the indie fighting game Absolver.
Sifu tells the story of a young Kung Fu student who has spent their life training for a day of reckoning after the brutal murder of their entire family by a mysterious assassination squad. Hunt down the murderers one by one as you explore gang-ridden suburbs, hidden corners deep within the city, all the way to the cold hallways of corporate towers.
The game features the Structure system, to emulate the real combat notion of impacting and breaking the stance of your opponent, his ability to attack and defend himself. It takes the form of a gauge, for both you and your enemies.
If you manage to break your opponent's structure, you will be able to finish them with a powerful takedown, which is the opportunity to display the devastating techniques of Pak Mei. But if your own structure gauge is filled, you're unable to fight and defend yourself for a short duration and you will find yourself vulnerable to your enemies' attacks.
Blocking attacks will quickly fill your balance gauge, and dodges will allow you to create space at key times and can be lifesavers. But more importantly, parrying hits at the right time will let you deflect the blow, unbalancing your opponent and opening opportunities to counterattack or to throw them down.
You can also avoid blows altogether, by ducking under or jumping over incoming strikes. It is particularly useful against strong hits that you can't parry or to quickly recover balance and strike back at your opponent.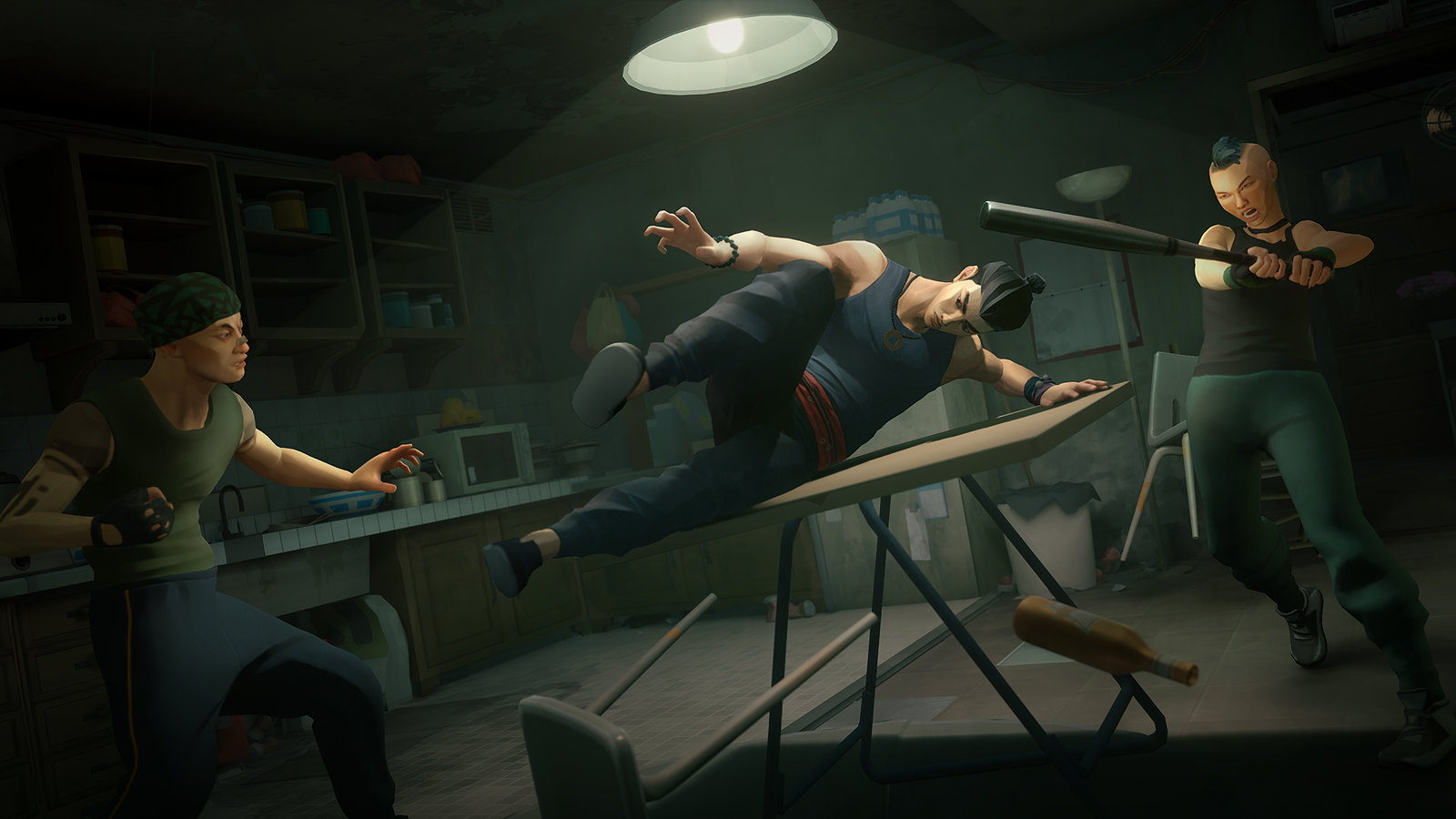 You can mix strong and fast attacks to build combos, on a single enemy or go from one opponent to the other. And as you progress and unlock new skills, you will have more options available to fit your playstyle and how you like to approach challenging situations. You will be able to knock your enemies down, push them back into their allies, stun them or disarm a threatening foe. It will be particularly useful as you start fighting more and more opponents at the same time.
The developer has chosen to use a dynamic lock system for the camera, to allow for quick and responsive swapping between multiple targets. The game has been optimized for a stable 60FPS frame rate on PS4, as well as on PS4 Pro and PS5.
Besides that, players will have to make clever use of the environment such as using the furniture you can toss into your enemies' feet, throwable items, makeshift weapons or tables you can leap across.
Last but not least, players will be able to rely on precise and powerful techniques through the focus mechanic. Focus is a resource that builds up as you fight, filling up charges that you will progressively unlock during your playthrough. Using a focus charge will slow down time and allow you to choose a weak point of your opponent to perform a devastating technique, disabling or seriously wounding your enemy. Players will be able to access different focus attacks as they unlock new skills, allowing them to adapt to specific situations they struggle with.
You can check out how the combat in Sifu works by watching the video below: