Gaming laptops are sure getting sleeker by the generation, with Alienware's latest being the apex so far. The Alienware x15 is slim, easy on the eyes, and radiates with its whiteness. It boasts a multitude of processing power, with a four-fan cooling system and custom thermal material* that manages the Intel Core i7-11800H and NVidia GeForce RTX 3070 combo.
It also throttles pretty high, to the point where you feel like your fingers can melt off as you're using the laptop keyboard. We'll get to that in a bit.
Packing A Punch
Much like a Dwarf Fighter in a D&D campaign, its size doesn't showcase how powerful it truly is. We ran a number of titles like Battlefield 2042, Borderlands 3, and Halo Infinite on the highest settings possible, and they all ran perfectly with 60-72 fps with the highest graphic setting possible. The PC isn't completely noisy, and there's an option to overclock it on the fly if you want your games to run beyond 60fps while still maintaining its Ultra or Epic fidelity. I'm still amazed that Dell crammed in a powerful Nvidia GeForce RTX 3070 into its body.
Unlike the dwarf mentioned, the Alienware x15 is pretty. It's very easy on the eyes with its sleek white exterior, thin chassis, and "non-gaming peripheral" look. It's also svelte and light to carry around. Even if gaming laptops require you to run it plugged into a power source almost every time, you can still use it as a temporary work companion outside your home, as long as you've turned on power-saving mode and not run any triple-A game.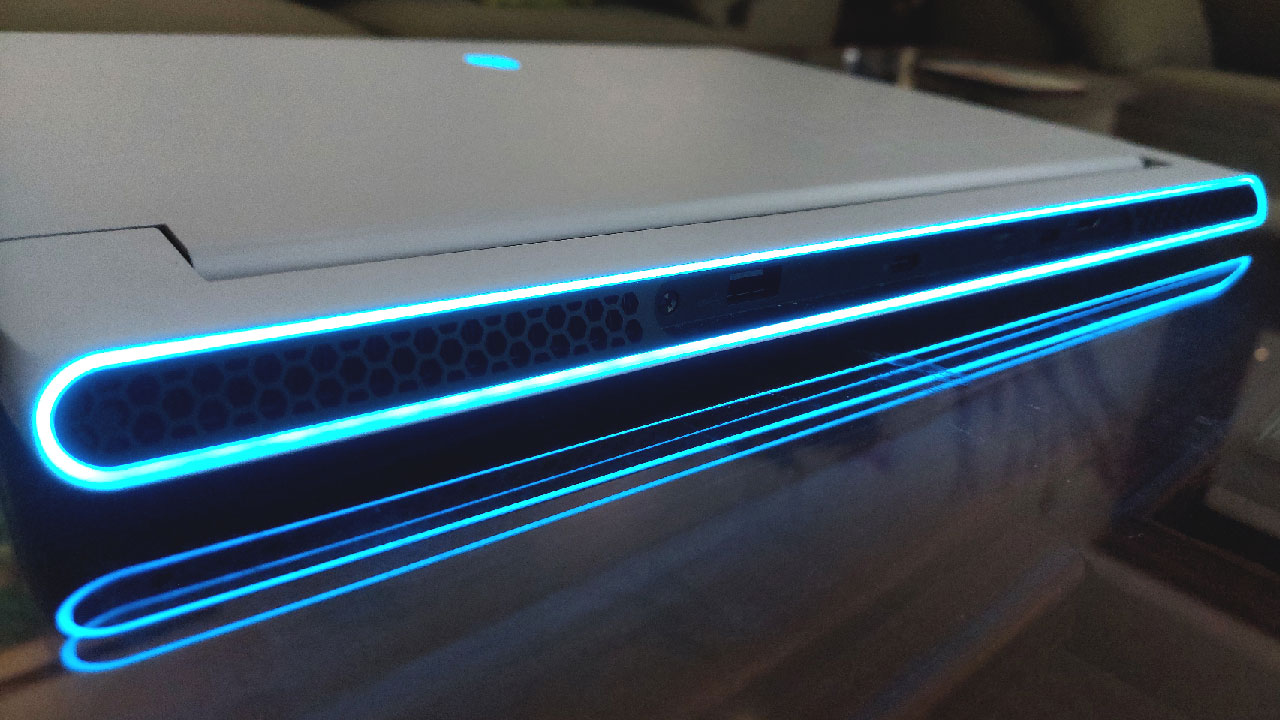 The design is also practical too: the minimalistic look means that only required ports are needed: one USB port, two USB-C port (one of them for power-supplying), a mini-SD card slot, and an HDMI port. It still has a headphone jack on the side for your audio needs, and you get a USB-C Ethernet cable adaptor because real gamers do not use Wi-Fi (though there's the option). It probably needs one more USB slot, but the ones on this sleek beast of a laptop get the job done.
Hot Stuff
As will all gaming laptops you need to plug into power sources for super effectiveness, the x15 gets hot really fast if you're running a high-end game. However, this Alienware laptop boasts a special thermal interface material called Element 31 which lets you play games at a stable frame rate with high fidelity settings.
So that asterisk you saw on the first few paragraphs? Turns out that the basic versions of the Alienware with the 3060 graphics card do not get the Element 31 compound. We had a hot time with the laptop to the point where keystrokes on the keyboard had a bit of tinge to them. It doesn't help that the keypad can get stiff and will need some time for folks to readjust to. I can't tell you how Element 31 panned out for the x15, but I wager it would have cooled down the laptop quite a bit.
You also don't need me to tell you that the x15's speakers are pretty standard. So make use of the laptop's headphone jack for your earpiece of choice.
The Alienware x15 is a sleek-looking and beautiful gaming laptop that also talks the talk. It tends to run its mouth to the point of overheating, which can be a burden to some who want to game on their laps. As a portable desktop replacement that you can plug in 24/7, using your own keyboard and mouse setup? It's sublime, especially if you have the cash to burn on 1440p resolution gaming on the go. It's going for RM9,407, if you must know.
Pros
Sleek and attractive design.
Powerful.
Great 1440p display.
A good number of ports.
Cons
Runs hot and wild.
Special thermal compound only for 3070 version.
Standard speakers.
Final Score: 80/100
---
Vital Statistics
Price: RM9,407 onward
CPU: Intel Core i7-11800H
Graphics: Nvidia GeForce RTX 3070 Laptop GPU (8GB GDDR6, Max-Q, 110 W Max graphics power, 1,365 MHz boost clock)
Memory: 16GB DDR4-3200
Storage: 512GB M.2 PCIe NVMe SSD
Display: 15.6 inches, 2560 x 1440, 240 Hz
Networking: Killer Wi-Fi 6E AX1675 (2×2) MIMO 802.11ax, Bluetooth 5.2
Ports: USB Type C 3.2 Gen 2, Thunderbolt 4 over USB Type-C, micro SD card slot, USB 3.2 Gen 1 Type-A, HDMI 2.1
Camera: 720p
Battery: 87 Wh
Power Adapter: 240 W
Operating System: Windows 10 Pro
Dimensions(WxDxH): 14.16 x 10.92 x 0.63 inches / 359.7 x 277.25 x 15.9 mm
Weight: 5.73 pounds / 2.6 kg
Related