Halo Infinite's Zeta Halo open-world map is a playground of combat (evolved) and destruction thanks to the signature first-person gunplay and its grappling hook mechanics.
And just like fun open-world areas, Halo Infinite is chock full of secrets from hidden Xbox consoles to Red vs. Blue in-jokes. Here's a list of them thanks to the many folks who worked so hard in finding these during the game's launch.
Craig's Album
Remember Craig, the Brute that launched a thousand Xbox memes on Halo Infinite's infamous gameplay debut? His concert venue is at the top of The Tower, which is the very first Zeta Halo story mission you'll come across. You can check out his vinyl album and his tour set when you're here.
Master Chief & Friends Plushie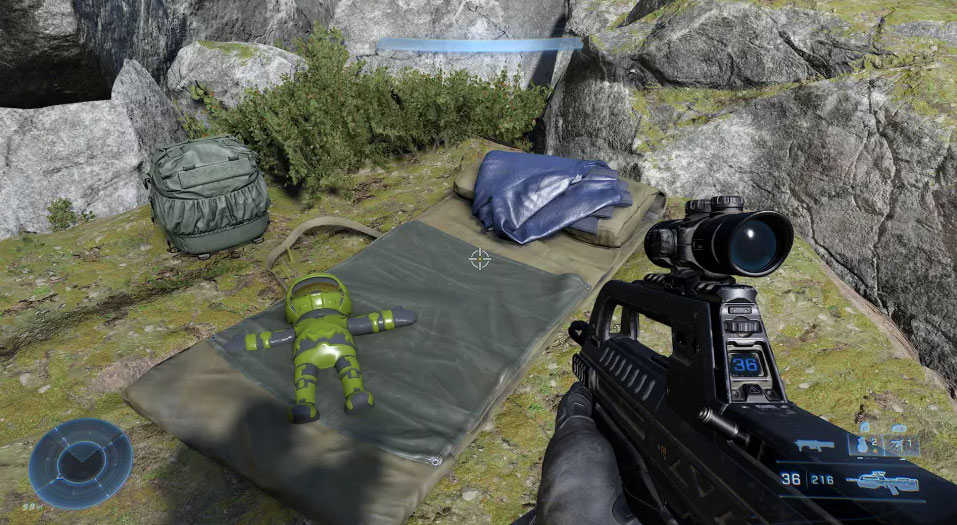 When you hitch a ride on the Pelican right after you first touched down on Zeta Halo, you;'ll be dropped onto a former UNSC base. From there, grapple up the side of a nearby cliff. You'll find a Master Chief, Arbiter, Pilot, and Grunt plushie next to a blanket. Aww…
The Halo Theme
To find this, just climb up the highest peak of Zeta Halo. This Reddit post will show you the best spot.
Unsure if it's been mentioned yet but I was climbing up the mountains to get a good view of Zeta Halo and possibly stumbled across an Easter Egg where it plays the main theme from halo
As soon as you are there, the Halo theme's signature Gregorian chants start up.
Rick & Morty Reference
During the campaign mission in The Tower, you will find a box that looks like a Mr Meeseeks box from the hit animated show Rick & Morty. It's hidden behind a grate along the outside edge of the room you circle on the way to the top.
Halo Arcade Machine
In a Forerunner room near a Spartan core is a made-up arcade cabinet of Halo. We dig the chiptune rendition here.
Metal Gear Solid Reference
Remember the PS1 Metal Gear Solid boss fight where you have to defeat Psycho Mantis by plugging your PS1 controller into the second port? Yeah it was bizarre. This nod made its way to Halo Infinite via some Grunt talk.
Red vs. Blue's Sheila the Tank
When the pilot drops off a Scorpion, there will be a random clip where he calls it Sheila. That's a reference to Red vs. Blue, the famous Halo machinima series that propelled Rooster Teeth to the animation juggernaut it is today. The 343 Industries devs also made an achievement called "Bring Sheila Home Safely" which involves you bringing the Scorpion in the "On The Road" mission all the way to the House of Reckoning.
Big Sandwich
An example of 343 Industries being goofy. This easter egg is located south of the Spire in the area of the map labelled Connections. To get to it, you'll need to grapple your way through a base and find it nestled in an isolated dark room within the cave.
Xbox Console
Halo Infinite has an original Xbox console tucked in Zeta Halo. Here's how you can find this treasure: you'll eventually go on a story mission that sends you to beacons scattered across the ring.
You have to travel through a hexagonal tunnel near one of the beacons. You'll spot a tiny hole in the roof: grapple up to get in a hidden cave, which looks like a UNSC Marine's secret gaming room. The original Xbox is there.
Related