Update: The Results for the entire tournament has been posted on this feature.
The Mobile Legends: Bang Bang World Championship (M3) will be held in Singapore once again from 6 to 19 December 2021, with 16 teams across the globe participating in the international flagship tournament.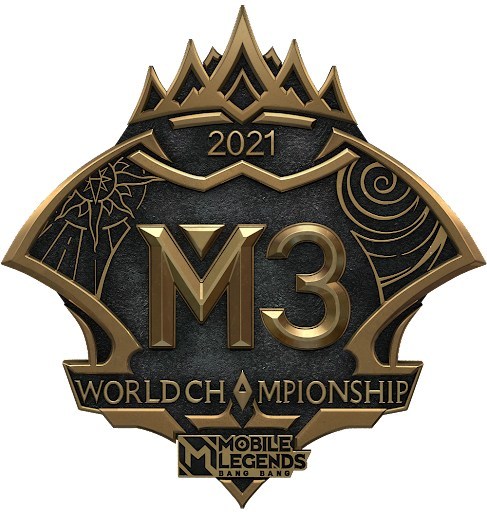 In its third iteration, M3 will see new regions such as the Middle East, North America, LATAM, and Turkey compete for the coveted title and a combined prize pool of US$800,000. The participating teams will be seeded into three pools, and further grouped into four different batches through a lottery to ensure that no teams from the same region will be in the same group. All teams will be competing offline. 
There will be new in-game campaigns introduced which fans will be able to find out more details in the coming weeks, such as:Â 
M3 Battle Pass

M3 Exclusive Skin
Guess the M3 winner
Lucas Mao, Managing Director of Esports,  MOONTON Games, said:
"We are thrilled to have M3 at Singapore again this year. The Singapore Tourism Board and local authorities have been working closely with us to produce a safe and hospitable event for all gamers. We are very much grateful for the  continued partnership, and we look forward to reaching new esports heights with M3."  
Jean Ng, Executive Director, Attractions, Entertainment & Tourism Concept Development, Singapore  Tourism Board said:
"We are excited to welcome the largest Mobile Legends: Bang Bang tournament back to Singapore this year. MOONTON Games confidence in hosting the M3 World Championship in  Singapore is a testament to our ability to execute events safely and reinforces our position as a world-class esports destination. We look forward to welcoming all qualifying teams to Singapore, and to connecting with fans and esports enthusiasts around the world." 
Travelling players, staff, and talent will serve out the entire quarantine period and undergo daily temperature checks and ART tests throughout the event. MOONTON Games will abide by local regulations to ensure the health and safety of all players and the community.
---
Mobile Legends M3 World Championship Teams
Group A (6 December)
Blacklist International (Philippines)
Red Canids Kalunga (Brazil)
Malvinas Gaming (Peru)
Bedel (Turkey)
Group B (7 December)
Onic Esports (Indonesia)
Onic Philippines (Philippines)
Todak (Malaysia)
Vivo Keyd (Brazil)
Group C (8 December)
Evos Esports (Singapore)
SeeYouSoon (Cambodia)
Na'Vi (CIS)
BloodThirstyKings (USA)
Group D (9 December)
Team SMG (Malaysia)
RRQ (Indonesia)
GX Squad (Middle East)
RSG (Singapore)
Mobile Legends M3 World Championship Format & Schedule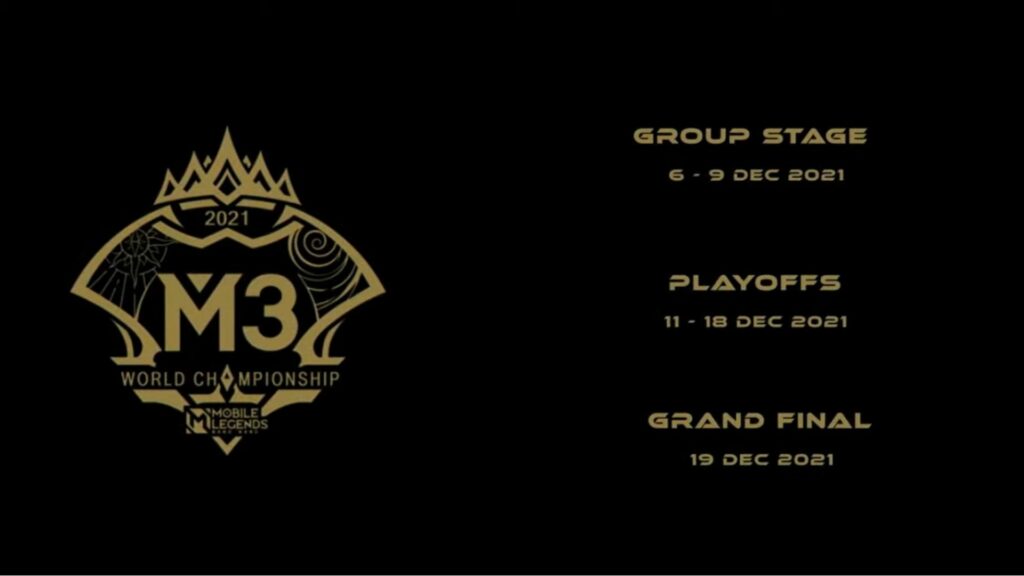 Group Stage
Group A: 6 December
Group B: 7 December, 2pm-7pm
Group C: 8 December, 2pm-7pm
Group D: 9 December, 2pm-7pm
Playoffs: 11-18 December
Grand Finals: 19 December
---
Where To Watch Mobile Legends M3 World Championship
You can head on over to the official YouTube channel here. We will be posting match archives and livestreams below.
Group Stage Day One
Group Stage Day 2
Group Stage Day 3
Group Stage Day 4
Playoffs Day 1
Playoffs Day 2
Playoffs Day 3
Playoffs Day 4
Playoffs Day 5
Playoffs Day 6
Playoffs Day 7
Playoffs Day 8
Grand Finals
---
Mobile Legends M3 World Championship Results
Playoffs
Blacklist International (US$300,000)
ONIC Philippines (US$120,000)
BloodThirstyKings (US$80,000)
EVOS SG (US$55,000)
TODAK (US$40,000)
RRQ Hoshi (US$40,000)
Natus Vincere (US$30,000)
Keyd Stars (US$30,000)
See You Soon
RSG Singapore
BEDEL
ONIC Esports
RED CAnids
Malvinas Gaming
GX Squad
Team SMG
Grand Finals
ONIC Philippines vs Blacklist International
Upper Bracket Finals
BloodThirstyKings vs ONIC Philippines: 0-3
Lower Bracket Finals
BloodThirstyKings vs Blacklist International: 1-3
Lower Bracket Semi-Finals
Blacklist International vs EVOS SG: 3-0
Upper Bracket Semi-Finals
BloodThirstyKings vs EVOS SG: 3-1
ONIC Philippines vs RRQ Hoshi: 3-0
Lower Bracket Quarter Finals
RRQ Hoshi vs Blacklist International: 0-3
EVOS SG vs TODAK: 3-2
Upper Bracket Quarter Finals
Blacklist Intl vs BloodThirstyKings: 2-3
BEDEL vs EVOS SG: 1-3
ONIC Philippines vs RSG Singapore: 3-0
RRQ Hoshi vs TODAK: 3-1
Lower Bracket Round 2
Blacklist Intl vs ONIC Esports: 2-1
BEDEL vs Keyd Stars: 0-2
RSG Singapore vs Natus Vincere: 0-2
TODAK vs See You Soon: 2-1
Lower Bracket Round 1
Team SMG vs ONIC Esports: 0-2
Keyd Stars vs GX Squad: 2-0
Natus Vincere vs Malvinas Gaming: 2-1
RED Canids vs See You Soon: 0-2
---
Group A Standings (6 December)
Blacklist International (Philippines): 3-0
Red Canids Kalunga (Brazil): 1-2
Malvinas Gaming (Peru): 1-2
Bedel (Turkey): 1-2
Group B Standings (7 December)
ONIC Philippines: 2-1
Todak: 2-1
Keyd Stars: 1-2
ONIC Esports: 1-2
Group C Standings (8 December)
EVOS SG: 3-0
BloodThirstyKings: 2-1
Natus Vincere: 1-2
See You Soon: 0-3
Group D Standings (9 December)
RRQ Hoshi: 3-0
RSG Singapore: 2-1
Team SMG: 1-2
GX Squad: 0-3
Related