MOONTON Games has partnered with ONE Esports, a subsidiary of ONE Championship (ONE), to host the Mobile Legends Bang Bang Women's Invitational (MWI). The online tournament will feature up to ten women-led Southeast Asia teams. Watch them get #InControl from 27 January to 30 January 2022 for a combined prize pool of US$15,000.
MWI will follow the Mobile Legends Bang Bang Southeast Asia Cup tournament format. There will be invited teams from Cambodia, Indonesia, Laos, Malaysia, the Philippines, Singapore, and Thailand. These include Bren Esports, OMEGA Esports, IDNS Princess, IDNS Elsa, and Impunity Starlets1; with more to be announced.
Ten teams will be divided into Group A and Group B via random allocation and compete with those within their group. Each team will be ranked based on the total accumulated points from their respective matches, and the top four teams in each group will proceed to the playoffs. The online tournament serves as a competitive platform to empower women, encouraging them to showcase their skills, not as female players but as individuals.
Themed #InControl, players in MWI are offered opportunities to take control of their destinies and success. Through MWI, MOONTON Games and ONE Esports aim to empower and celebrate women in the Mobile Legends Bang Bang esports ecosystem with a platform to compete and showcase their skills, passion, and achievements.
According to ONE Esports' research, the female gaming and esports community is one of the fastest-growing segments due to the widespread adoption of mobile phones and the proliferation of the video streaming market. Today, female fans account for 49% of the gaming and esports market in Southeast Asia.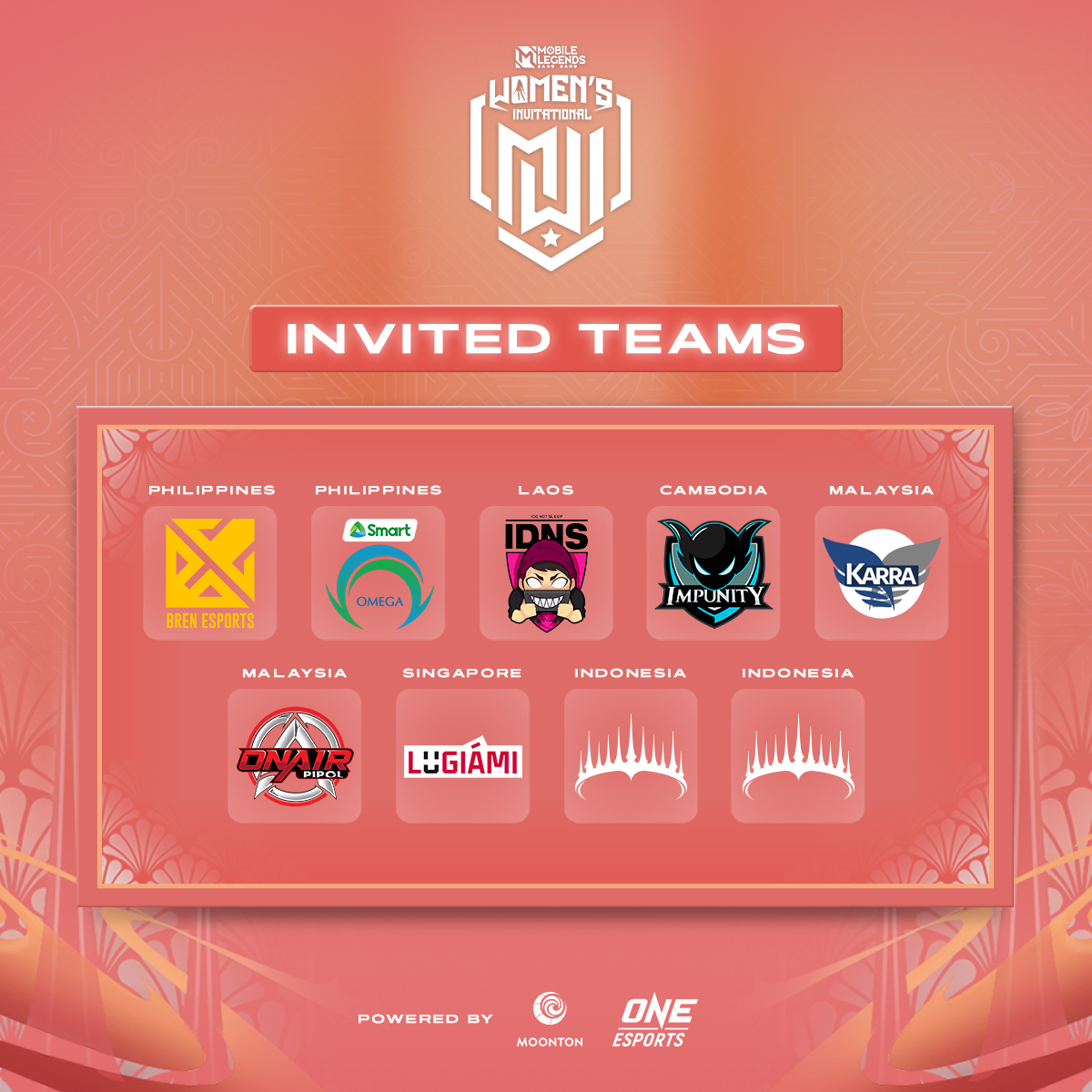 Here are some team highlights to expect at MWI:
IDNS Princess (Thailand + Laos)
​Both teams have joined hands to form a stronger IDNS! There will be three players from Laos and two from IDNS Elsa who are brimming with confidence and determination to win MWI.
​Formed in 2018, the IDNS ladies are no strangers to the MLBB scene. With Ramella and Silver from Thailand joining the ranks, can their team chemistry make the mark for gold?
Bren Esports and Smart Omega (Philippines)
​Bren Esports are all powered up with Ashqt, Defrost, Lexaaa, Krish, BREN Taro, and Ashee looking to take the championship! The team has also been participating in Squad Up! Athena and performing well. Some of the team members are from Bren Victress, that have been kicking up a storm in community tournaments.
​This is the first all-female team for Smart Omega. Will they be able to live up to the glory of their MPL-PH counterparts?
Team OnAirPipol and Team Karra (Malaysia)
​Formed last September (2021), OnAirPipol or more commonly known as On Air Esports have made a name for themselves in Malaysia's community events. Will their female roster be able to do the same in MWI?
​Team Karra has joined forces with Suhaz Esports and is looking to score themselves to the top.
Impunity Scarlet (Cambodia)
​The team got together very recently in December 2021, and are huge fans of Blacklist International
​Team synergy may be one of their biggest challenges; considering that they've just gotten together – will they pull through?
Lugiámi (Singapore)
​Lugiámi was founded with the aim to allow women gamers to engage in online games within a safe space, free from gender inequality, increasing women's representation in international tournaments.
​The female participants are known to be extremely heavy gamers, and are going with an all-in attitude for MWI.
Lucas Mao, Managing Director of Global Esports, MOONTON Games, said:
"We are delighted to kick off 2022 with an important event such as MWI, and we couldn't be more excited to partner with ONE Esports to bring this tournament to life. Mobile Legends: Bang Bang Esports is all-inclusive, with MWI empowering the existing cadre of female Mobile Legends: Bang Bang esports players to be in control of their destiny and highlight their skills.

Moreover, we hope that the competition also inspires the next generation of players to follow in their footsteps – regardless of diversity and background. We look forward to celebrating female strength and empowerment with MWI."
Carlos Alimurung, CEO, ONE Esports, said:
"ONE Esports is thrilled to once again collaborate with MOONTON Games on another Mobile Legends: Bang Bang event. At ONE Esports, our mission is to share and celebrate the stories of esports heroes who ignite the world with hope, strength, dreams, and inspiration. MWI was launched to celebrate inspirational female heroes and give them a platform to showcase their talents. Creating opportunities for women throughout the esports ecosystem will allow the community to flourish."
Winda Earl from GPX Ladies, said:
"I've been playing Mobile Legends: Bang Bang from season three; for almost five years now. MWI serves as a great opportunity for female players who are looking to pursue a career or journey in esports. Personally, this tournament is a dream come true for me, as it enables me to show to the community that the role of women in the esports scene has much room to grow.

MWI will be a competition that is appreciated by all circles, and it will demonstrate how women can also become professional players, have achievements, and have value too. My team is, and other women must be, really looking forward to this."
More information will soon be made available on the ONE Esports website.
Related