By Alleef Ashaari|February 18, 2022|
Update[18/2/2022]: the cards are announced officially. The Street Fighter Secret Lair cards will be available from now until 18 March. Card descriptions and abilities are also updated, with the final card being revealed on 20th February.
Original Story
Leaks may have revealed that Magic The Gathering (MTG) will soon be collaborating with Capcom's fighting game IP, Street Fighter. Eight Magic The Gathering Secret Lair x Street Fighter cards have been leaked by Twitter user @lxduo84, which was posted on the Magic TCG subreddit.
The Twitter post in question has since been removed, which probably means that it's genuine. However, MTG publisher Wizards Of The Coast has yet to confirm or deny the new Magic The Gathering Street Fighter cards at the time of writing.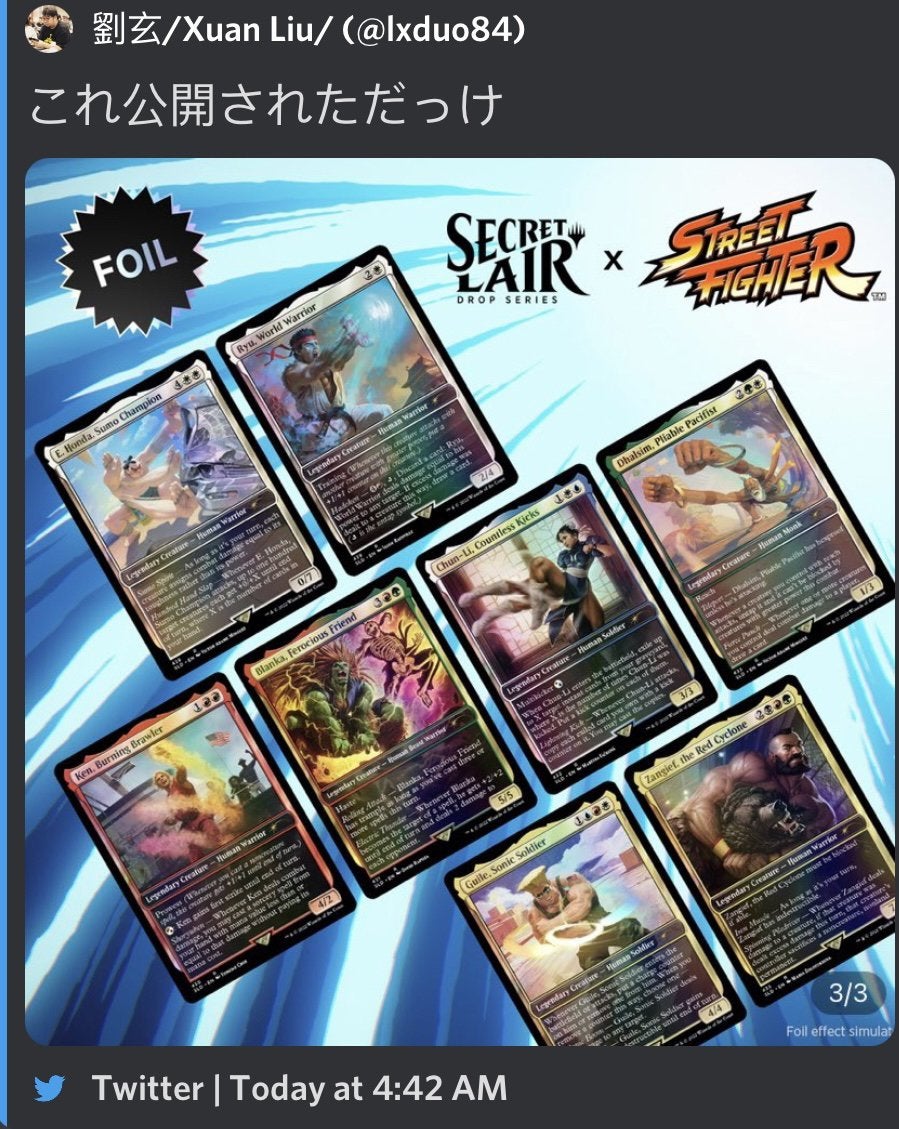 The text on the cards is too small to read, but here are the names and text descriptions of the cards (courtesy of Star City Games):
E. Honda, Sumo Champion — 4WW
Ryu, World Warrior — 2W
Ken, Burning Brawler — 1RR
Blanka, Ferocious Friend — 3RG
Chun-Li, Countless Kicks — 1WU
Dhalsim, Pliable Pacifist — 2GW
Guile, Sonic Soldier — 1URW
Zangief, the Red Cyclone – 2BRG
We'll have to wait and see if there's any truth to this. Most recently, Wizards Of The Coast collaborated with Japanese Vocaloid virtual idol Hatsune Miku to celebrate the upcoming release of the Magic The Gathering Kamigawa Neon Dynasty expansion, which will launch on 18 February 2022.
Related