The Netflix anime Japan 2022 virtual weekend took place earlier today, where they provided updates on upcoming anime coming to the streaming platform. These include Jojo's Bizarre Adventure Stone Ocean, Spriggan and more.
Netflix Anime Creative Director Kohei Obara said:
"Anime is one of the cornerstones of our investment in Japan, watched by nearly 90 percent of our members here last year. At the same time, interest in anime has grown worldwide, and more than half of our members globally tuned into it last year. From diversifying our slate to bringing back fan favorites, we want to continue growing our members' discovery and love for anime, both in Japan and around the world with this next chapter of anime on Netflix."
Check them out below:
Thermae Romae Novae
Mari Yamazaki's manga masterpiece Thermae Romae, winner of the Cartoon Grand Prize 2010 and the Short Story Award at the 14th Osamu Tezuka Cultural Prize, is finally being adapted into a Netflix original anime as Thermae Romae Novae! Mari Yamazaki herself will also be participating in the series as series composer.
This fantastical bathhouse comedy tells the story of Lucius, a young man struggling as a bathhouse designer in the Roman Empire who somehow ends up time traveling between ancient Rome and present-day Japan and incorporating Japan's bath culture in the designs of his own Roman thermae.
Thermae Romae Novae will premiere on Netflix on 28 March 2022.
Vampire In The Garden
Though mortal enemies, a human girl and a vampire queen set out in search of the paradise where humans and vampires once coexisted in peace.
The fateful meeting of a human and the vampire queen may change the world. From WIT STUDIO and a team of talented creators comes Vampire in the Garden One cold winter, humanity lost its battle with the vampires, and with it, most of where they called home. A small population of survivors created a wall of light in a small town to protect them and give them a place to live in peace.
The protagonist, Momo, lives a repressed life but still wishes to coexist with the enemy, the vampires. Fine, the vampire queen, once loved humans and disappeared from the battlefield. As war rages through the humans' town, the two have a fateful encounter. Once upon a time, humans and vampires lived in harmony in a place called Paradise. This is the story of a young girl and a vampire on a journey to find Paradise.
Vampire In The Garden premieres on Netflix on 16 May 2022.
Ghost In The Shell SAC_2045 Season 2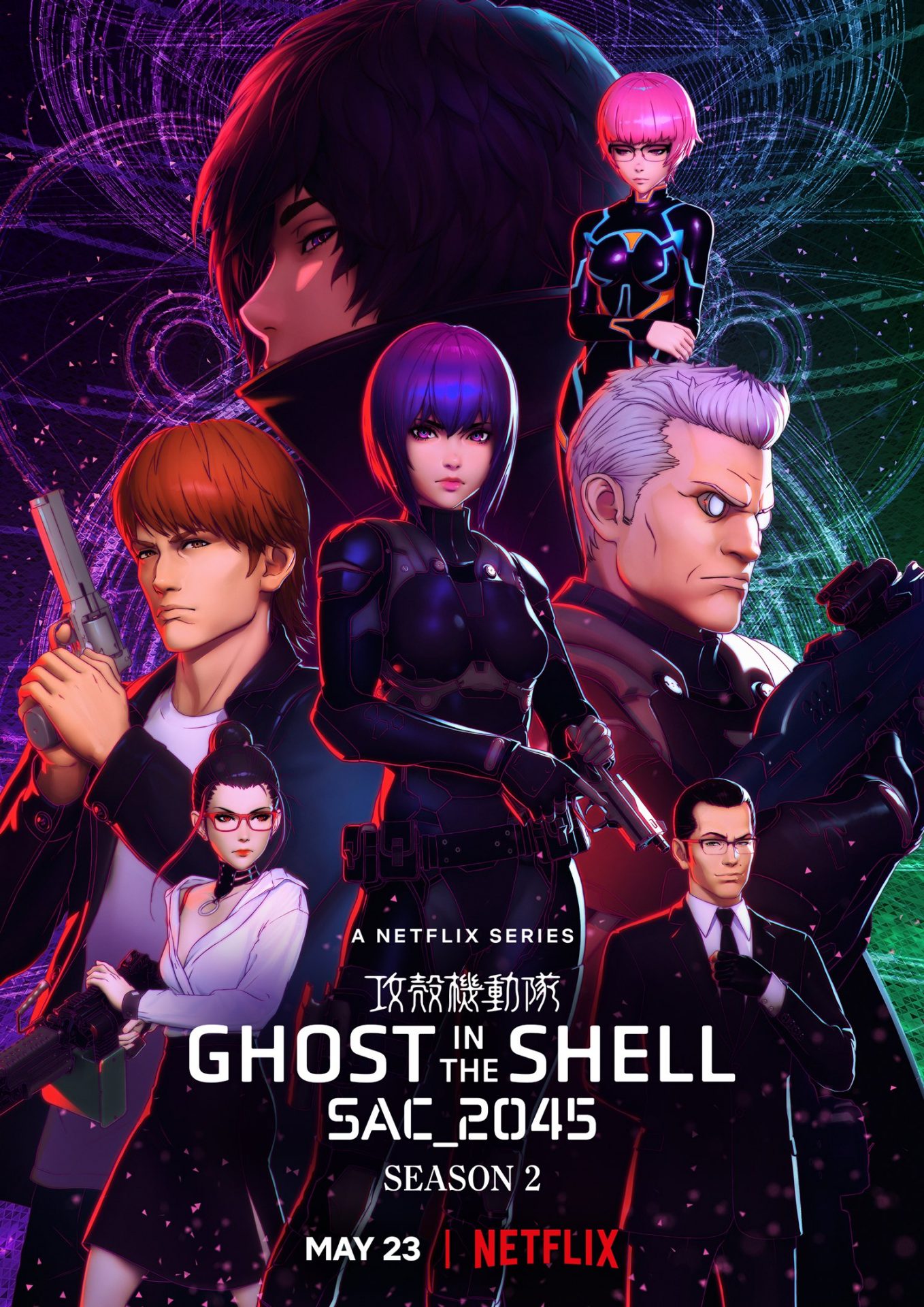 After tracking down a source in California, Major Motoko Kusanagi and the Section 9 crew head back to Tokyo as the posthuman threat grows bolder.
Kenji Kamiyama and Shinji Aramaki bring a vision of the future in 2045 to the landmark near-future science fiction franchise "Ghost in the Shell." Fully prosthetic cyborg Motoko Kusanagi leads Public Security Section 9 as they once again take on cyberbrain crime.
Ghost In The Shell SAC_2045 Season 2 premieres on Netflix on 23 May 2022.
Ultraman Season 2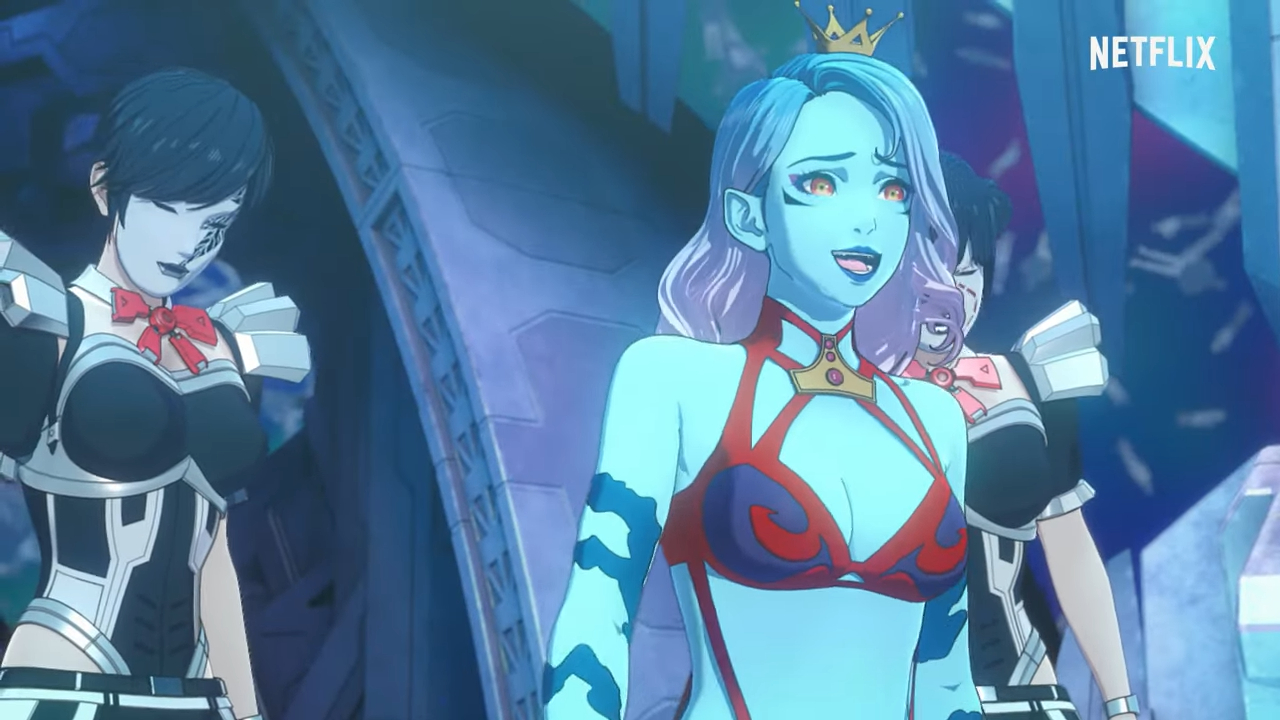 Ultraman teams up with Seven, Ace, Zoffy, Jack and Taro, and together, the united Ultraman brotherhood takes on a new alien threat.
The story heats up as six warriors band together! Directors Kenji Kamiyama and Shinji Aramaki take the world of ULTRAMAN into the realm of the unknown. Get the first glimpse of Alien Wadoran Maya, a new character that will appear in Season 2.
Ultraman Season 2 premieres on Netflix on 14 April 2022.
JoJo's Bizarre Adventure Stone Ocean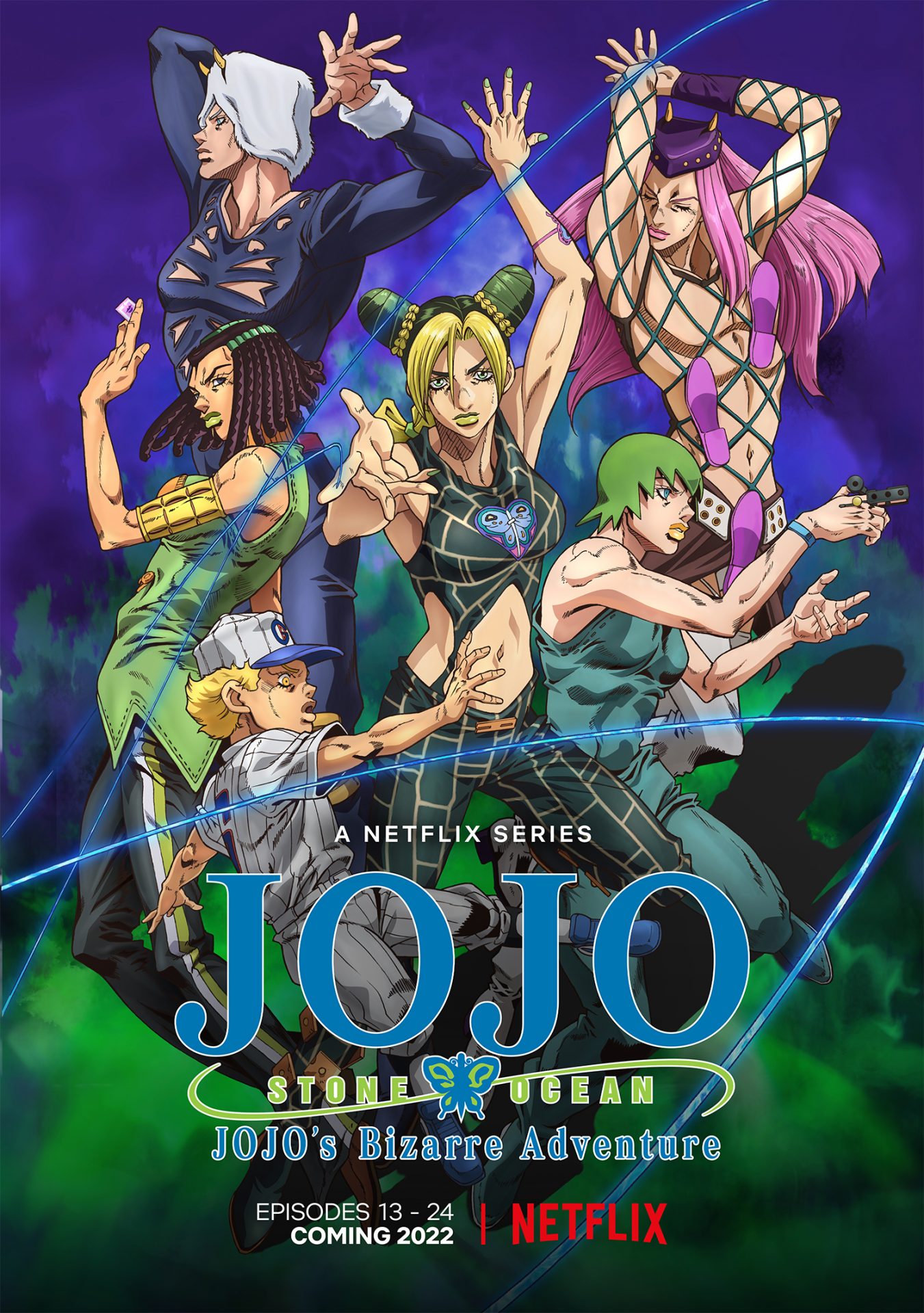 The legacy of the Joestar family continues with Jolyne as she and her companions take on new Stand users behind the bars of Green Dolphin Street Prison.
2011, United States, Florida —
When Jolyne Cujoh and her boyfriend get in an accident while out on a drive, she is framed for the crime and sentenced to 15 years in prison.
Will she ever be free from this prison — this stone ocean?
The final battle in the century-spanning, intertwining fate of the Joestar family and DIO begins!
JoJo's Bizarre Adventure Stone Ocean Episodes 13-24 will premiere worldwide on Netflix in fall 2022.
Spriggan
Based on the manga "Spriggan" (published in Shogakukan's "Shonen Sunday Comics") written by Hiroshi Takashige and illustrated by Ryoji Minagawa.
A great civilization once existed on this Earth. Possessing knowledge and scientific prowess far exceeding that of modern man, the relics of this ancient civilization remain hidden across this world even now. As high-speed communication networks cover the globe and the peering eyes of satellites are able to expose all secrets, the armies of great nations clash as they seek to uncover and research these artifacts, which possess an unfathomable "power."
A member of this ancient civilization carved a message into a plate: "Protect our relics from evil-doers." Taking this message to heart, one organization aims to seal away this ancient civilization for good. The elite secret agents of this organization are known as…Spriggans.
Spriggan premieres on 18 June 2022 on Netflix.
The Seven Deadly Sins Grudge Of Edinburgh Part 1
With over 37 million copies sold and winning in the children's category of the 39th Kodansha Manga Award, The Seven Deadly Sins (original work: Nakaba Suzuki) is receiving a spin-off anime film. This film will feature an original story by Suzuki. Split into two parts, the story will follow Tristan, the son of The Seven Deadly Sins protagonists Meliodas and Elizabeth. Tristan inherits the power of the Goddess Clan and can heal people's wounds and injuries, but he often ends up hurting others due to his inability to control his Demon Clan power. To protect his family, Tristan heads to Edinburgh Castle and meets a host of new friends along the way.
The Seven Deadly Sins Grudge Of Edinburgh Part 1 is coming to Netflix in 2022. Check out the new art above!