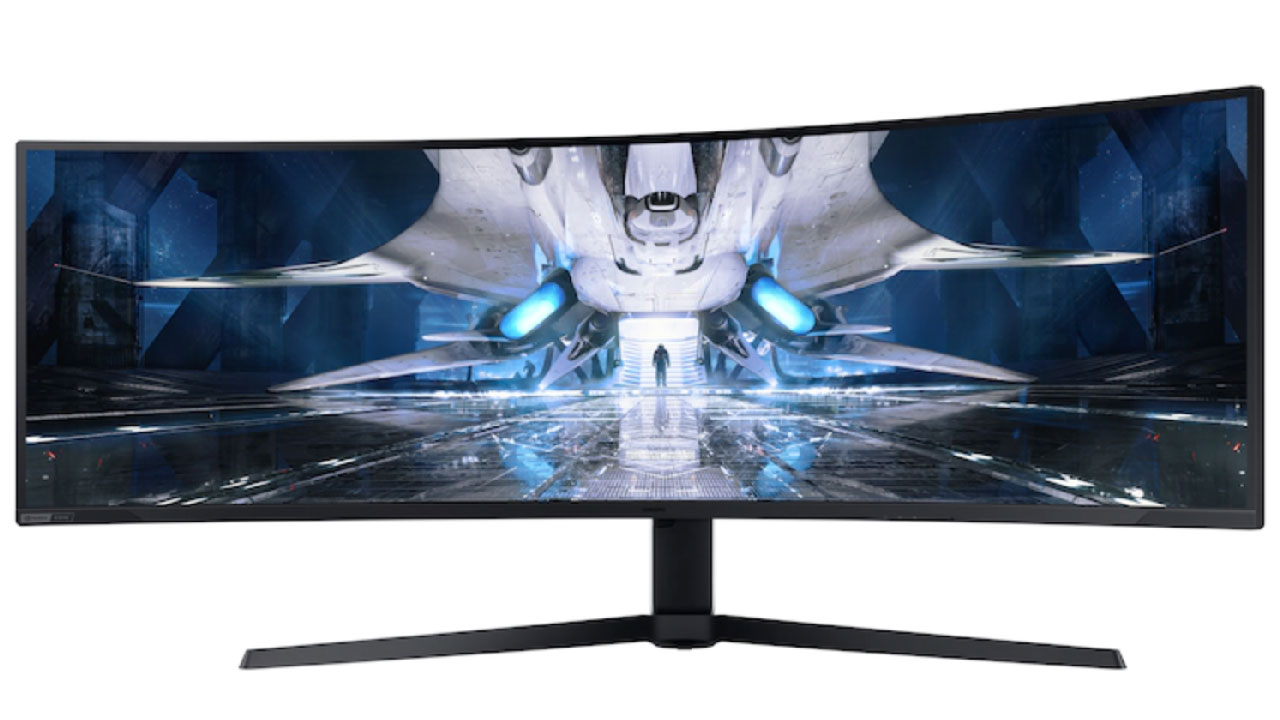 by in
Can you put a huge price tag on beauty and power? Yes you can, especially if you're a high-end peripheral maker of quality phones and monitors like Samsung.
The Samsung 49″ Odyssey Neo G9 Gaming DQHD Quantum Mini-LED Monitor is the company's answer to excess. It is frickin' huge, is widescreen, is curved, and features a ton of gaming and non-gaming visual options to enrich your eyes and computing experience.
It is also a frickin' expensive monitor, but we'll get to that later.
Giant-Sized Fun
The Samsung 49″ Odyssey Neo G9 has it all: size, girth, a gorgeous panel, a massive 5120×1440 resolution, 240Hz refresh rate, and an HDR 1000 rating. The latter is important if you have consoles and a PC rig meant for HDR purposes.
The Samsung 49″'s colours and black levels are the best I've seen in ages; you will not find the best kind on any other monitor. Playing games like Borderlands 3 and Halo Infinite is really a feast for the eyes especially when you crank up the graphics settings to Ultra or the equivalent.
Adjusting colours and sorting out display options is easy thanks to the joystick nub at the bottom right of the giant-ass monitor. You can either set up gaming presets for different titles using the monitor's three recessed buttons (from first-person shooters to fighting games) or switch inputs between PC to console(s).
While it may not be for a dual or triple screen gaming/working person like myself, single screen players and users will get the ultimate treatment for their eyes and other sightly senses.
However, its Picture in Picture/Picture By Picture mode (ie: the mode where you split your widescreen into two individual screens) is basic. There is no way to adjust most of the colour and contrast features once you go in this mode. You can still adjust it in the operating system of your PC, but not on the monitor's options itself. But if you're going for the single widescreen gaming route? It's absolute bliss.
Behemoth-Sized Issues
The only problem to sort out when you're dealing with the Samsung 49″ is mostly price. And space. The RM$9,499 price tag is enough to send many people to a state of shock, but you're getting a lot for what you're paying for.
That also includes weight and heft; you will need at least a 50-inch table to carry this beast and accommodate your other existing setups. Not only that, you will have trouble managing cables behind the monitor that's connected elsewhere; the stand is heavy enough to damage any kind of cable underneath it. While the monitor's inputs can be lined up with the vertical stand's casing, other cables will need to be wrapped around it to avoid its space.
I also felt that the monitor needed more display inputs and ports. You have two USB Type-A ports, one USB Type-B cable, two HDMI 2.1 ports, and one DisplayPort. Keep in mind that the latter DisplayPort only supports up to 120Hz, so you need to use the HDMI 2.1 cable with the monitor to take advantage of the aforementioned 240Hz refresh rate. It's sad that you're paying a lot for basic input options, especially for players who want to run multiple consoles and use 2 HDMIs from the PC's display input.
After all is said and done, how much can you put on the ultimate in curved gaming widescreen monitors that span "2 screens" wide? Try RM9,499. And if you're going for a dual-screen setup, there are cheaper alternatives.
But if you have the cash and want to have the ultimate widescreen gaming and entertainment experience on your desk with your PC of choice with a RM4,000+ graphics card of the ray-tracing variety, go for it. For the rest of the world, the Samsung 49″ Odyssey Neo G9 monitor may be excessive, but it's the best kind.
Pros
The best colours, contrast, brightness, and black levels you'll see on a widescreen monitor yet.
Best with high-end PC rigs with the best graphics cards.
Highest level of HDR yet.
Cons
Very expensive.
Heavy to set up.
Limited input options for what you're paying.
Final Score: 80/100
---
---
Vital Statistics
Price: RM9,499
Screen Size: 49″
Screen Curvature: 1000R
Aspect Ratio: 32:9
Brightness: 420
Resolution: 5120×1440
HDR+10: Yes
Dimension (with stand): 1149.5 x 537.2 x 418.3 mm
Weight (with stand): 14.5 kg