PUBG MOBILE, popular mobile game in Southeast Asia, introduces a cute spin to its game with the launch of a special in-game event Dream Monster. Featuring adorable sea creature pets, players can now keep and grow their own charming little Dream Monsters that can be exchanged for Ocean Crystals used to redeem in-game items including Permanent Epic Suits, Gun Skins, Headgear and more! 
From now until 5 May 2022, PUBG MOBILE players can adopt their own Dream Monster for free by simply tapping the crystal bottle in the Dream Monsters page in the game. Once released from the bottle, the baby Dream Monster starts off at the M2 stage and will evolve into higher grade monsters through daily interactions with the player. The happier the Dream Monster, the faster they level up and the higher their worth when exchanged for Ocean Crystals! 
Here's a simple guide on how to be the ultimate Dream Monster pet parent while ensuring they are always happy to quickly increase their level for even better rewards: 
Step 1: Shower Your Dream Monster Pet with Love 
Give your Dream Monsters love and care by interacting with them through pets, feeding and exercise, or by purchasing special Dream Monster items to help them grow and evolve into the next stage.
Step 2: Check In Daily for Rewards in Exchange for Dream Monster Care Items  
PUBG MOBILE players can claim rewards through daily check-ins, participating in exciting missions as well as playing mini games and inviting friends to participate in the Dream Monster event to grow their own cute pet. These items can be used in exchange for Dream Monster care essentials to keep them always chirpy. 
Step 3: Sell or Continue to Care to Increase Dream Monster Grade 
Upon reaching its 'adolescent' M3 stage, players can choose to either sell them for Ocean Crystals or choose to keep them until they evolve into higher grade monsters. 
Similar to how non-fungible tokens (NFT) work, the higher the Dream Monster grade, the higher its 'rarity'. Dream Monsters of higher grades will be worth more Ocean Crystals which can be used to either buy items to boost the pet's growth or redeem in-game items of higher value from the shop. Dream Monsters that receive more interaction and items from players will also grow faster and achieve higher monster grades quicker.
Step 4: Show off your Rare Dream Monster Pets to Friends 
These endearing Dream Monsters can be easily shared on social media with just a few clicks to show off their rarity and grade. 
Are you ready to adopt your own little Dream Monster? Here's how you can do it through the PUBG MOBILE game app: 
Launch PUBG MOBILE app > Events > Hot > Dream Monster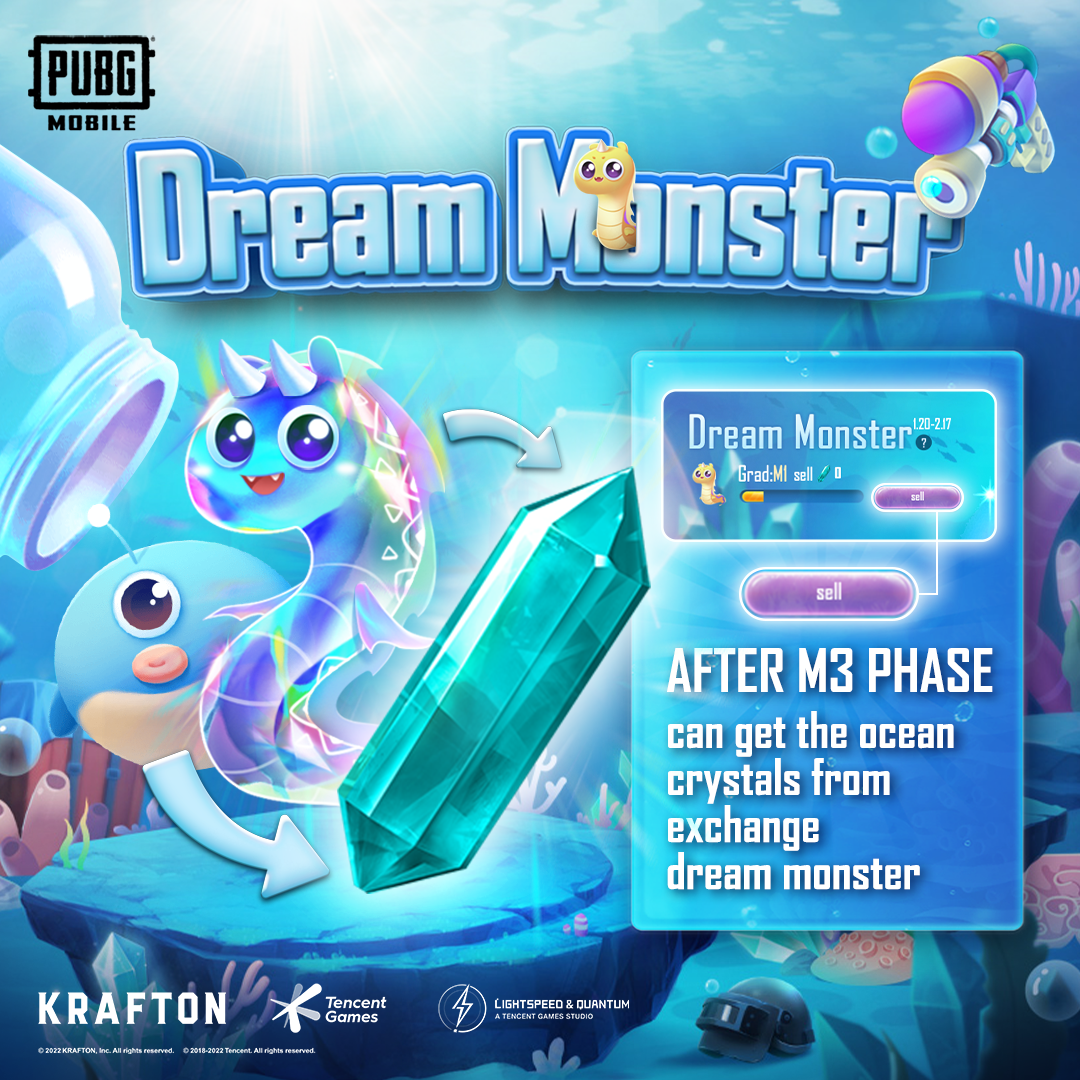 Related