Ninety years ago, a Danish carpenter crafted a line of small wooden toys in his workshop in Billund, Denmark. His first collection had a modest 36 items that included cars, aeroplanes, and yoyos, all carefully crafted to help local children learn about the world.  
What Ole Kirk Kristiansen couldn't have known back in 1932, was that the LEGO Group would become one of the biggest toy companies in the world and inspire millions of children to play each year.  
Twenty-six years later, the LEGO brick we know today was patented, with its interlocking tube system and endless creative building possibilities. Since then, our humble brick has been busy – it has formed the basis of over 18,000 LEGO products, received the Hollywood treatment in THE LEGO MOVIE, helped children learn about robotics and coding through LEGO MINDSTORMS, and inspired hours of playful digital adventures in over 180 LEGO video games.  
For the 2022 LEGO Play Well Study, the company polled more than 55,000 parents and children in over 30 countries and found that almost all parents think children strengthen  their creativity (93%), communication (92%), problem-solving skills (92%), and confidence  (91%) while they play. Not only do they develop skills that help them thrive in a rapidly  changing world, but almost all children also say playing as a family makes them happy (97%), helps them relax and takes their mind off school (95%), and is their favourite way to learn  (67%).  
Play isn't just for kids; it's a family affair too. According to 95% of parents, playing together makes the whole family happier, builds stronger family bonds and improves their well-being. Over 4 in 5 parents (85%) mentioned LEGO play specifically, saying that their families are happier when playing with LEGO bricks. 
"When my great-grandfather founded the company 90 years ago, he only had a small workshop. But he had big ambitions to ensure as many children as possible could  experience the benefits that play brings," said Thomas Kirk Kristiansen, Chairman of the LEGO Group. Whether it is 1932, 2022 or on our 100th Anniversary in 2032, we strive to continue this  legacy by helping all families, wherever they are in the world, to play well." 
Celebrate with us at the LEGO Imagination Playground
As part of the LEGO Group's 90th anniversary celebrations, LEGO fans can look forward to a physical installation at the ground floor of Centre Court, Mid Valley Megamall, from 1 to 12 June 2022. With various play-centric stations and activities for the public to engage with,  LEGO Imagination Playground is a must-visit for both children and adults. For those down  south, there will also be a second installation in Johor Bahru from 20 to 31 July 2022 at The Mall, Mid Valley Southkey. 
Imagination Playground will showcase the endless potential of play and highlight why play matters in child development. Aside from fun activities such as the Cupcake Making Zone and Build & Race Zone, there are also stations that will transport visitors back in time as  they revisit key milestones in the company's history. One such station is The Memory Lane, which takes a look at the brand's 90-year history as well as The Tiny Block Theory, which details the history of the iconic LEGO Minifigure.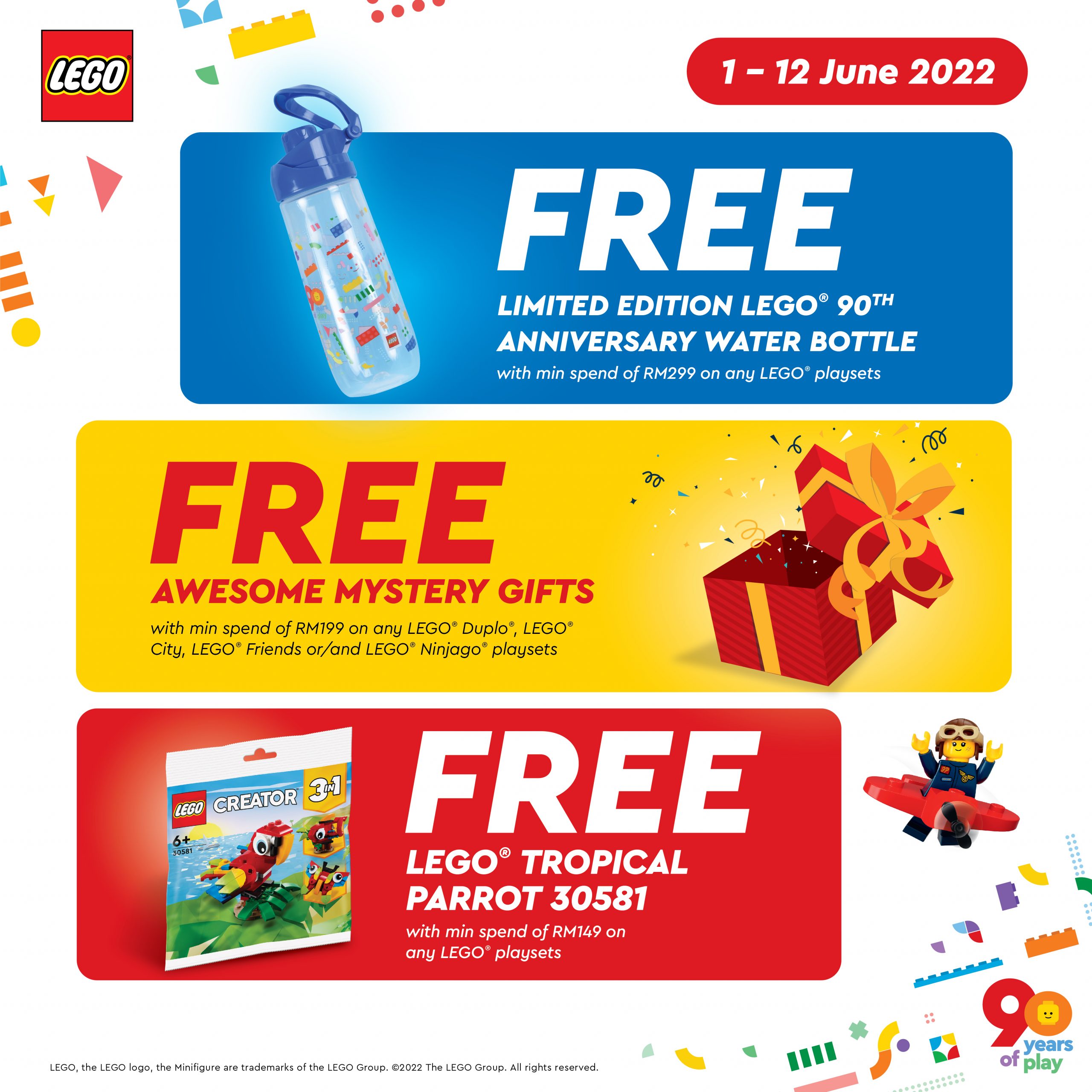 At the Endless Creativity Zone, LEGO fans can unleash their creativity and share their well  wishes with LEGO DOTS bricks. Be it a LEGO build of a sushi platter or a designer handbag, the Imagination Playground immerses itself into its venue by showcasing unique builds from  brands within Mid Valley Megamall at the Mall Tenants' Creation Zone for all to see. For certain zones you can walk away with goodies by participating in the various activities.  
The celebration doesn't stop there! Visitors to Imagination Playground can look forward to redeeming a limited edition LEGO 90th Anniversary Water Bottle with a minimum spend of RM299 or a 30581 LEGO Tropical Parrot with a minimum spend of RM149.
Additionally, one can redeem an awesome mystery gift with a minimum spend of RM199 on any LEGO DUPLO, LEGO City, LEGO Friends and/or LEGO Ninjago playsets. For in-store promotions (across all-channels), customers who spend a minimum of RM199 on any LEGO range, will be entitled to a limited edition 30510 LEGO 90 Years of Cars from 9 June onwards, nationwide. These offers are available while stocks last.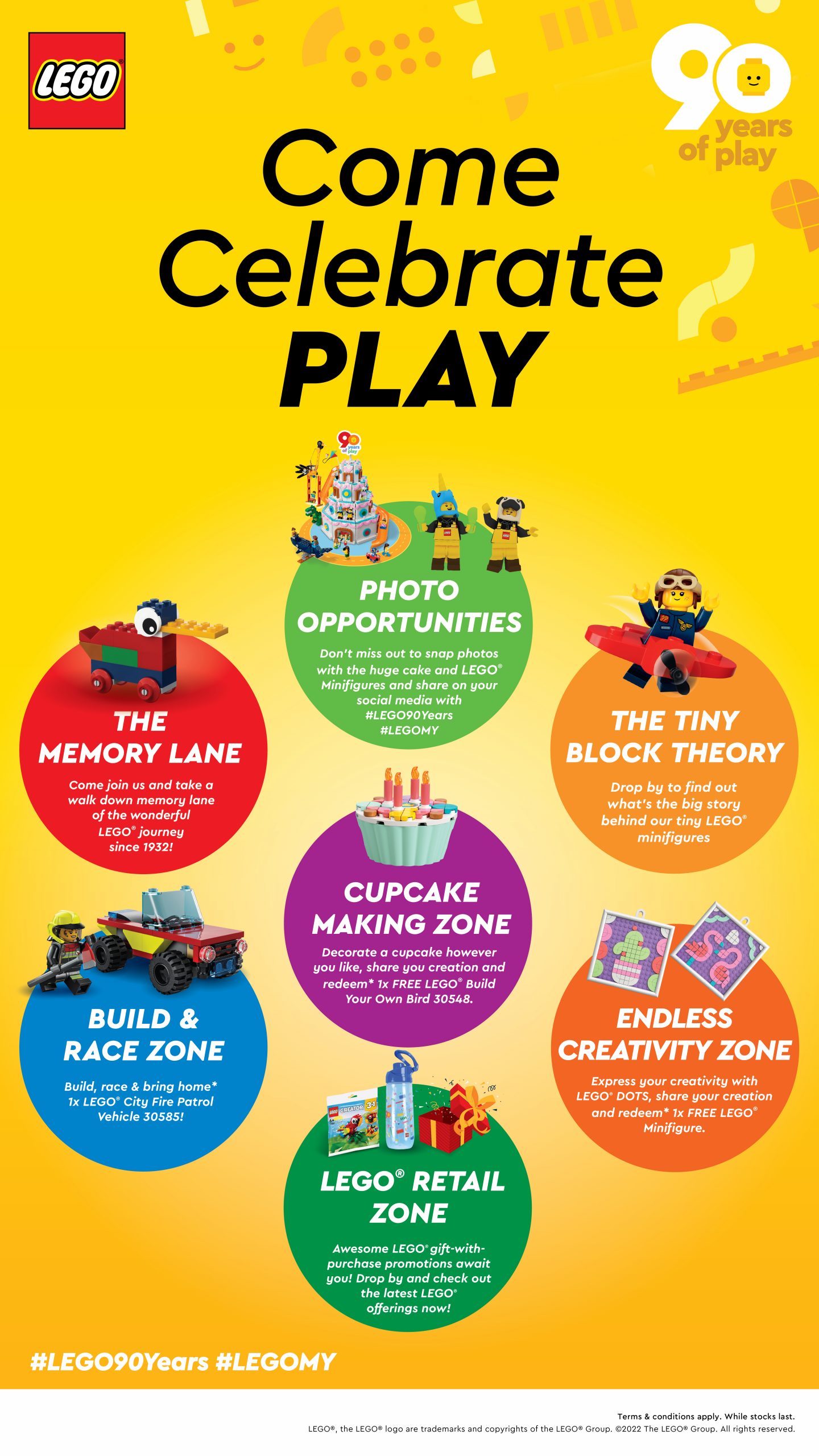 Follow the hashtags #LEGO90Years, #LEGOMY #midvalleynow or visit https://www.lego.com/en-my/90-years-of-play to join in the fun.
Related