Square Enix and Tri-Ace announced that its sci-fi action JRPG epic Star Ocean 6: The Divine Force will be out this year.
The next installment in the revered-but-still-flawed series will be out on 27 October 2022 for Xbox Series, Xbox One, PS4, PS5, and PC (Steam). The game features the same-yet-fun action RPG combat and exploration as past series, featuring anime protagonists doing their version of Star Trek with the exploration and meeting new aliens/lifeform, alongside anime plot twists aplenty. This time, you can pick between ship captain Raymond and princess Laetitia, with each of them featuring different storylines that eventually converge.
True to Tri-Ace games, the action bit looks solid and freeform, with a lot of tag-team attacks and new party members to switch between, There's also an AP (action points) mechanic where you have a set amount of AP to spend during a fight, which you use for powerful attacks. Doing certain combat actions will increase your max AP. The game seems to transition between open-world exploration and combat seamlessly, so that's something to look forward to. While you can play the game in real-time, you can play in Stop mode where the action pauses and you can assign commands and your teammates' while the fighting is paused.
Star Ocean 6 will have both a standard and digital deluxe edition. The latter (about US$118) will feature costumes and armour themed after Tri-Ace games like Valkyrie Profile and previous Star Ocean games (notably part 2), as well as a soundtrack. The premiere edition (about US$180) which is only available on Square Enix's e-store features the OST, the artbook, all the pre-order and premiere DLC, and the game. This version is only available for PS4 and PS5.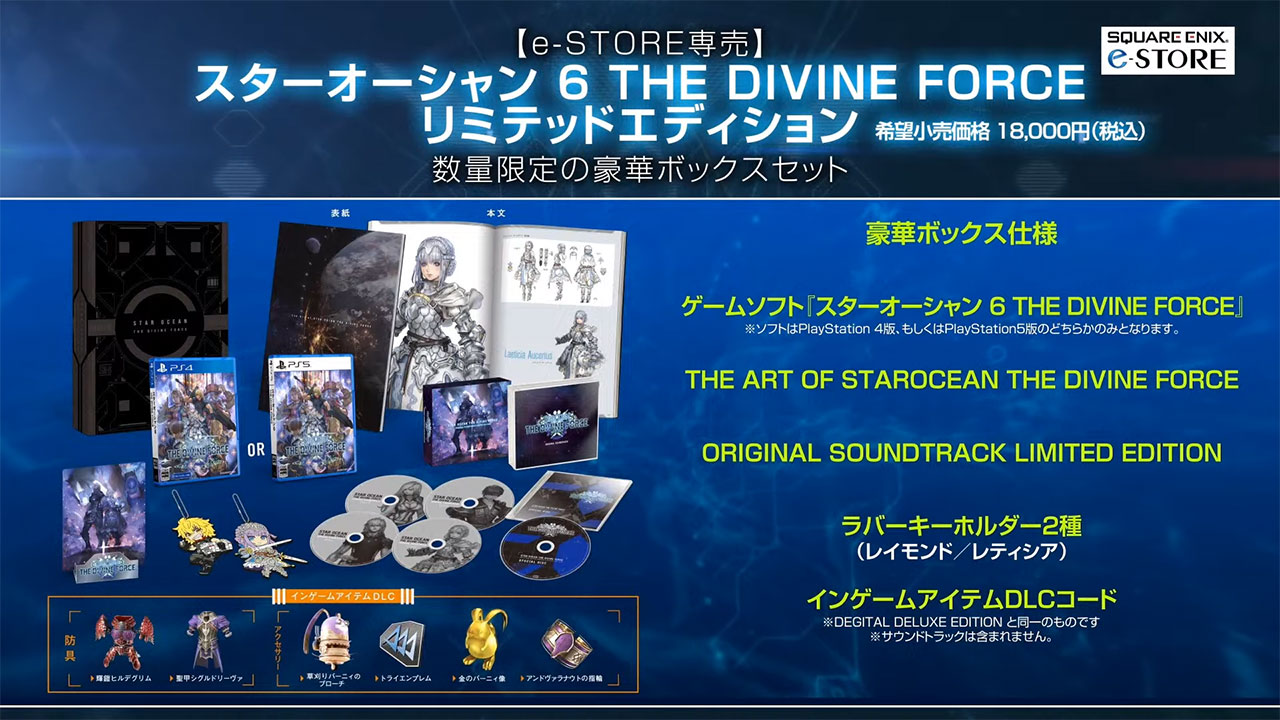 Also, players who pre-order the game will get an accessory set of four pawns that can be used in the in-game mini-game "Soar". The pawns are themed after Lenneth and Lezard Valeth from Valkyrie Profile, and Jack Russell and Ridley Silverlake from Radiata Stories. That's neat callback for Tri-Ace fans!
Check out the overview video below and the bullet points for the upcoming RPG:
Fly Around Areas Freely: In Star Ocean: The Divine Force, characters can freely move in 360° degrees and roam the skies.
Move and Explore Freely in Three Dimensions: Everything You See Can Be Explored! You can move in three dimensions whilst flying around the largest environment ever. Whether you're flying around and exploring rockfaces and roofs of buildings in the city, or leaping off cliffs to seamlessly enter battles, you'll have more freedom in terms of both adventuring and battling.
The Fastest and Strongest Action of Any in the Series: While the game will give you space to play as you please, the scope of its battles has also evolved. Characters can subdue a large number of enemies with super high-speed movement attacks, special abilities where you can vanish for a brief moment from right in front of your enemies' eyes, and a skill which could kill in one hit! This game will feature a challenging yet thrilling battle experience to enjoy while freely soaring in the skies.