By Lewis "lickety" Larcombe|July 14, 2022|
Apex Legends Mobile welcomes it's second season "Distortion" hot on the heels of their mid-season update dubbed Cold Snap.
While Cold Snap saw the introduction of fan-favourite Loba, Season 2: Distortion will mark the debut of the second mobile-first legend Rhapsody, a rhythm loving DJ with a cute but deadly AI-controlled helper bot named "Rowdy".
To coincide with the release of Rhapsody, Season 2: Distortion will also feature new modes, maps and content along with the debut of the mobile version of the dearly beloved King's Canyon map.
Below you can find a list of the major updates, but if you want to browse the nitty-gritty to find out all that this Season's update brings, you can check out the patch notes here.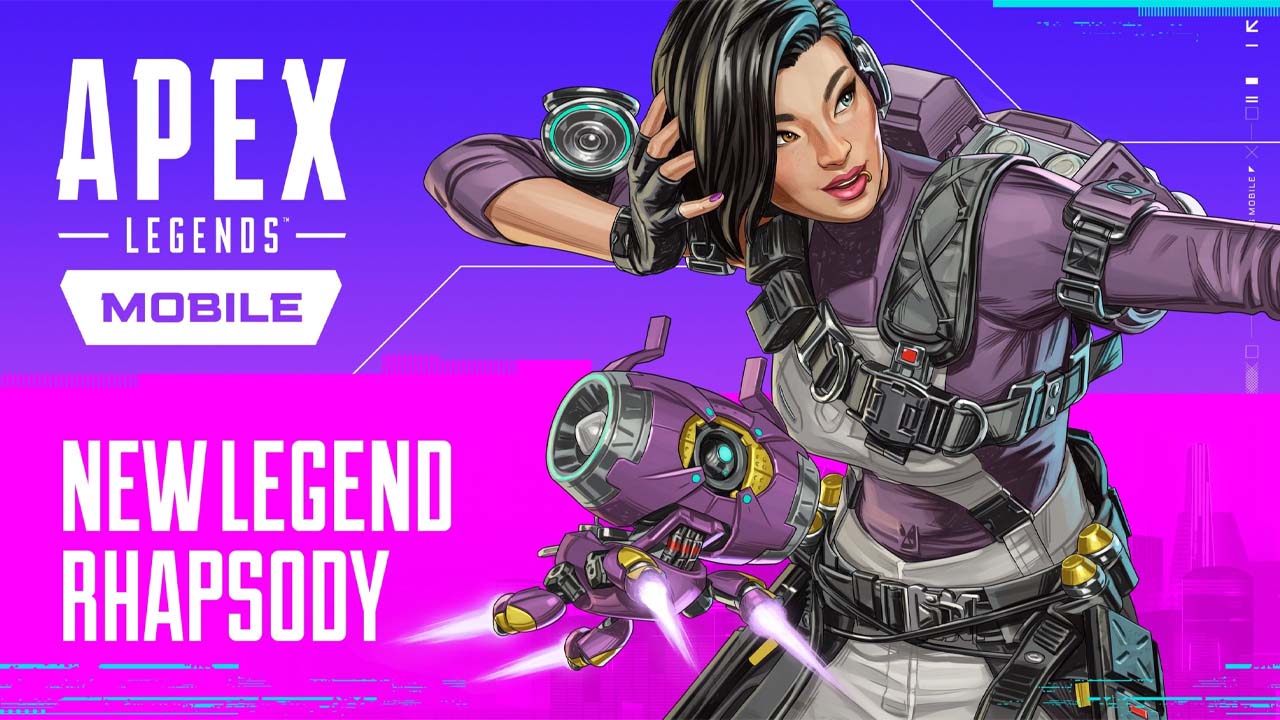 New Maps:
Pythas Block 0: A beautiful mobile-first Team Deathmatch map, Pythas Block 0 is a corporate campus owned by Pythas Inc. that sits high above the city Kómma on Solace.
Kings Canyon: The King is back! To celebrate the launch of Kings Canyon on mobile, Rhapsody placed some VIP Tickets for her next concert on the map for players to find.
New Modes:
Gun Game: Acquire kills to work your way through the extensive Arsenal of guns available in the Apex Games. Most points, or three melee kills wins in this fast paced game mode!
Hack: In this mode, two teams face off as Hackers vs. Defenders. There is an ADS Satellite with an orbital cannon that has been built overlooking the playing field.The Hacker team works together to hack one of the two sites on the map to gain points. After three points have been attained, the Satellite will punish your opponents by frying them to a crisp. As defenders, your job is to stop the hackers at all costs!
New Legend: Rhapsody
A DJ from Kómma where the tech giant Pythas Inc. controls all, Rhapsody has used her love of music to rise out of the dangerous nightlife district: Neon Dunes and become one of the hottest Legends on the Apex scene. Her mother, a brilliant AI engineer who created Rhapsody's companion bot Rowdy, had a checkered history with Pythas, and now Rhapsody competes in the Apex Games under their banner. Rhapsody has a number of perks and abilities including:

Passive: Gifted Ear – Picks up and visualizes sounds from an extended range.
Tactical: Hype Anthem – Play a powerful track that speeds up nearby squadmates and recharges shields. Taking damage will end the effect.
Ultimate Ability: Rowdy's Rave – Rowdy projects a wall of flashing lights that blocks incoming sight and scans.

Legend Progression Perks:

Volume Control – Squadmates affected by your Tactical temporarily gain Gifted Ear.
Sound Bleed -Occasionally see nearby 3D sound visualizations effects through walls.
Tuned In – Continuous running increases the range of Gifted Ear.
Reverb – The more squadmates your Tactical affects, the longer it lasts.
Harmony – Your Tactical increases the speed of revives and the effect of healing items.
Rowdy's Rhythm – During your ultimate, squadmates standing near Rowdy reload faster.
New Events
Town Takeover: Encore Galore – The carrier Encore Galore has arrived at Kings Canyon painted tip to tail with neon paint almost as loud as Rhapsody's music. Land on Encore Galore of awesome loot and a chance at finding a VIP pass
Rhapsody LIVE: Complete challenges in game to earn special Rhapsody posters to commemorate this brand new Legends arrival in the Apex Games!
Conqueror of Kings: Explore Kings Canyon and complete missions in specific locations of the map to obtain rewards!
And More!
Club Showdown: Gather your club members and rise to the top of the club leaderboards by completing objectives! Show your club pride and rack up points to be able to redeem special prizes. The higher your ranking, the better the rewards!
New Distortion Seasonal Shop
New Battle Pass
First Time User Experience Updates