Strategy gamers and war history buffs rejoice: the third Company of Heroes title is coming out in a few months' time.
Company of Heroes 3 is coming to PC via Steam on 18th November. Best of all, if you want an early taste of the real-time strategy title, the demo for the game's North African Operation (one story-based skirmish) is out now for free; just head to the website to check it out.
Company of Heroes 3 will release two unique single-player campaigns: the Italian Dynamic campaign and North African Operation. Factions-wise, you have four to play with: the US forces, the British forces, the German Wehrmacht, and the Afrika Korps (Deutches Afrikakorps or DAK). Here are more details about the game's North African campaign via the presser we got a while ago:
"The North African Operation is a more classically designed, narrative-led single-player experience. A wealth of new mechanics has drastically changed the battlefield in North Africa, where tank-riding enables coordinated rapid-strike assaults
that overwhelm the enemy. Powerful Italian units can be called upon in Mission Alpha, such as the Guastatori combat engineers and the L6/40 Light Tank. Players can also enjoy new core gameplay innovations like side armour, enemy
vehicle recovery and vehicle-towing, which lets you reposition your hard-hitting artillery like the German Flak 36 and British 17-Pounder."
In addition, you can sign up for Relic's community feedback program called COH-Development (on the COH website) to gain access to a new mission in the North African Operation where you can play as the aforementioned DAK where the group favours light and heavy vehicles over infantry.
Just like any new triple-A game, Company of Heroes 3 has pre-order offers. If you order the game early, you'll receive the Devils' Brigade DLC pack which contains a lot of cosmetics based on the first elite commando units of World War 2.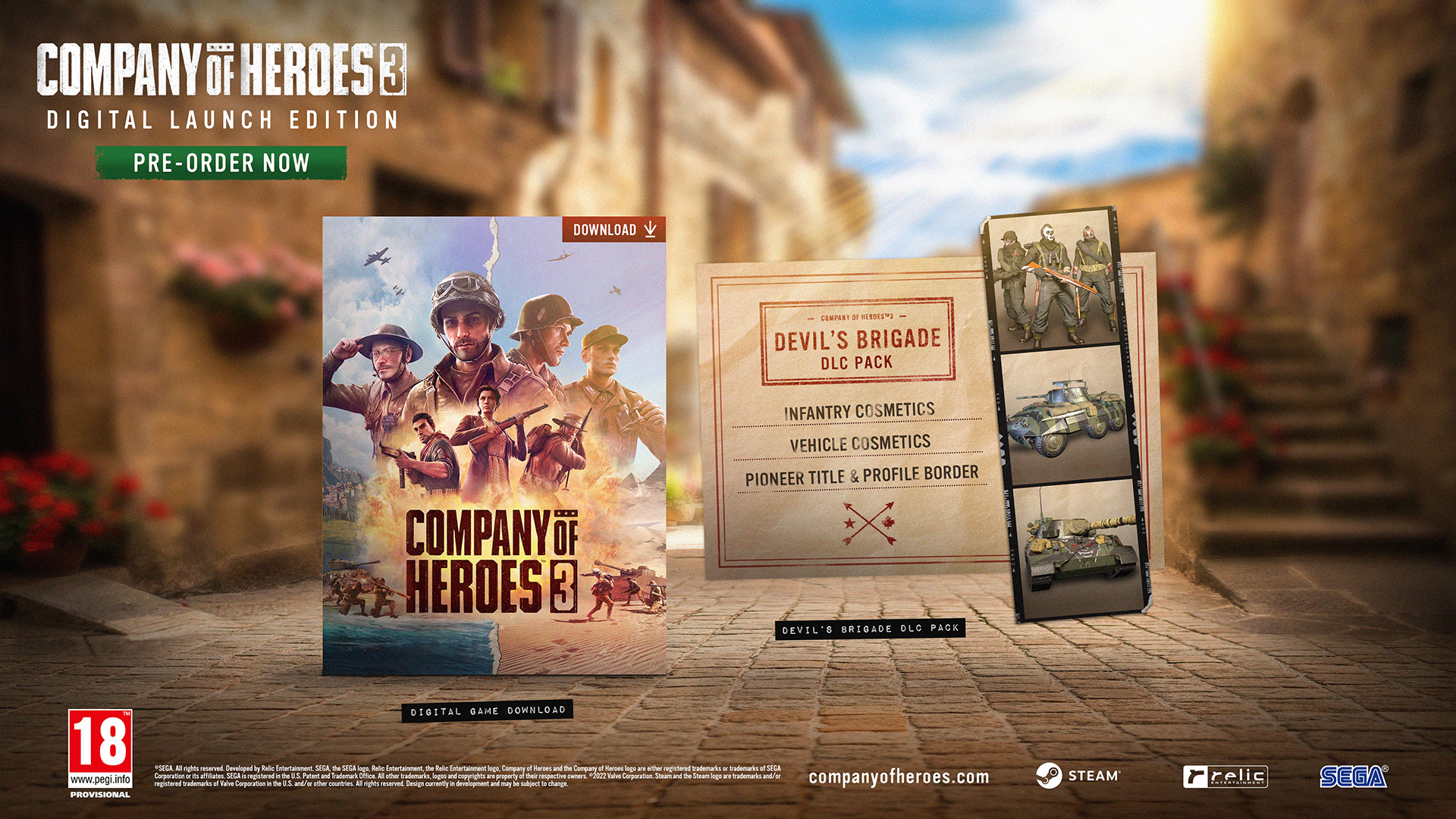 If you order the Digital Premium edition, you'll get that DLC, a bunch of premium tank cosmetics, and access to the game's first expansion which is slated for 2023.
In the meantime, check out our full-blown hands-on preview of the game here.