By Alleef Ashaari|August 26, 2022|
Ubisoft has revealed the full potential of Skull And Bones on PC. Inspired by the Indian Ocean during the Golden Age of piracy, players explore the vast open-sea world with one goal in mind: climb their way to the top. Through their pirate journey, PC players will be able to tailor their experience to their needs and enjoy a wide range of settings and features including:  
4K HDR:

to be fully immersed in the gameplay experience. 

 

Uncapped FPS:

to give players a higher potential for reducing input lag during naval battles 

 

Image upscaling:

to offer premium quality images and detailed gameplay through ray tracing, DLSS and FSR. 

 

Complete customization:

to change options in the advanced input settings to create a close-to-perfect experience.
Although players can sail through the dangerous seas of Skull And Bones alone, it is best experienced with up to two other friends or players encountered. To ensure an entertaining online experience, Skull And Bones provides:  
Game servers

: powerful physical servers with modular redundancy and cloud servers complement one another during spikes of high activity to limit wait times. Ubisoft dedicated server sites in North and South America, Europe, Asia, South Africa, and Oceania. 

 

Anti-cheat solutions

: battlEye monitors the game in real time. It permanently bans players on the first offence if any cheats have been deployed and detected to gain an unfair advantage.

 
Overall, Skull And Bones aims to offer high-quality visuals and settings for the PC community. Check out the PC specs below: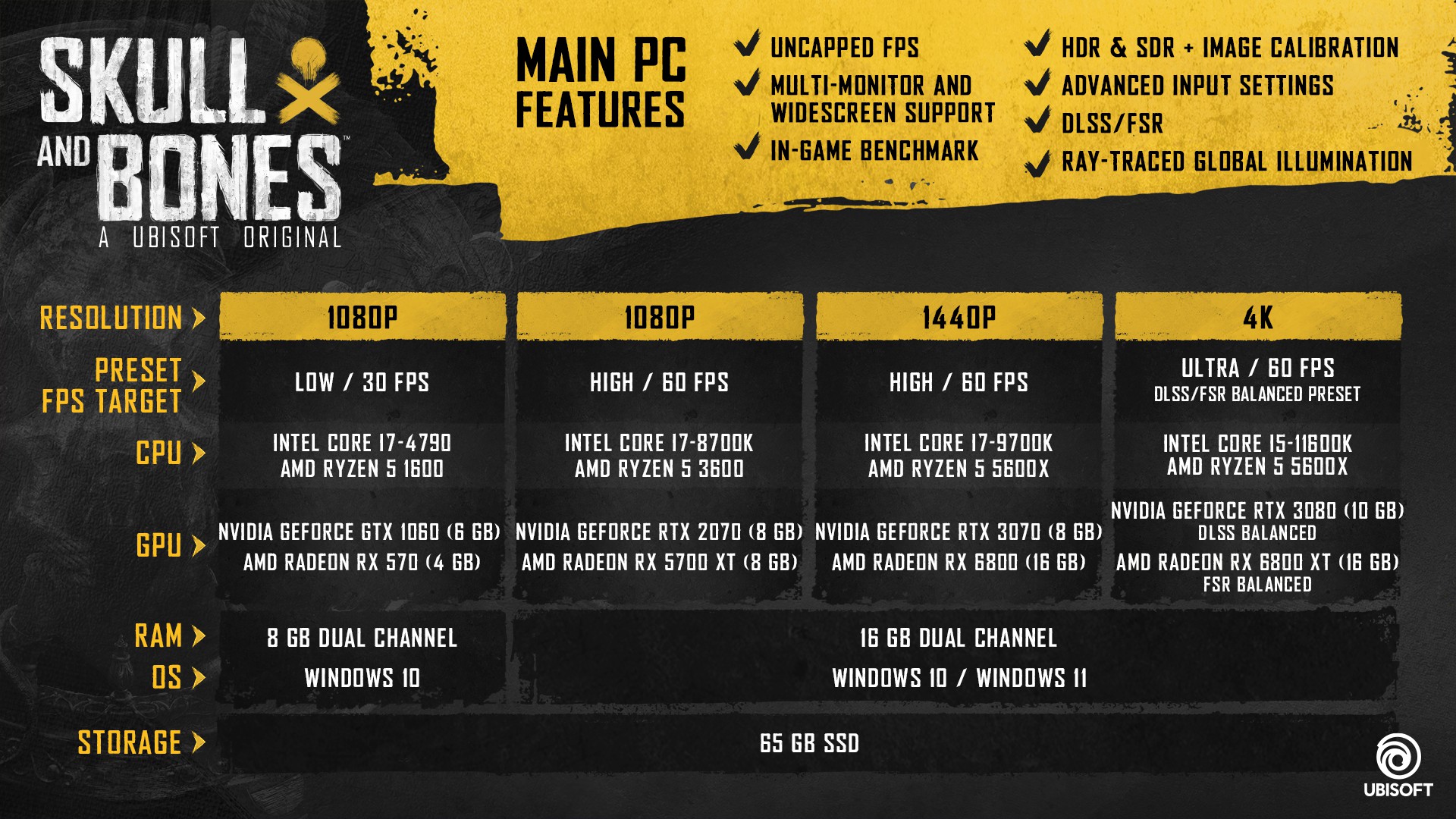 Skull And Bones is slated to release on 8 November 2022 on PS5, Xbox Series X/S and PC via the Ubisoft Store and the Epic Games Store.