The Last Of Us Part I is now available on PS5. Check out my review of the game here.
One of the new additions in the remake of the iconic game is the new skins for Joel and Ellie, which can be unlocked using Points after completing the story at least once on any difficulty. Some of the skins are just extra clothing options, but some of them are easter eggs and references to other PlayStation games and studios.
Check them out below:
Ellie Angel Knives Skin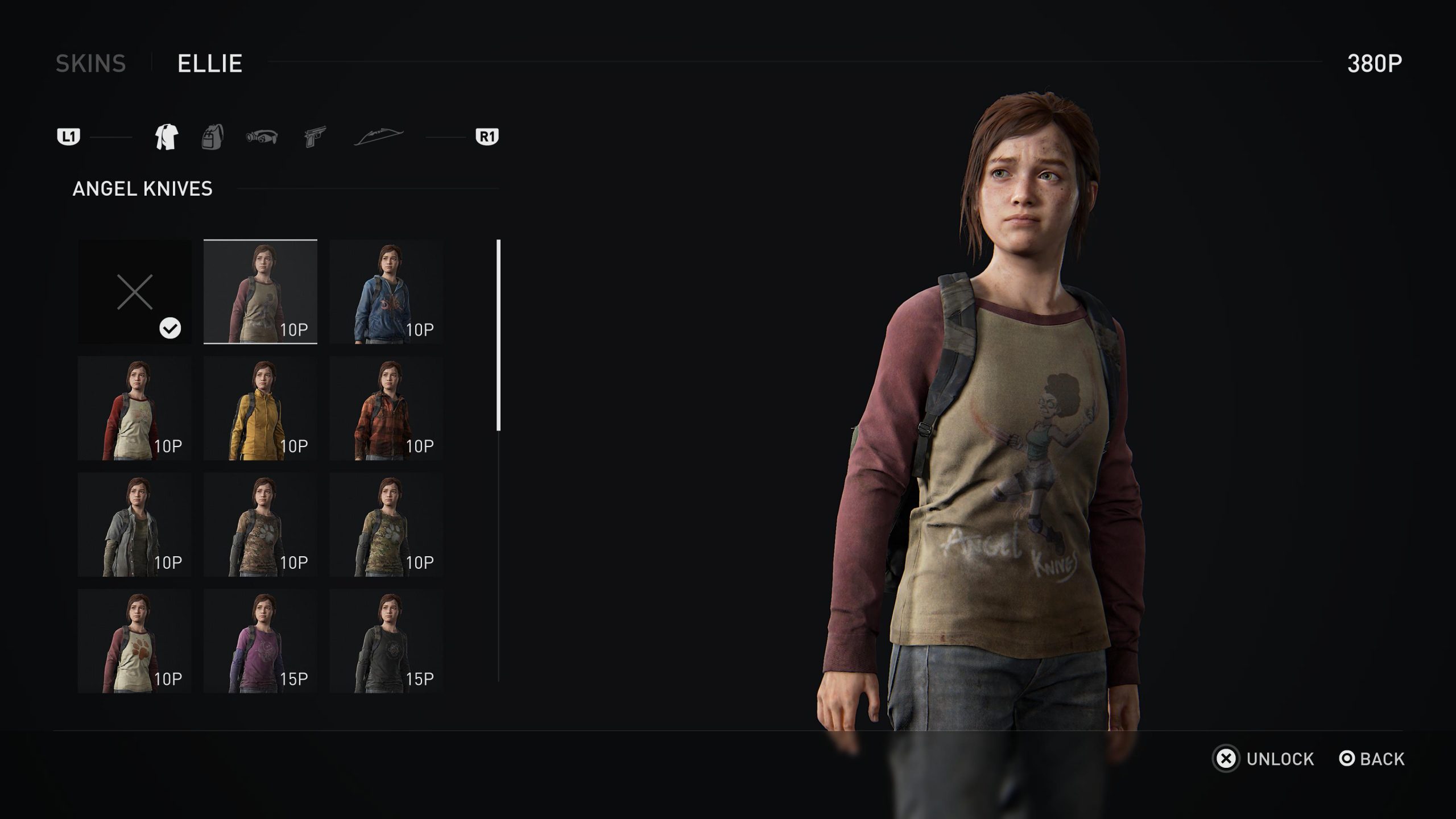 Who is Angel Knives? Well, Angel Knives is a fictional character made up by Ellie and Rily when they played a make-believe fighting game in The Last Of Us Left Behind prequel DLC expansion.
Ellie Jak Hoodie Skin
Jak or Jak And Daxter is a platforming game franchise also developed by Naughty Dog which was popular during the PS2 days, so it's nice to see them getting some love. Especially since we're probably not getting a new game in the series anytime soon…
Ellie Jak And Daxter T-Shirt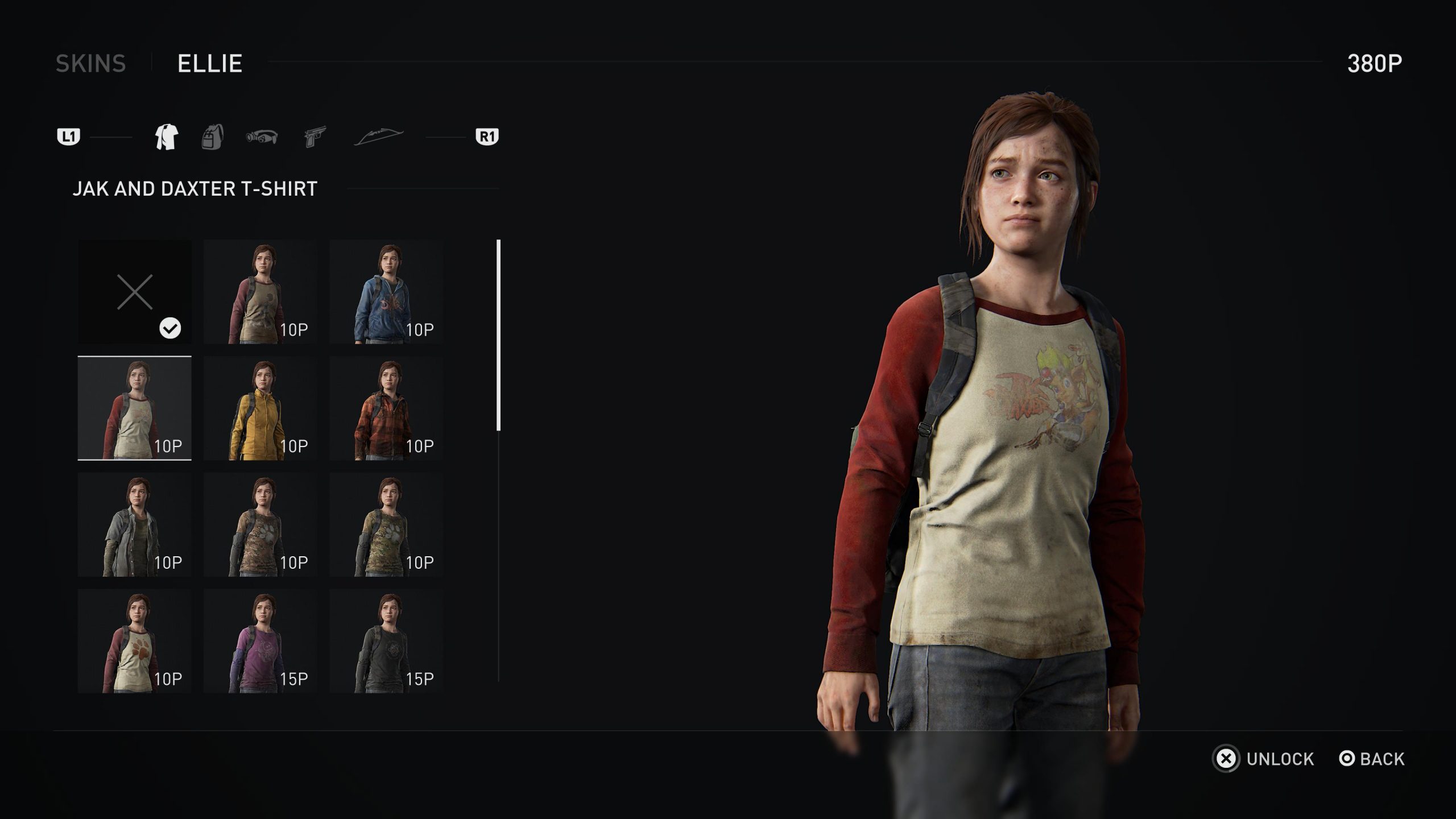 Another Jak And Daxter skin, but this time with Jak And Daxter actually being featured instead of just the logo.
Ellie Jumpsuit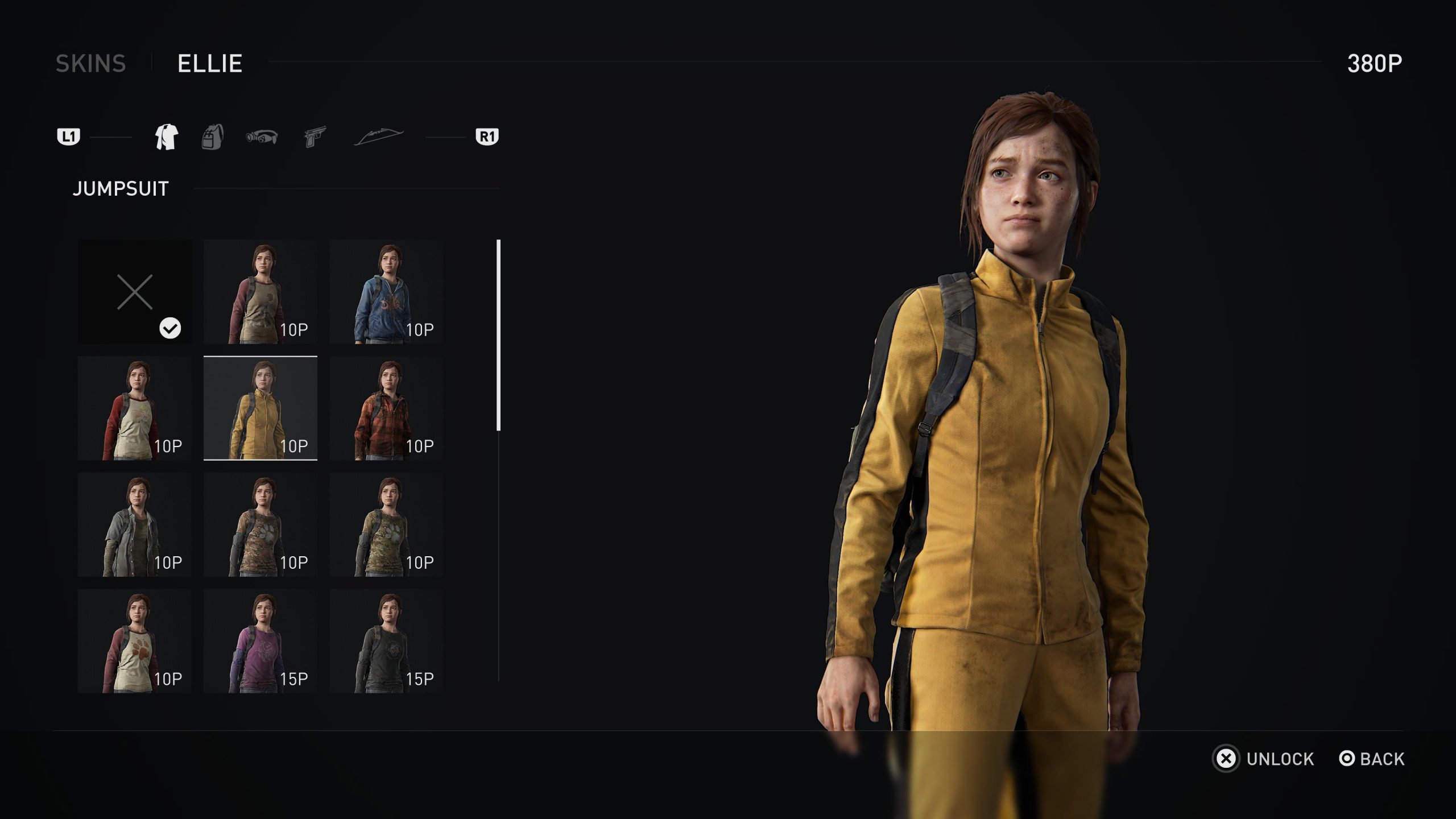 This yellow jumpsuit is clearly inspired by the one worn by Uma Thurman's iconic The Bride character in Quentin Tarantino's Kill Bill films.
Ellie Red Flannel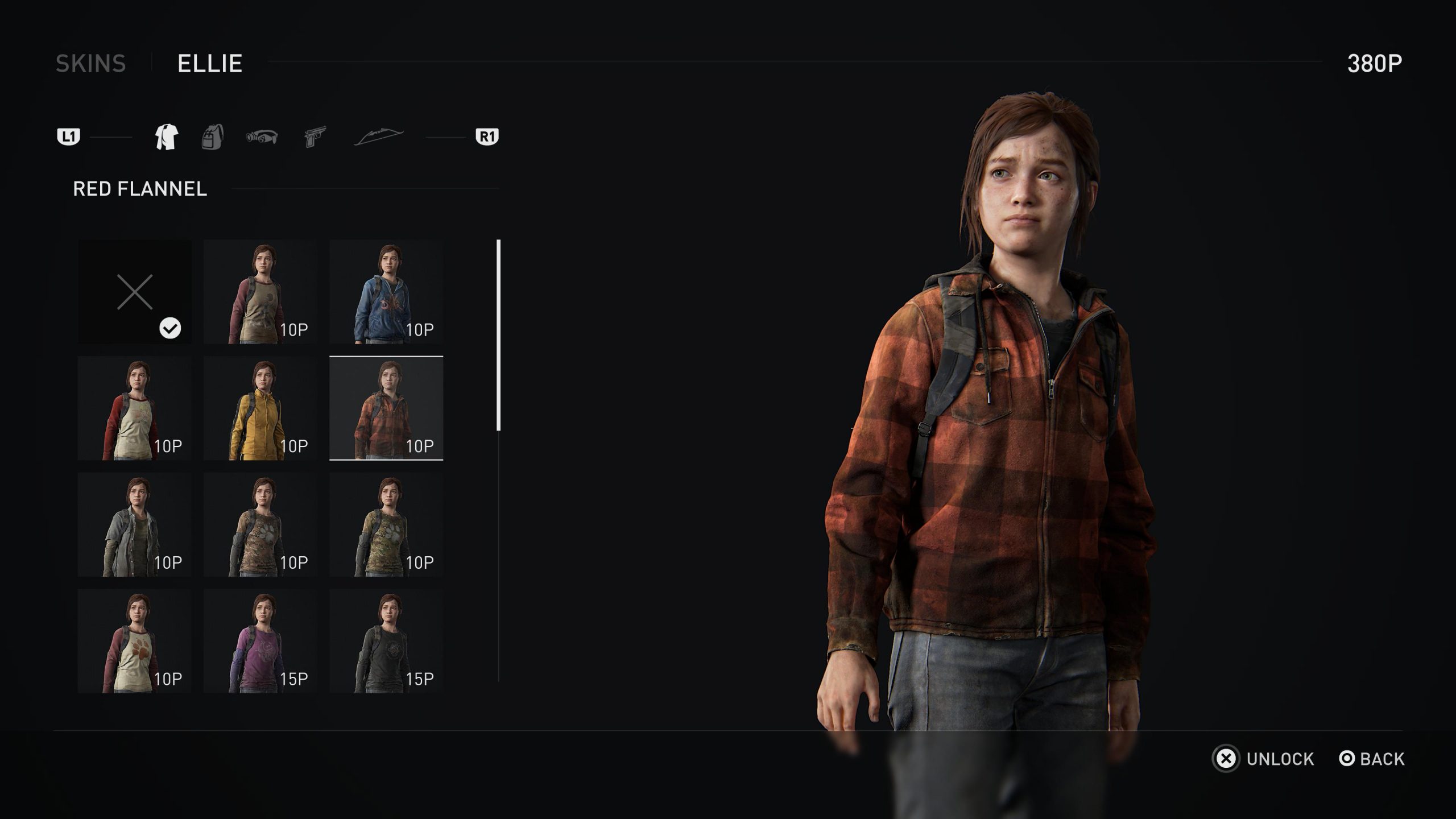 This is a tough one. It could either be inspired by Nick Offerman's Ron Swanson from the Parks & Recreation sitcom or Millie Bobby Brown's Eleven from Netflix's Stranger Things.
Ellie Naughty Dog T-Shirt 1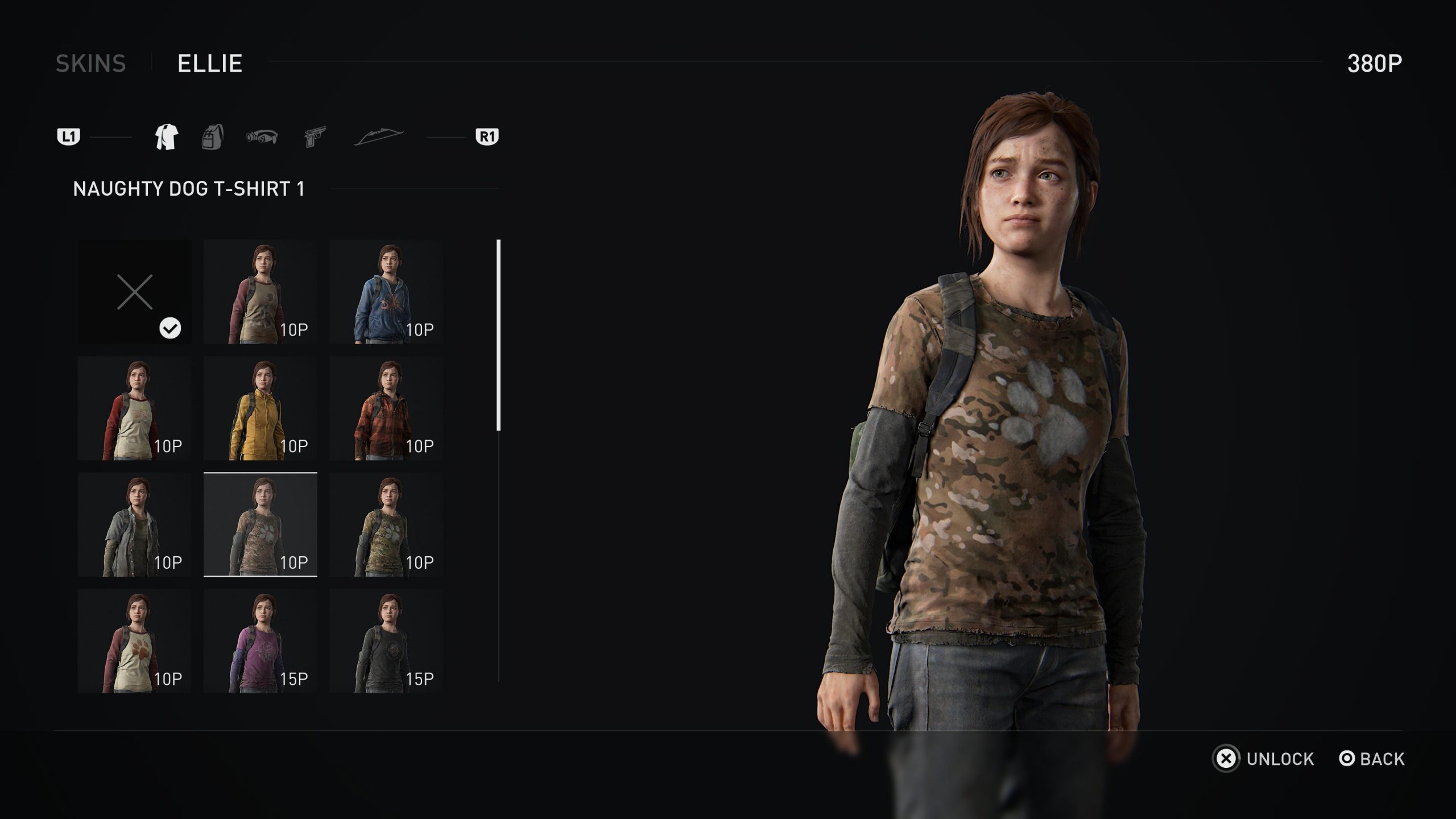 A t-shirt with the Naughty Dog logo on it.
Ellie Naughty Dog T-Shirt 2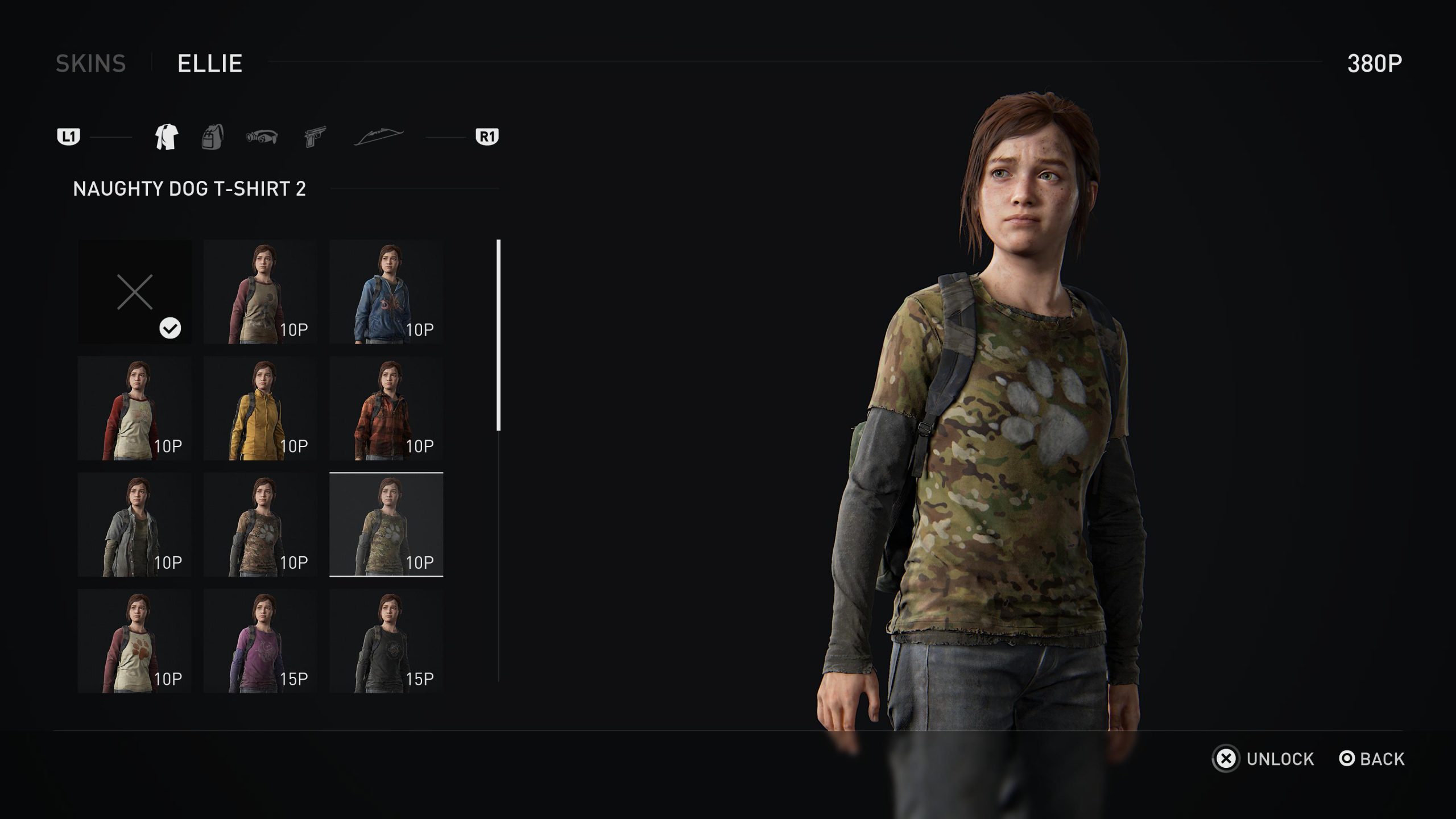 It looks the same as Naughty Dog t-shirt 1 for some reason.
Ellie Naughty Dog T-Shirt 3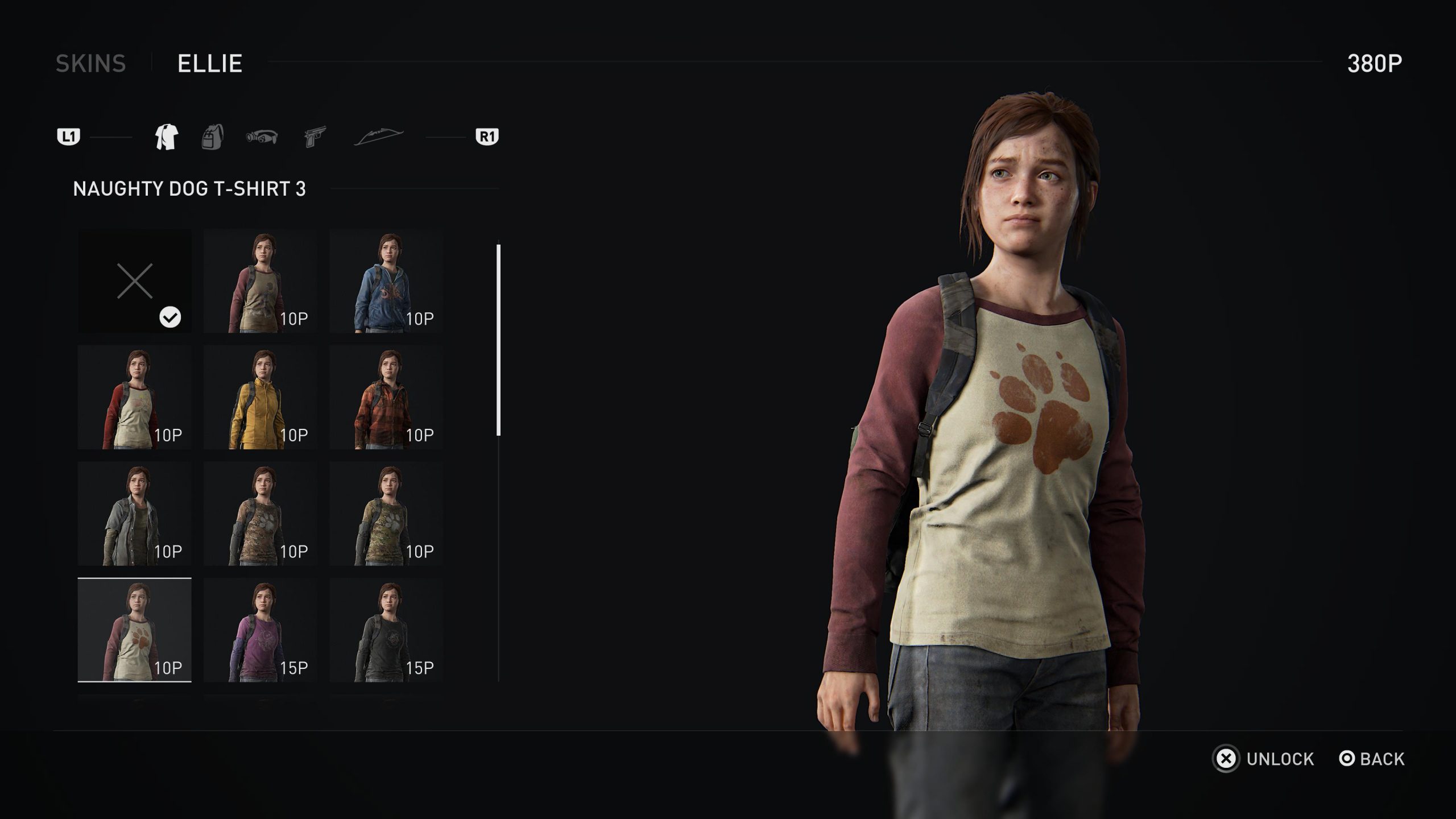 Another t-shirt with the Naughty Dog logo.
Ellie Seattle Wear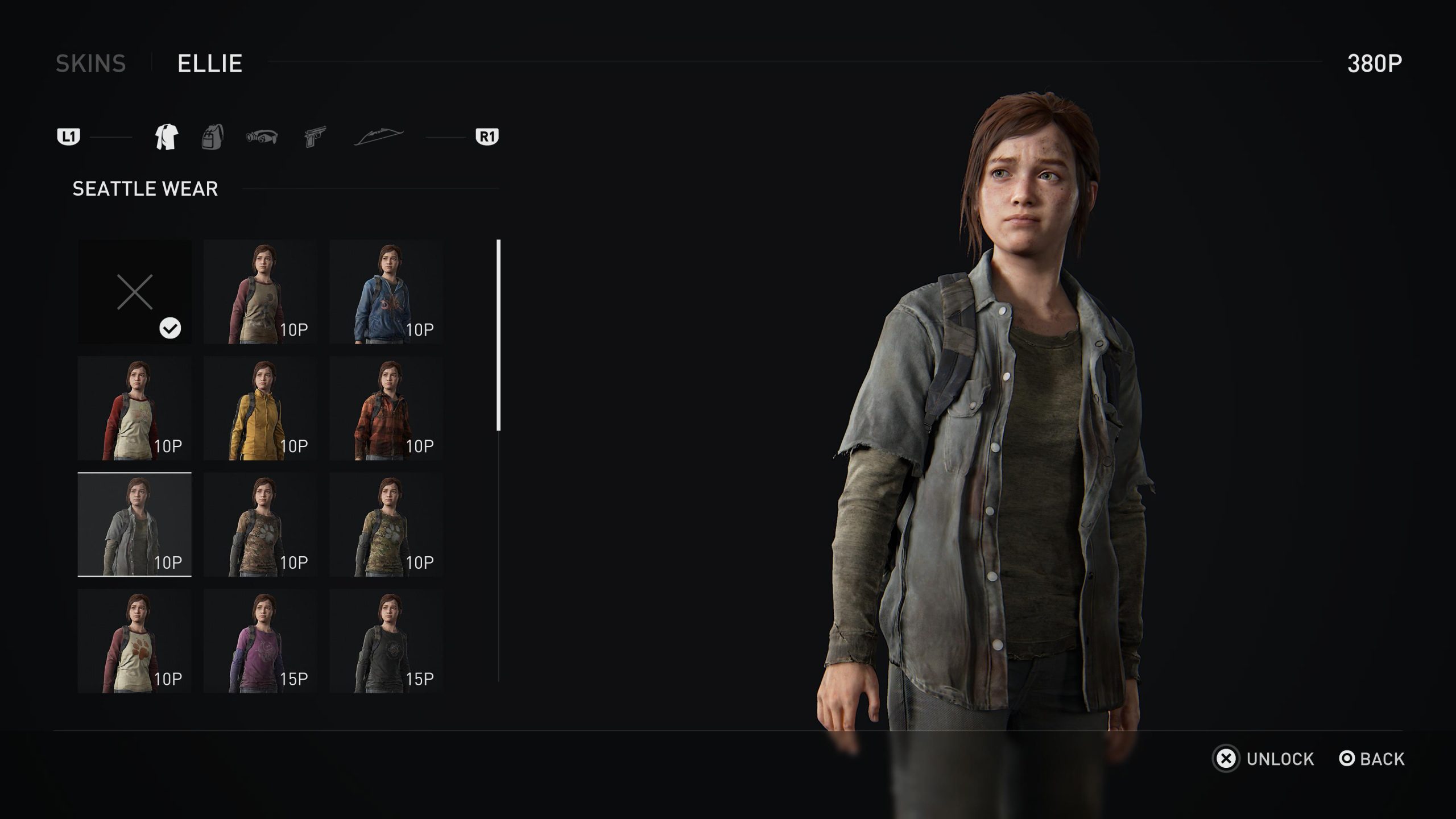 This is the same attire worn by Ellie in The Last Of Us Part II.
Ellie Astro Bot Shirt
Astro Bot is a character and PlayStation mascot created by Japan Studio's Team Asobi division.
Ellie Days Gone Shirt
Days Gone is the open-world zombie game released in 2019 by Sony's Bend Studio. The logo is the logo of the biker gang that the protagonist of the game belongs to.
Ellie Horizon Zero Dawn Shirt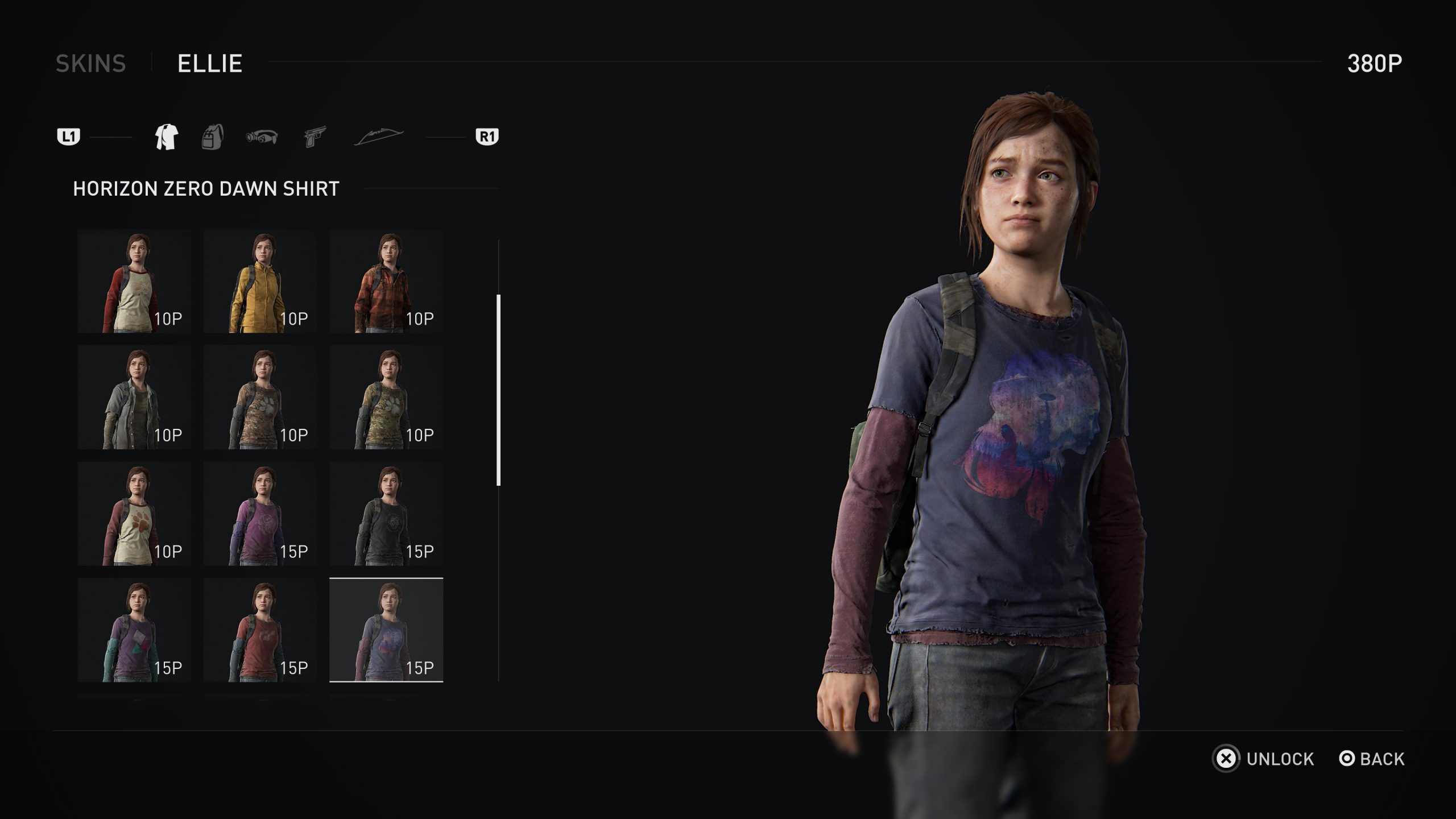 Horizon Zero Dawn is an open-world game developed by Guerilla Games. It's nice to see a design featuring a Tallneck.
Ellie GT Classic Shirt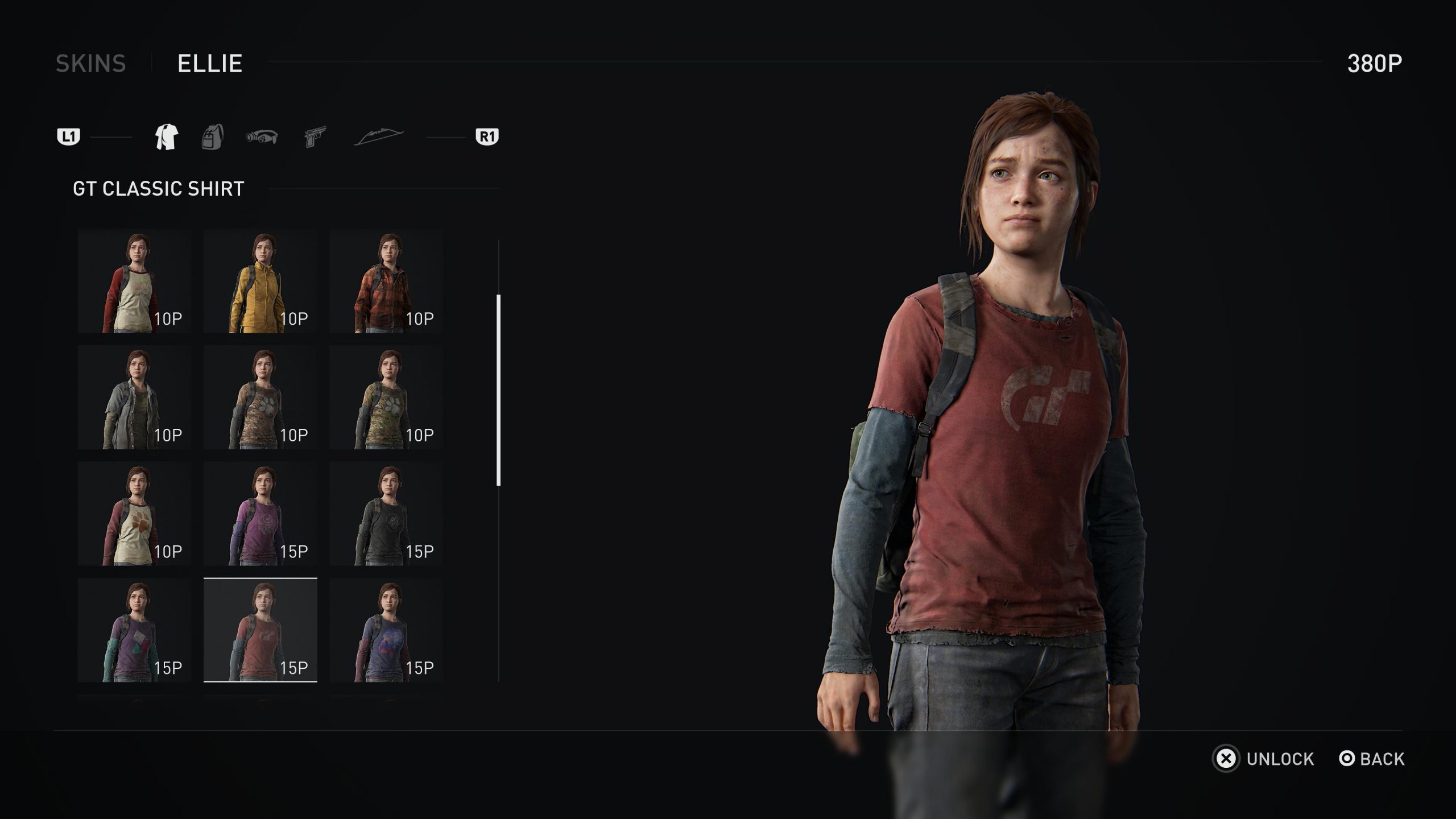 Gran Turismo is a racing game franchise developed by Polyphony Digital.
Ellie Dreams Shirt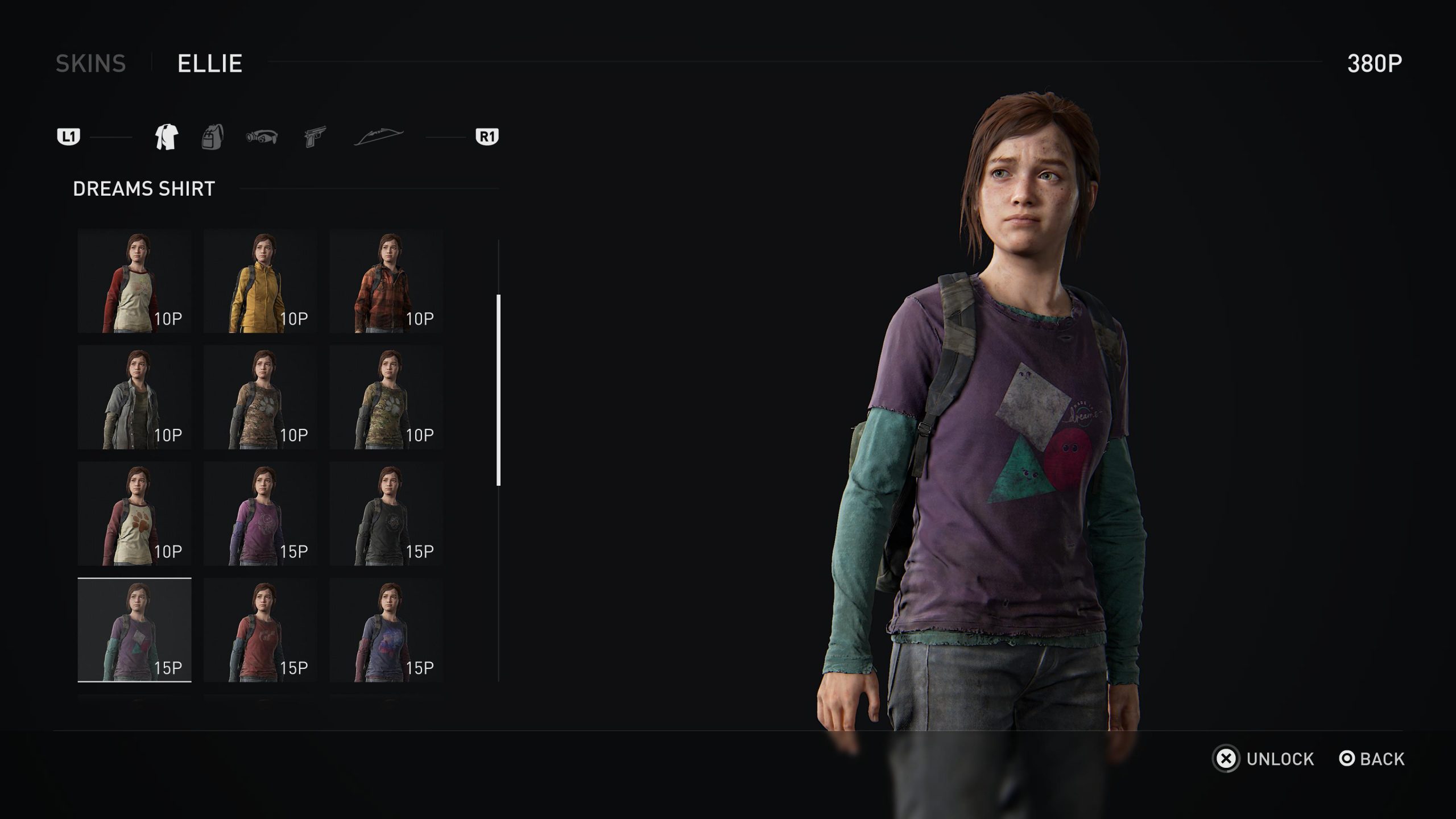 Dreams is a game creation system video game developed by Media Molecule.
Ellie ICO Shirt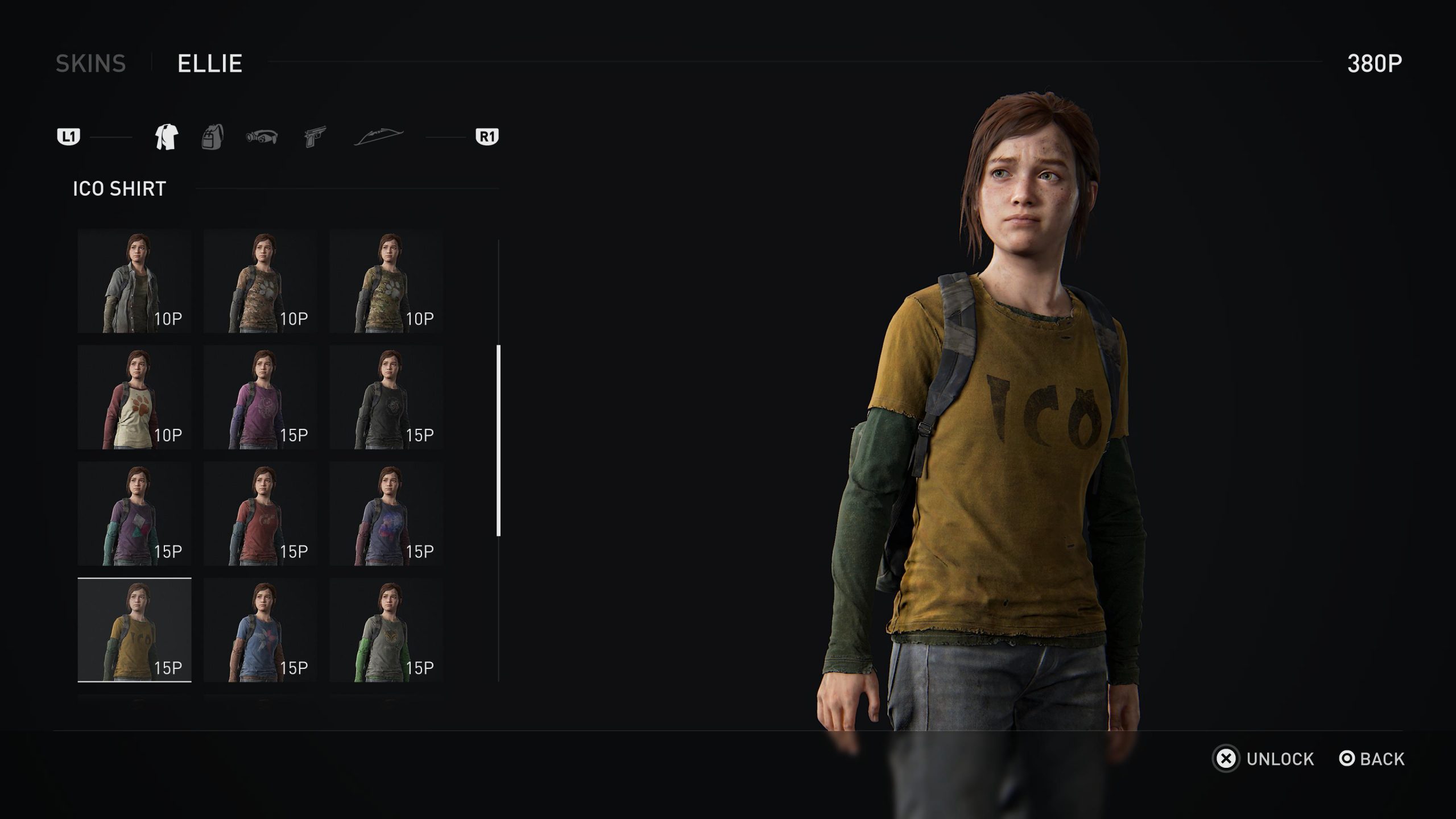 Ico is an action-adventure game developed by Japan Studio and Team Ico, the same team who would later make the Shadow Of The Colossus game.
Ellie Infamous Shirt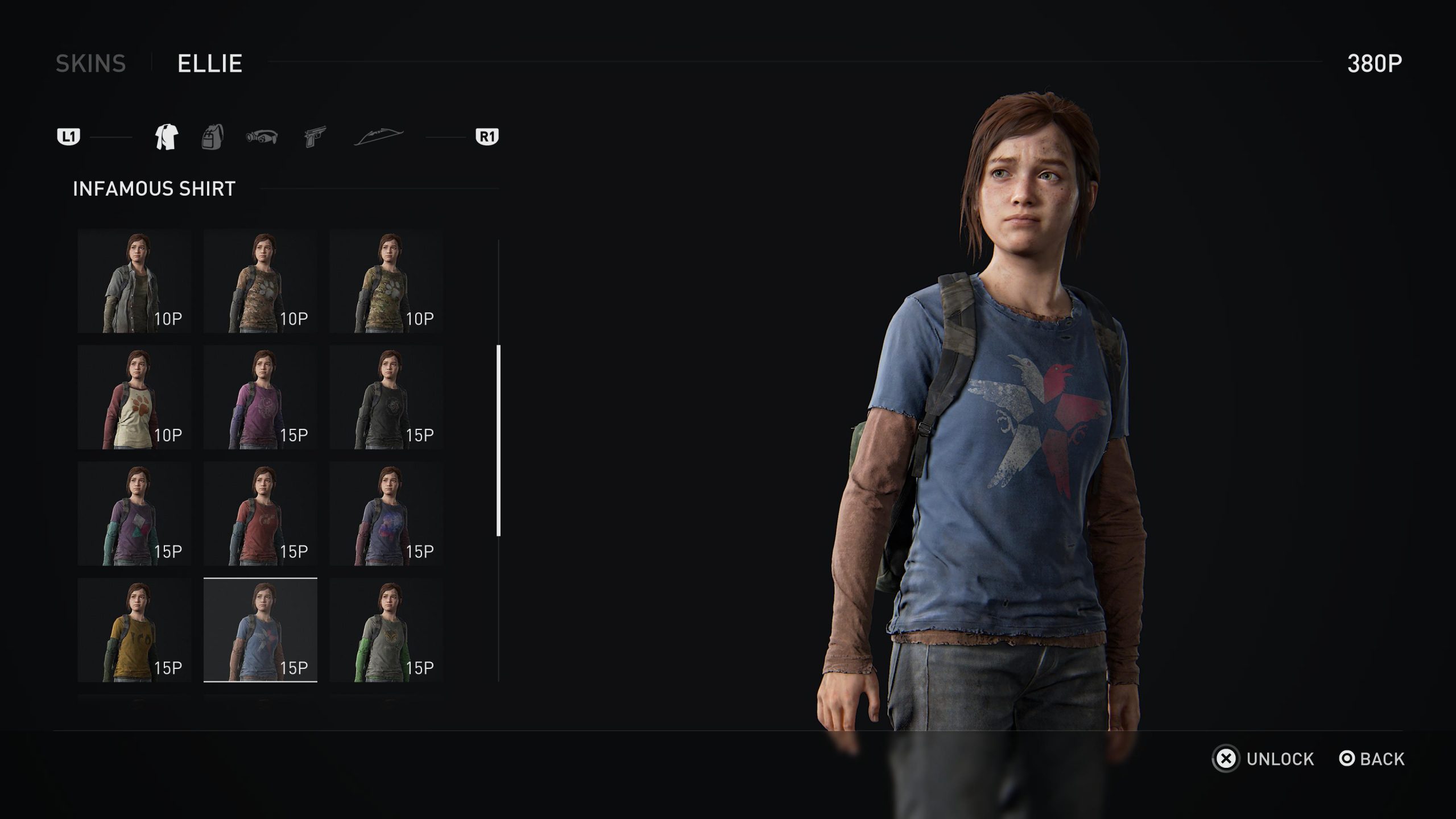 Infamous is a game franchise developed by Sucker Punch Productions.
Ellie Ratchet & Clank Shirt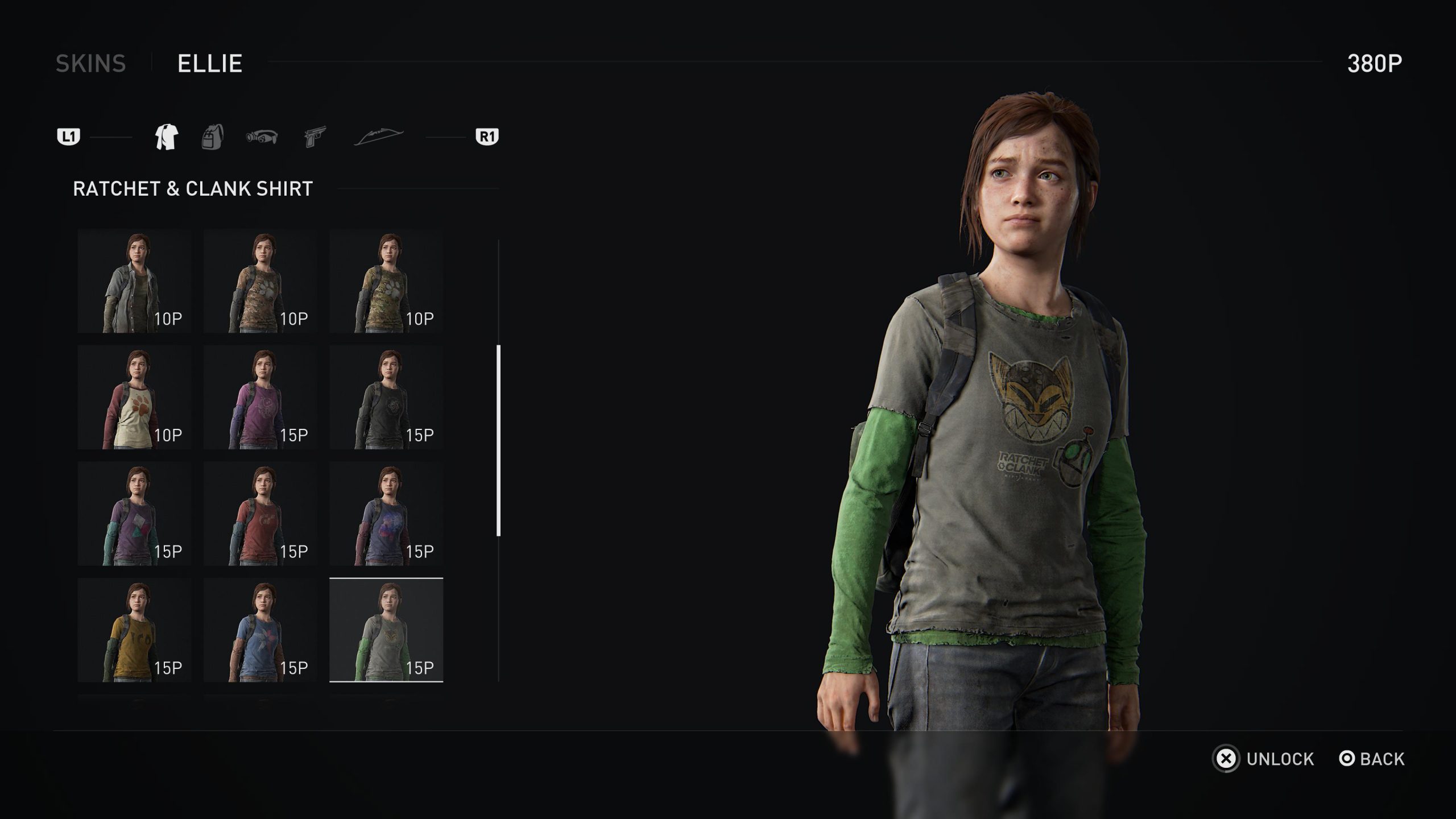 Ratchet & Clank is a franchise developed by Insomniac Games. This one actually has a creative design that's not just a logo.
Ellie Shadow Of The Colossus Shirt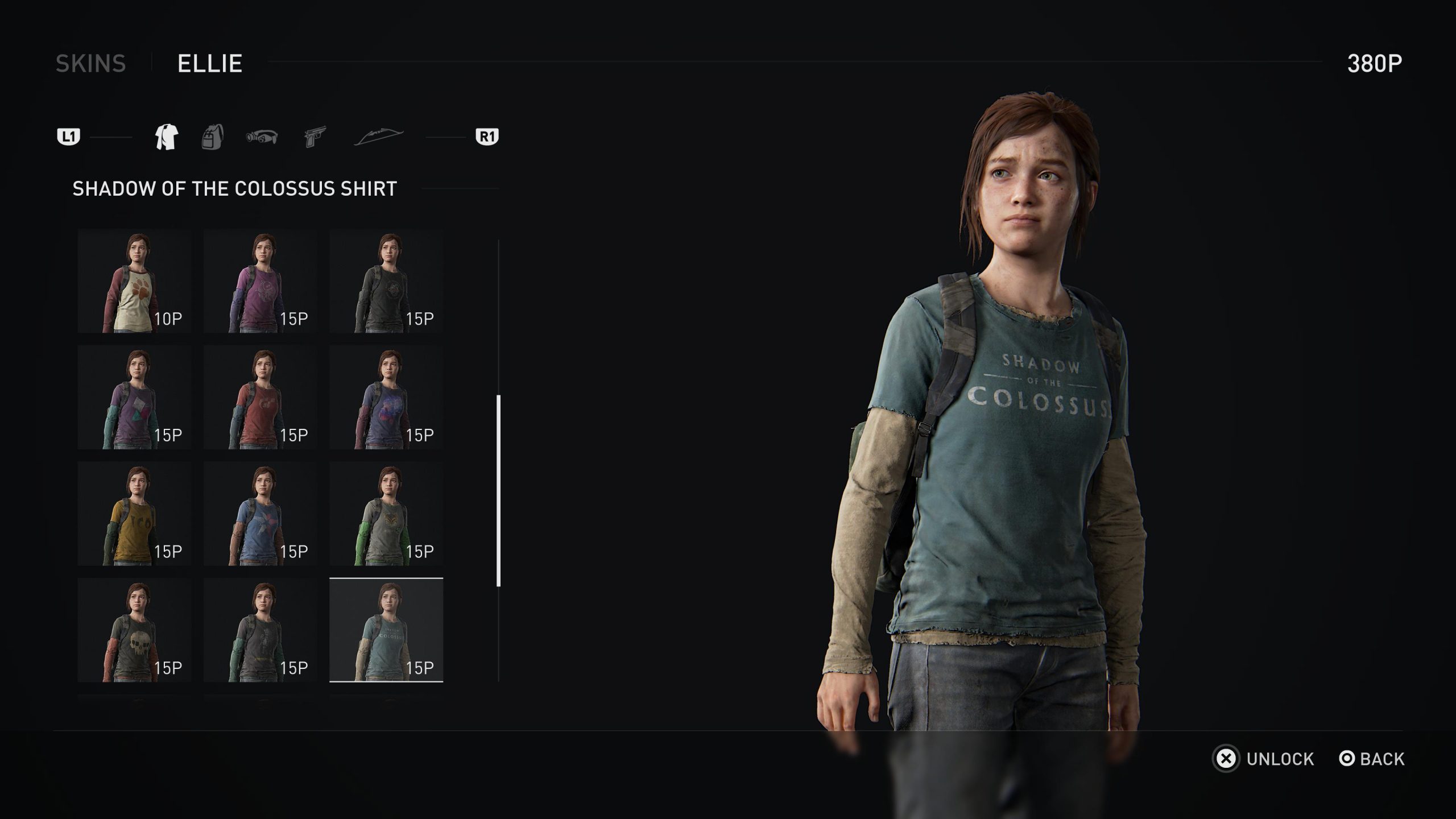 Shadow of the Colossus is a 2005 action-adventure game developed by Japan Studio and Team Ico.
Ellie Returnal Shirt
Returnal is a third-person shooter roguelike video game developed by Housemarque
Ellie Resistance Shirt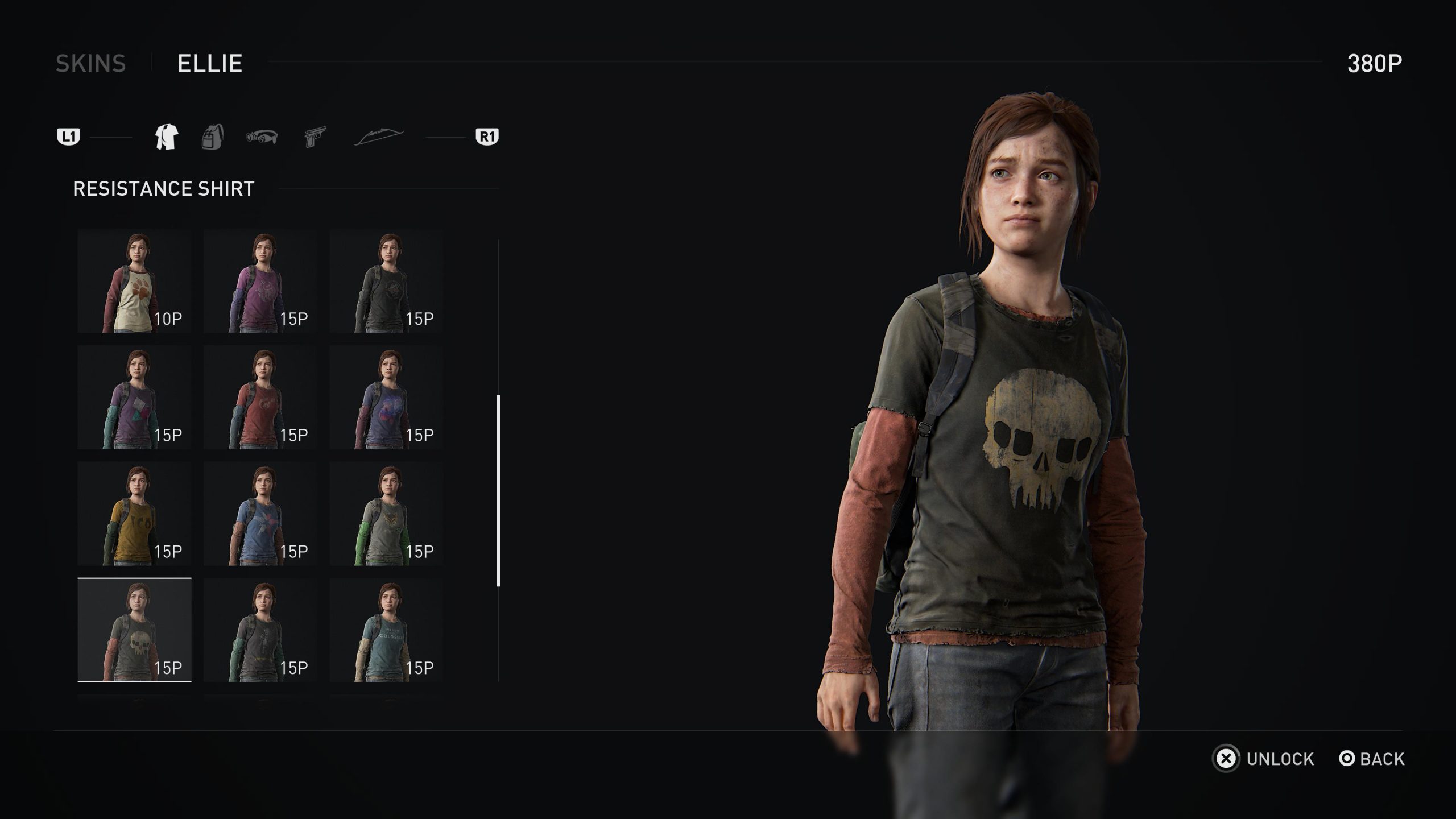 Resistance is a series of first-person shooter and third-person shooter video games developed by Insomniac Games.
Ellie Sly Cooper Shirt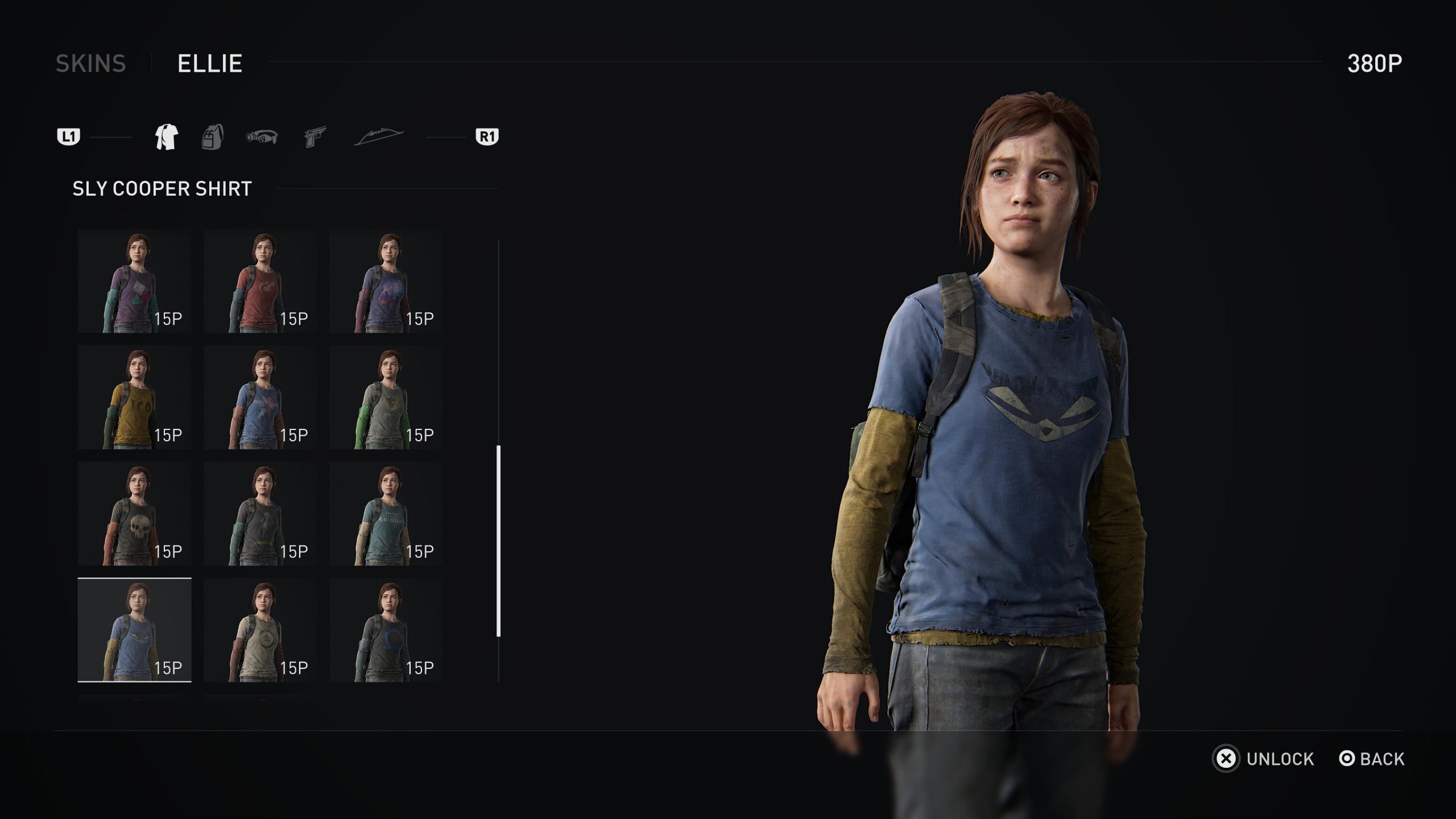 Sly Cooper is a series of platform stealth video games developed by Sucker Punch.
Ellie Ghost Of Tsushima Shirt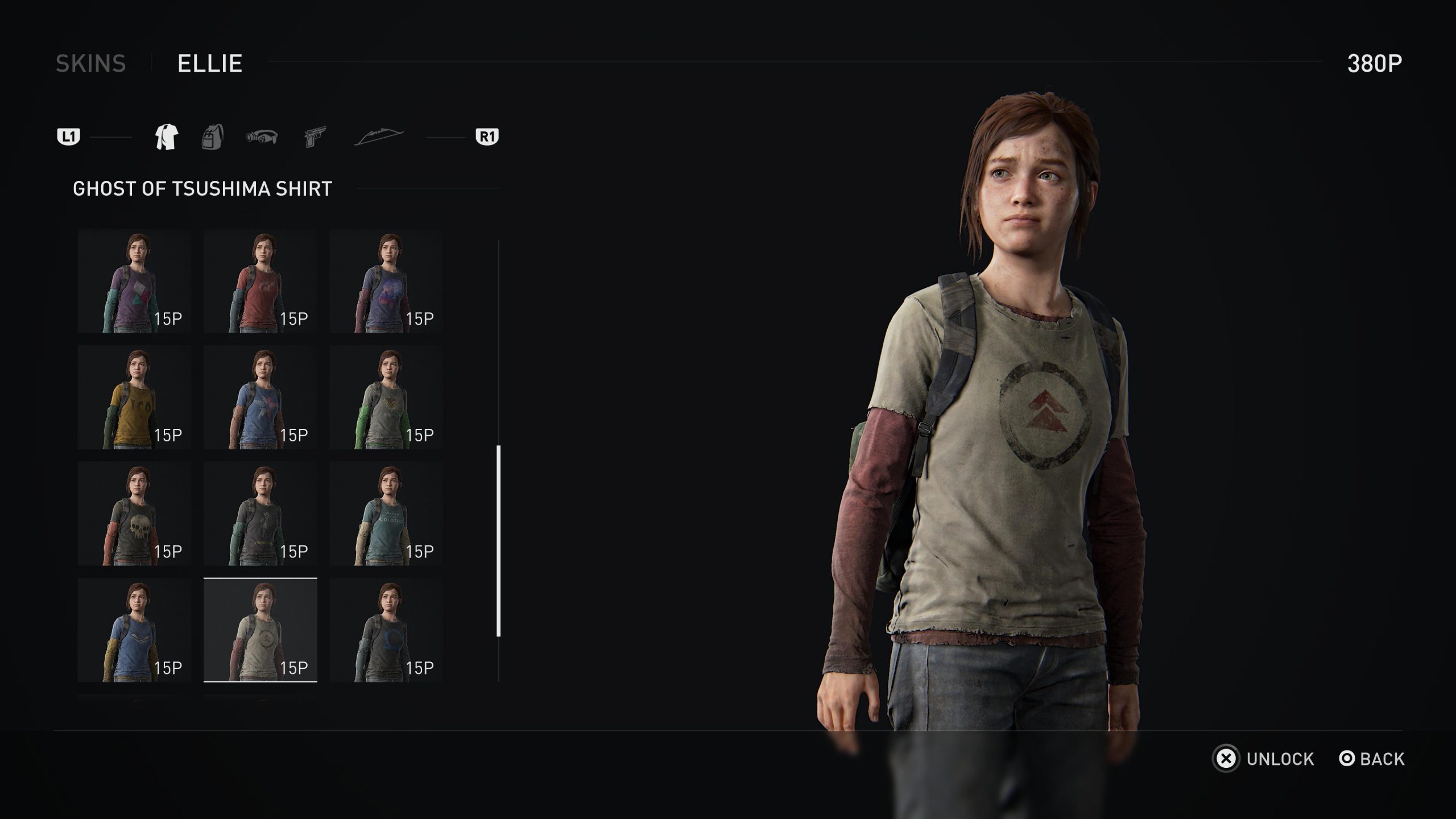 Ghost Of Tsushima is an open-world samurai game developed by Sucker Punch.
Ellie God Of War Ragnarok Shirt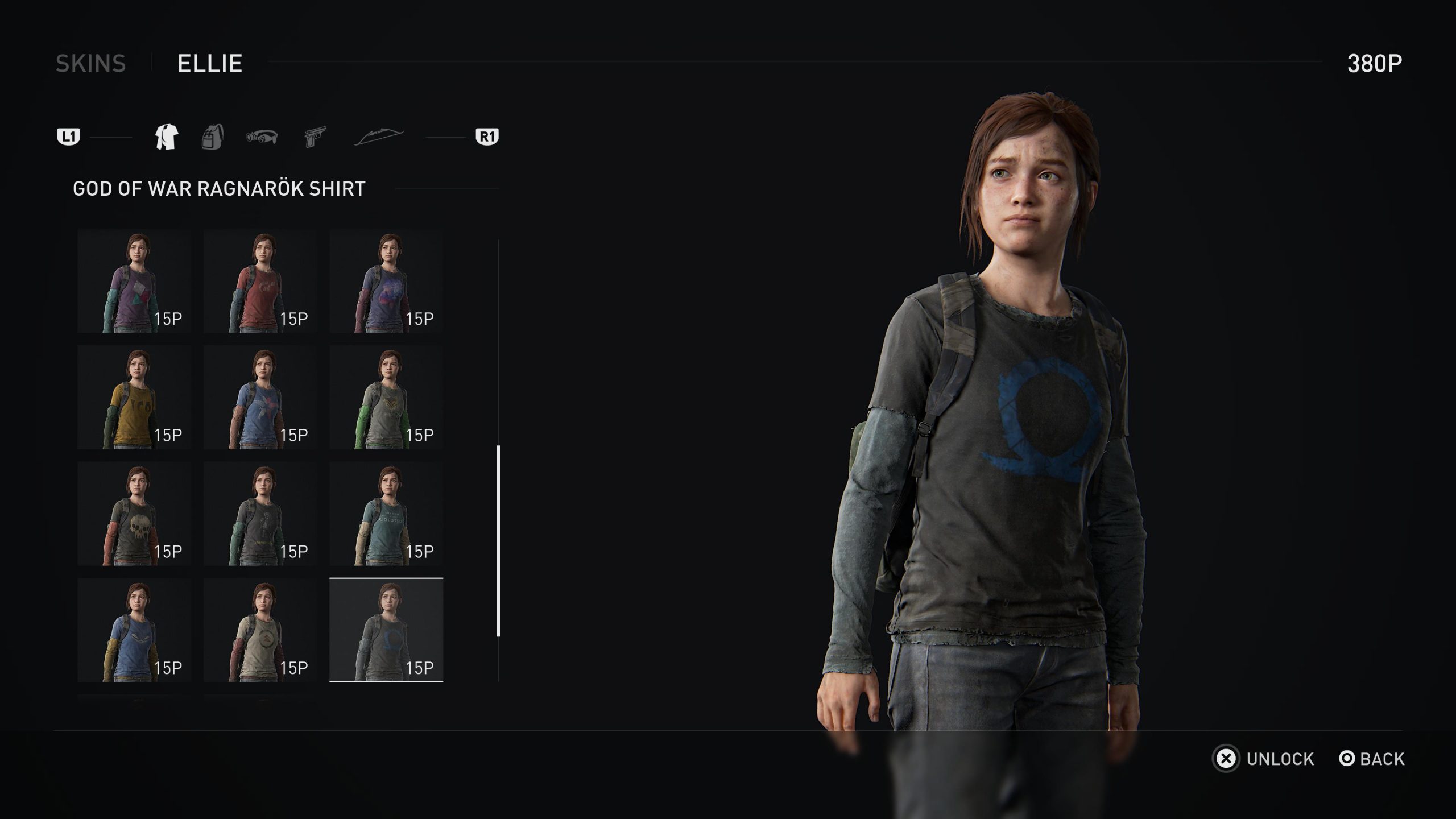 God Of War Ragnarok is an upcoming game by Sony Santa Monica.
Ellie Uncharted The Lost Legacy Shirt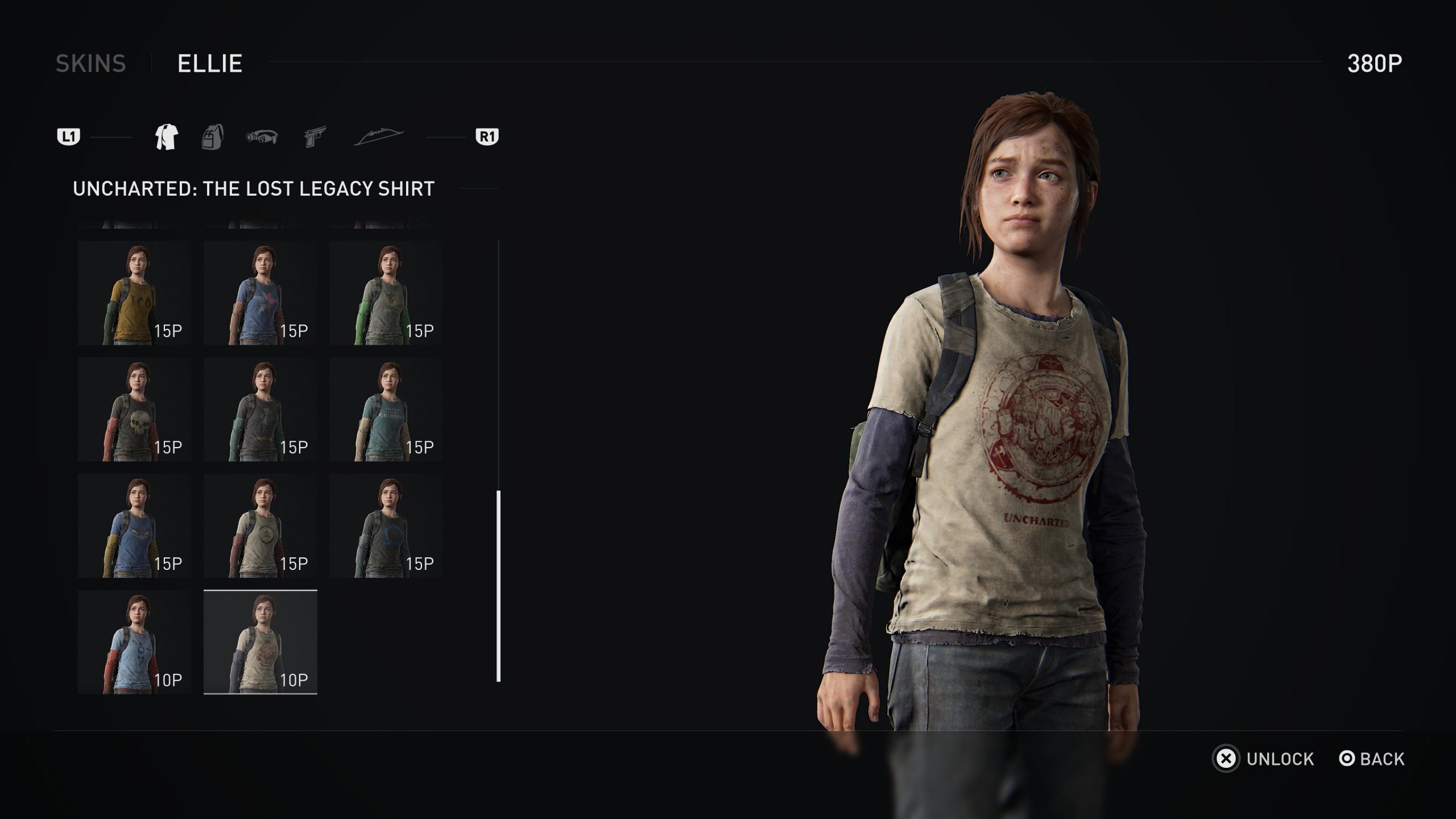 Uncharted The Lost Legacy is another game by Naughty Dog.
Ellie Uncharted 4 A Thief's End Shirt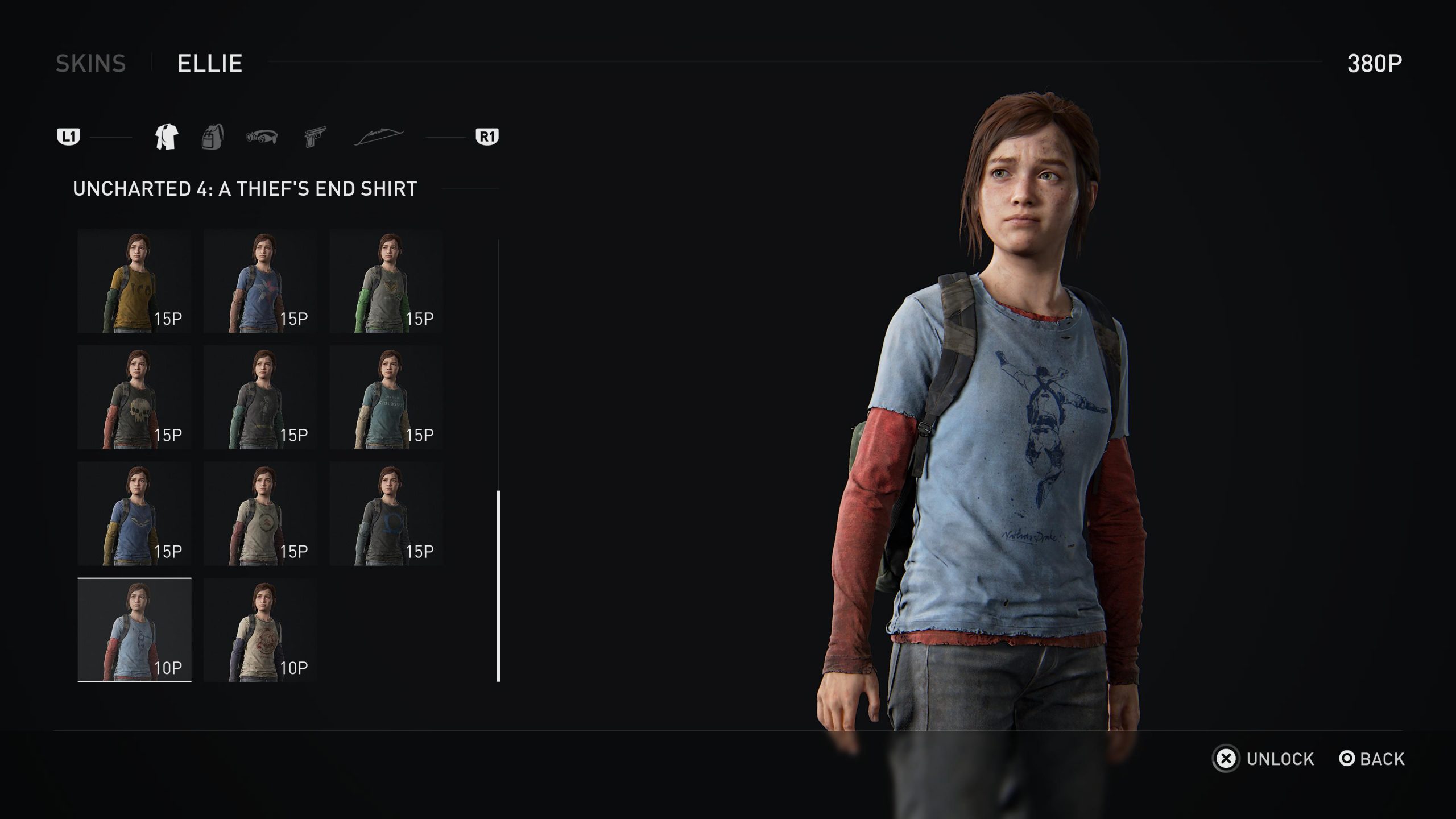 Uncharted 4 A Thief's End is another game by Naughty Dog.
Ellie Daxter Backpack
This one is pretty cute.
Ellie Punk Backpack
Not sure what this is a reference to.
Ellie Jak Goggles
This one is the most unique of them all. Naughty Dog likes to put goggles on their characters. Of course, Jak wore them first but Nathan Drake also did.