EA SPORTS has unveiled 23 of the highest-rated Men in this year's FIFA 23, with more ratings to come later this week.
From Messi to Ronaldo and from Lewandowski to Mbappé, these players are at the top of their games, but only one can be crowned the absolute best. In the Top 23 alone there are players of 14 different nationalities with the most represented being Brazil with five players, followed by Germany with three.
The most represented club in the Top 23 is Paris Saint-Germaine with four players and second is a three-way tie between Real Madrid, Manchester City and Liverpool with three players each.
Here are the Top 23 highest-rated male players in FIFA 23: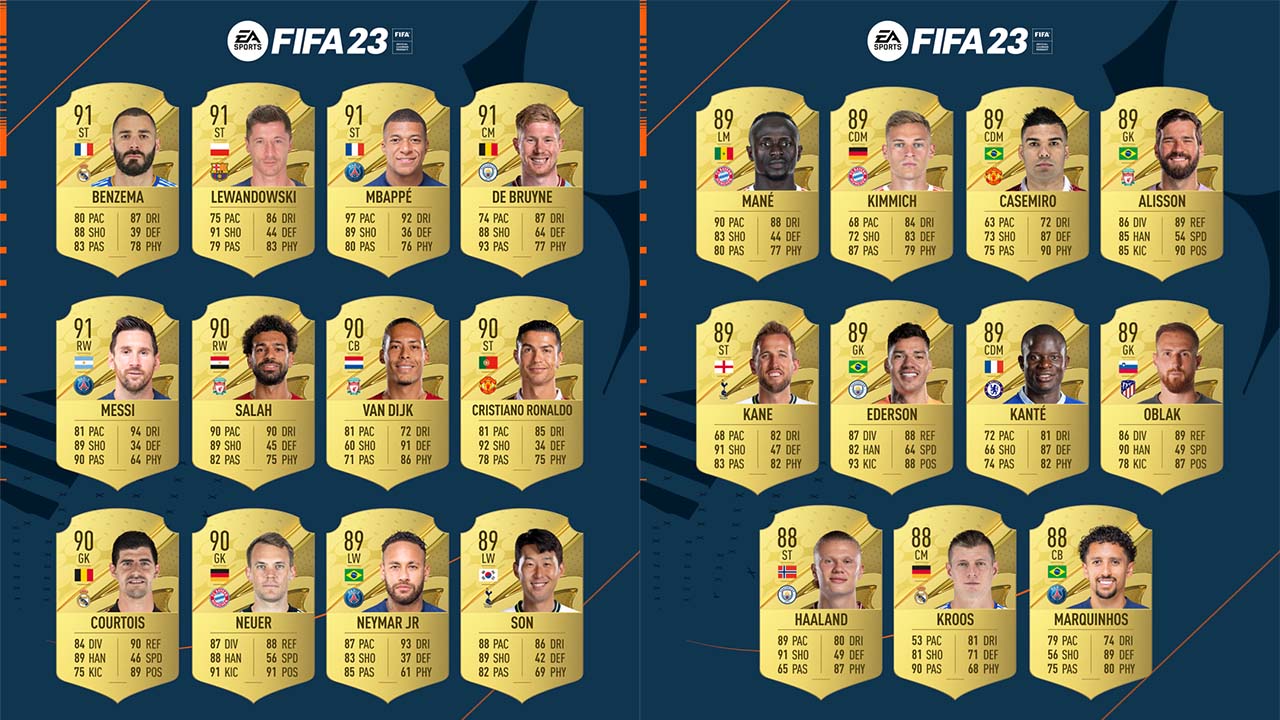 Karim Benzema, 91 – Real Madrid
Robert Lewandowski, 91 – FC Barcelona
Kylian Mbappé, 91 – Paris Saint-Germain
Kevin De Bruyne, 91 – Manchester City
Lionel Messi, 91 – Paris Saint-Germain
Mohamed Salah, 90 – Liverpool
Virgil van Dijk, 90 – Liverpool
Cristiano Ronaldo, 90 – Manchester United
Thibaut Courtois, 90 – Real Madrid
Manuel Neuer, 90 – Bayern München
Neymar Jr, 89 – Paris Saint-Germain
Son Heung-min, 89 – Tottenham Hotspur
Sadio Mané, 89 – Bayern München
Joshua Kimmich, 89 – Bayern München
Casemiro, 89 – Manchester United
Alisson, 89 – Liverpool
Harry Kane, 89 – Tottenham Hotspur
Ederson, 89 – Manchester City
N'Golo Kanté, 89 – Chelsea
Jan Oblak, 89 – Atlético de Madrid
Erling Haaland, 88 – Manchester City
Toni Kroos, 88 – Real Madrid
Marquinhos, 88 – Paris Saint-Germain
One thing to point out is the unbelievable rating of both Haaland and Ronaldo but for two very different reasons. As a fan of the sport, it doesn't take a genius to recognise Haaland's prowess as a forward and how much of an impact he has made in a short time he has been in Man City. Hence, I unbiasedly believe that he is deserving of a much higher rating and only lacks that due to his age.
As for Ronaldo, even as a United fan I can tell that in the past six months, he hasn't been living up to the hype we all expected the returning Man United star. But I'm also aware of the outrage that EA and FIFA would receive if they were to drop Ronaldo's rating below 90.
Over the course of the next week, EA SPORTS will continue to reveal the best of the best including the Premier League Most Improved, Bundesliga 5-Star Skillers, and much more. At the week's end, the top 1,000 player ratings will be unveiled and fans across the globe can begin debating their favourite players.
Tuesday, 13 September: Premier League and Most Improved
Wednesday, 14 September: LaLiga and Best U21
Thursday, 15 September: Bundesliga and 5-Star Skillers
Friday, 16 September: Serie A, Ligue 1, Career Mode Highest Potential
Saturday, 17 September: Best Passers and Best Dribblers
Sunday, 18 September: Full Database, Fastest Players, Career Mode Gems
Additionally, Women's Ratings will be unveiled between 21-22 September and will offer fans a fresh look at the most authentic integration ever for women's leagues.