Platform(s): PC (version reviewed), Nintendo Switch, Apple Arcade
Genre: 2D action roguelite where you go deeper underground
It's nice to know that Yacht Club Games and developer Nitrome are bringing back the classic gameplay of Bandai Namco's Mr. Driller, now in a new 2D action platformer guise and Shovel Knight brand. Shovel Knight Dig is what you get when you have two retro game-inspired indie developers cash in on the roguelite genre but with their own aesthetics, charm, and gameplay knowhow.
Dig Dug
You play as Shovel Knight from the hit 2D platformer back in 2014, as he digs his way downward in 2D action platforming glory to get back his well-earned loot from Drill Knight and the Hexcavators, a band of ne'er do well thief knights who are digging their way downwards in the same spot Shovel Knight was napping for riches and glory too. So down you go, shovel in hand, as you fight off enemies from Shovel Knight's past titles, avoid traps, and nab as much treasure as possible.
You play Shovel Knight Dig like any other 2D action platformer, but there's only one way to progress onward: down. Shovel Knight's digging prowess allows you to dig through dirt like it's second nature; he doesn't drop down when you dig and goes left, right, and down when doing so. Temporary power-ups can either give him additional skills like having his helmet horns scratch off dirt that's above him, and also a power dig move that drills you all the way down, destroying the ground and enemies alike. You even get to use spells and abilities that use up mana that adds to Shovel Knight's arsenal.
Death is common in this roguelite title, but it doesn't mean the end. Whatever treasure and gems you amass in your run will be kept (albeit with some penalties), and you will come across trapped villagers and vendors who can sell you relics and items on the surface upon being rescued. You also get your choices of pathways as you dig downwards, so you know what hazards you can take on be it one-hit kill contraptions that assault you if you linger too long on one screen. The challenge of staying alive and not getting trapped in a stage's pitfall can get taxing, especially with the randomness of the stages dealt to you. But we're not talking about a game that takes hours to play; Shovel Knight Dig can be completed in a single run in less than an hour if you're good.
Once you've played a few runs and get the hang of how Shovel Knight plays in this spin-off, you'll be tunneling through the game over and over until you're satisfied with your run, or you've amassed enough. As far as replayability goes, this one has it in spades. Aside from its spot-on controls and fun core gameplay, the game's lovely pixel art and Jake Kaufman soundtrack will keep you enthralled for its bite-sized experiences.
X Marks The Spot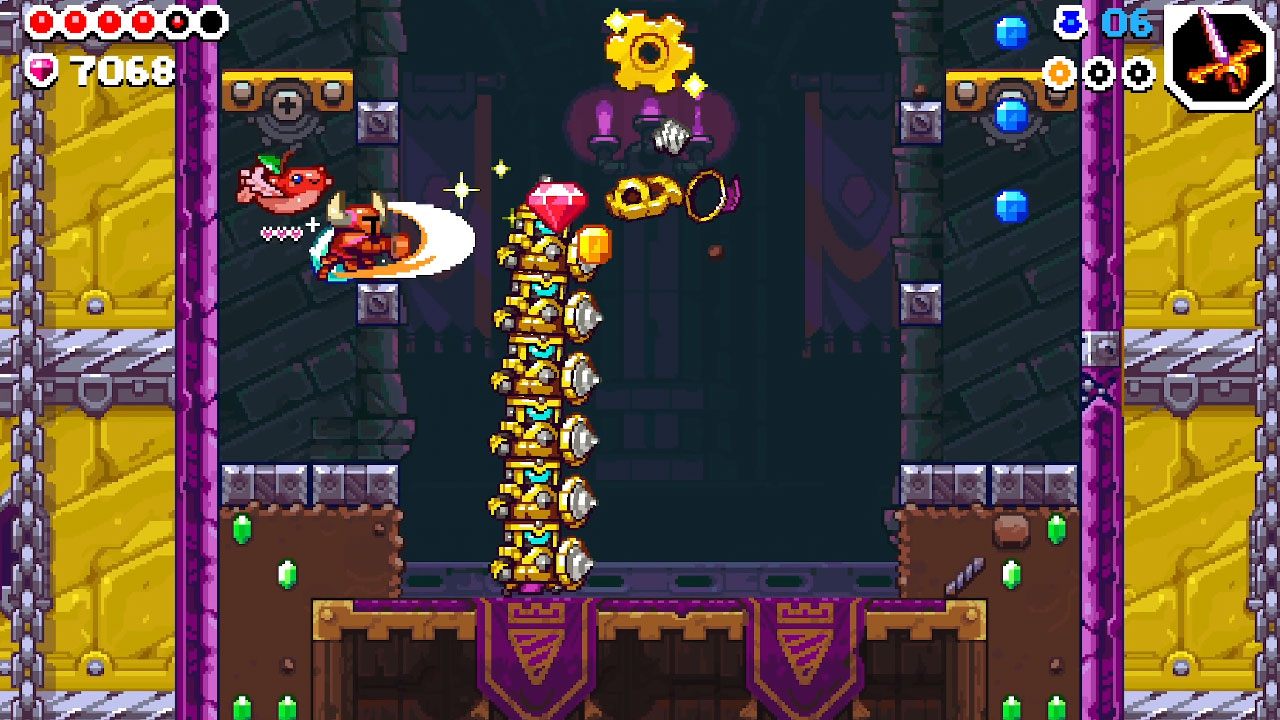 Shovel Knight Dig may not be for anyone looking for deeper and "lite" experiences. But for its RM44 price tag? You're getting a replayable action game that takes the downward digging mechanic of one of Bandai Namco's underrated classics and turning it into a full-on fast-paced action title, while also doing its roguelite trappings justice. If you're in the camp for short-term but challenging "devil may care" fun, dig in!
Final Score: 70/100