"Disneyland" Malaysia To Be Built & Located In Malacca [Update: Not Endorsed By Disney]
By Alleef Ashaari|November 17, 2022|
Update (17/11/2022): Disney has officially confirmed (via CNN Southeast Asia reporter Heather Chen) that there are no such plans underway in Malacca. Disney said that the news is "not true" and it's "fake news and purely speculative".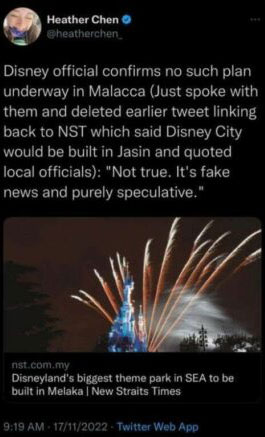 Original Story
Malaysia is finally getting its own Disneyland theme park, or is it?
Speaking to Melaka Hari Ini and TV3, the Exco for Tourism, Heritage and Culture of Malacca, Datuk Muhammad Jailani Khamis, said that this Disneyland will be the first in ASEAN countries after China, Hong Kong, Japan, and South Korea, as well as that the project will cost approximately RM2 billion. A whopping 80.9 hectares will be dedicated to developing and building a Disneyland theme park and Disney City in Jasin, Malacca, Malaysia.
Here's what he said:
"After more than 20 years, we will have a new theme park. Even if it's not as big, I think it's worth it to bring a brand like Disneyland here.

This will also improve our target of reaching the objective of 20 million tourists in three years and return to the original benchmark that we achieved, which was as many as 18.7 million tourists in 2019.

God-willing, Disneyland is planned to be built in the district of Jasin. However, we cannot reveal the exact location as of yet, but the size of the development will be around 60.7 to 80.9 hectares.

Not only Disneyland, but we also have plans for the development of a 22km Maglev system to connect tourist hotspots in Malacca with an investment of RM900 million. Overall, the whole project (along with Disneyland and Disney City) will cost as much as RM2 billion."
While this is all well and good, official Disney channels have yet to make any official statement or public announcement regarding this. In fact, there isn't any official Disney representatives in the video below, who would usually oversee such things as prestigious as a new official theme park in a country new to them.
Kakuchopurei has reached out to Disney regarding this.