Review originally published on 16 February 2023. This review is brought forward since the game is available this week.
Platform: PS5 (PS VR2 required)
Genre: Archery & climbing simulator set in the Horizon universe
Have you ever wanted to feel what it's like to be like Aloy the Norad Huntress, expert of the bow and climbing? Well, you can with the latest Horizon game, though not as Aloy herself.
Instead, in Horizon: Call of the Mountain, you play as Ryas, a Shadow Carja who is given the thankless job of looking for his brother in a mission given to you by Blameless Marad. And yes, you do get to see Aloy make an appearance, but this is clearly a side-story with new characters and a new plot, all using what makes the Horizon series great: the graphics, the setting, and the machine-creatures you'll murder with your caveman-esque tools.
Take The Shot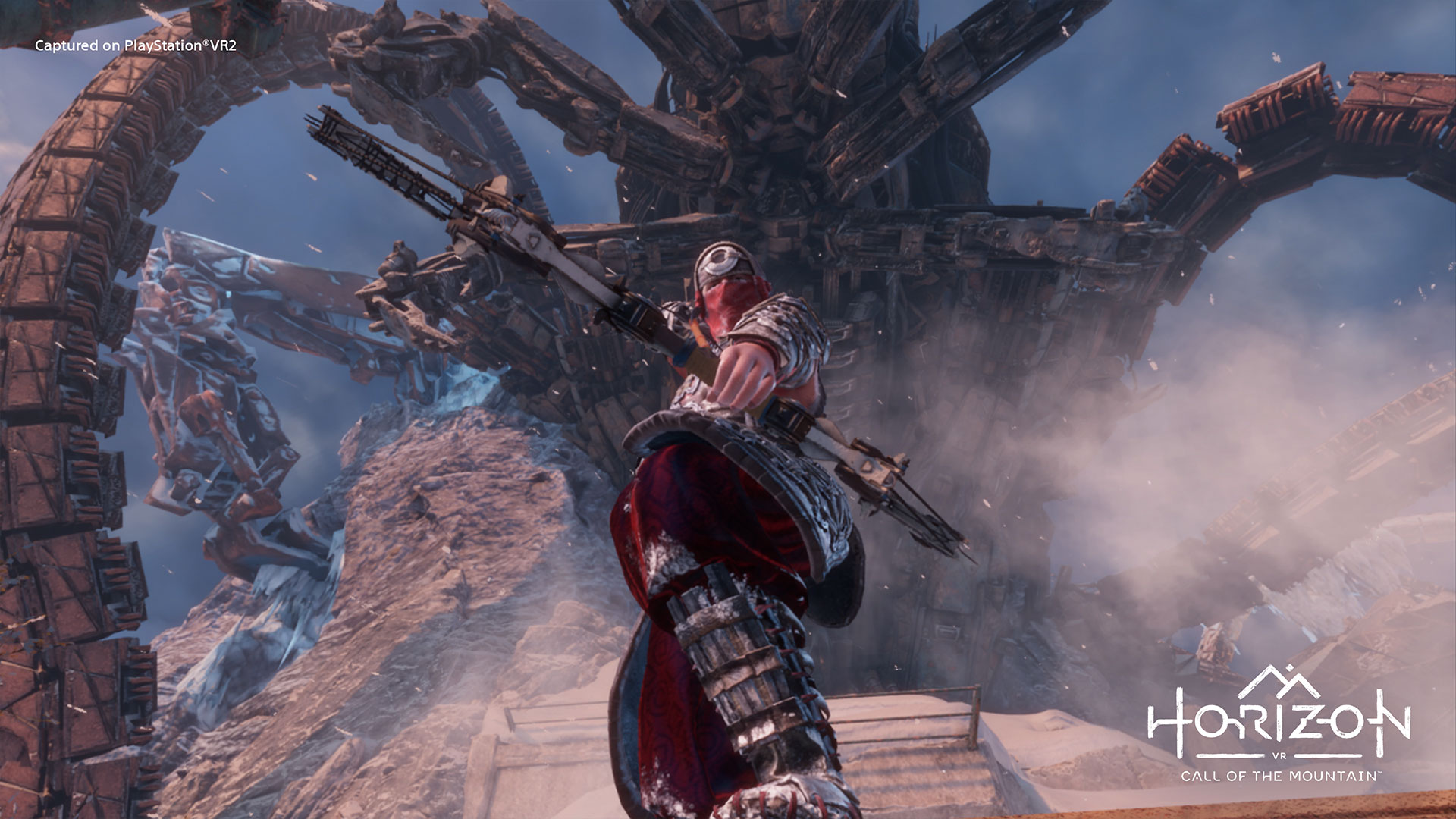 Horizon: Call Of The Mountain's gameplay structure is what you expect from a VR game: linear but immersive in what it delivers and dishes out. You're not going to stray too far from the path that's given, but you will have a wild ride that's seared in your mind. Ryas' main actions include shooting down enemies with his bow and arrow (plus catapult sling), dodge things really fast, and climbing. Ryas will climb a lot to get to places. He'll use his hands to climb, he'll use mountain picks for smooth surfaces, and he'll use other rope-involved tools to elevate himself and cross long pit stretches.
As a player, you'll be controlling his movements with the PS VR2 controllers from the aforementioned climbing to the drawing and aiming of the bow, as well as firing it by doing a pull-and-release motion. And throughout my 8-hour journey in the untamed mountains of this Horizon game, the controls are near-flawless and the visual experience sublime.
Killing giant machines with arrows and explosions, while also using traps in the vicinity, just feels fun and exhilarating despite the controlled rail-shooter nature of the segments. You aim with the left controller, holding it like a bow, then fire by drawing imaginary arrows with your right controller. You dodge by flicking the right analog stick, which just requires your thumb. It's easy and intuitive for the most parts; I even was used to crafting new arrows as that required additional motion inputs from the VR controllers while in combat. Since things slow down while you're switching and crafting arrows, you're given ample time to think on your next actions.
The exploration and viewfinding bits are also stellar to behold and experience. While the game does take a few liberties and isn't really strict with how you climb and what posture you need to be in, the act of moving your hands to reach climbing spots is all well-done here. You can still die if you let go, and there are some reflexes involved when jumping off to the other side; for instance, you need to reach to your back and pull out your climbing pick quick to latch onto the flat surface before you fall to your death. I do not blame the controls at all when I missed my shot; the motions and inputs needed are clear enough that it's usually player's fault for not going out of their way to do the required action.
True, there are a few shortcuts I used like rapid-firing the bow when I held it sideways, but you still need to exert yourself a tad to get the most out of Horizon: Call of the Mountain. In all honesty, it's really fun and well-executed thanks to the PS VR2 tech and tracking that makes it feel immersive, intuitive, and near-faultless. Plus, if you're feeling a little lazy, you can always turn on Machine Safari to get a riverboat tour of the machines, or a Challenge mode with a quick archery range. I do wish there were more of these; perhaps some free DLC could come our way for this particular mode in the far future?
While the game is technically marvelous, there are still a few bugs here and there, with a comical one being a missing bow in which I had to restart at the last checkpoint which was only seconds away thankfully. Other than that, the mountain-climbing experience was mostly seamless.
Cliffhanger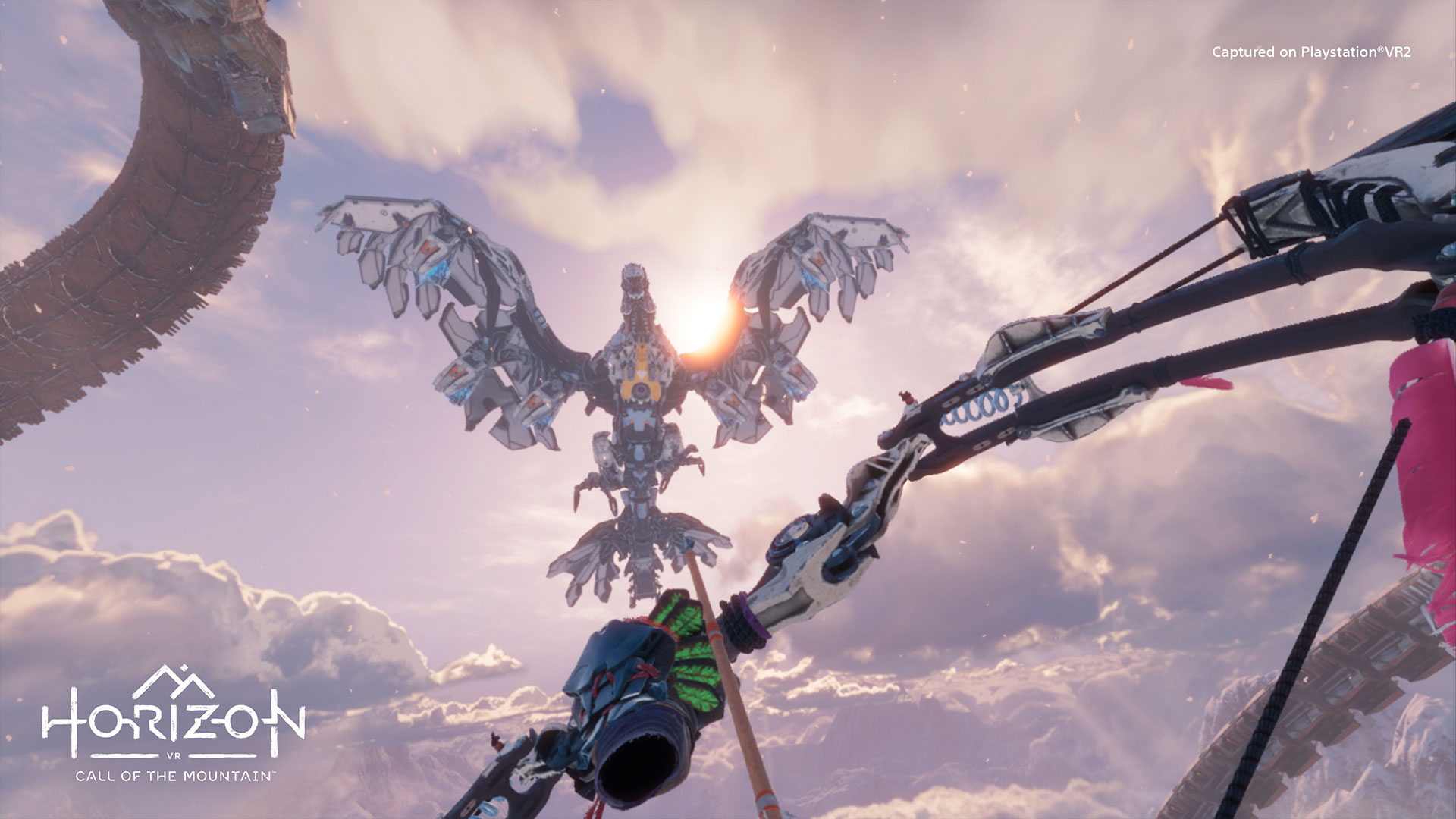 While not exactly a huge leap in gameplay innovation, Horizon VR is intense, engrossing, and immersive for what it is: a climbing and archery VR simulation using the Horizon machine monster-filled IP, putting it to great use. The graphics, the setting, and its trappings all look great in the VR view you're given.
I'd even go far as to say that this is a heckuva killer app, if such terms are still being used. The game alone is worth buying the Horizon PS VR2 set for, provided you don't mind the linear experience and if you're fine with seeing the potential a first-party VR title has to offer that's strictly for the hardware.
Now, the money you need to fork over for the VR device? Well, that's another story. 
Final Score: 80/100
Review copy and PS VR2 kit provided by PlayStation Asia.