By Mr Toffee|March 20, 2023|
The Butcher is an iconic boss in the Diablo franchise. he's a big demon with a butcher's axe who chases down beginner players and hacks them to death, and he's pretty fast on his feet too. And takes quite a beating. And also has the immortal intro quip "Fresh meat!"
The last time action RPG folks fought the Butcher is in Diablo 3 as one of the game's earlier bosses. Well, he's back again in Diablo 4, and in a way that's sure to terrorize you.
How To Find The Butcher In Diablo 4
You don't find the Butcher; the Butcher finds you!
See, the Butcher in Diablo 4 is a boss who randomly appears in any of the game's dungeons. Once he appears at random at a spot in said dungeon you're in, he'll give chase and attack you. The Butcher leaves the area when (a) he kills you and your party or (b) too much time has passed in the fight. We're not sure how long he'll stick around if you keep kiting the demon though.
The Butcher's attack plan is simple: he runs up to you and deal huge melee damage until you're dead. He can also do a stomp that causes Fear and Slow status effects. Simple, yet effective. Here's a video from YouTuber Pupsker on how to effectively kill him; it took him 3+ minutes so at least you know The Butcher won't bail from the fight after that amount of time.
If you do manage to kill him, you will get the only Unique item in the beta: The Butcher's Cleaver (via Icy-Vein). Stats & info about the weapon are below: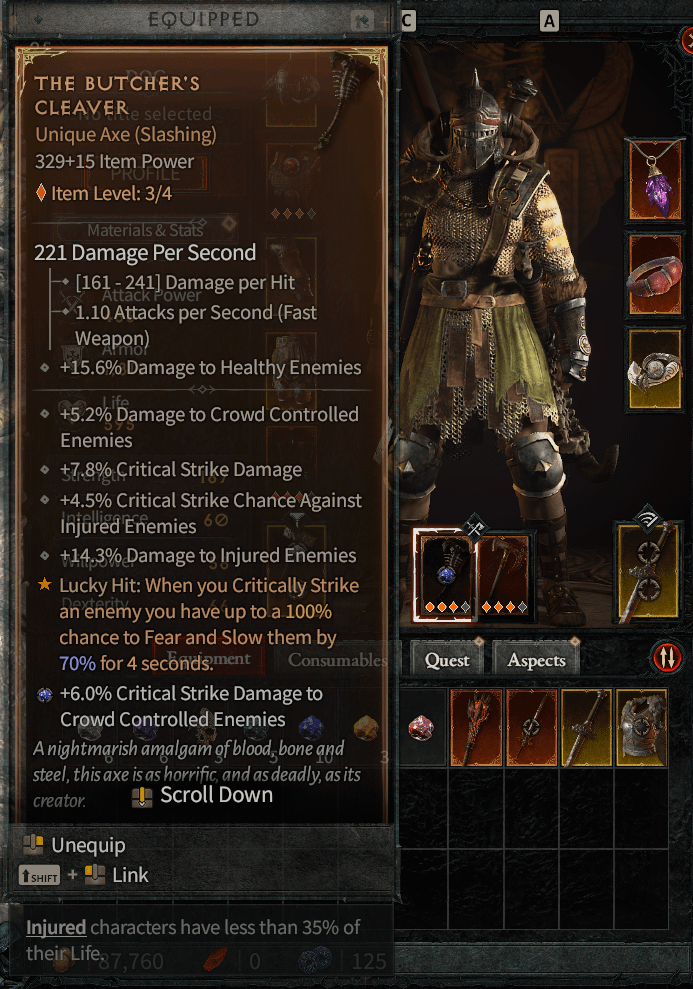 Gear Type: Unique Axe
Class: Any
Trait:
-Lucky Hit: When you Critically Strike an enemy you have up to a 100% chance to Fear and Slow them by 70% for 4 seconds.
-Damage to Crowd Controlled Enemies+
-Critical Strike Damage+
-Critical Strike Chance against Injured Enemies
-Damage to Injured Enemies
-Critical Strike Damage to Crowd Controlled Enemies
So yeah, it pays to team up as a party in case The Butcher pops up. Plus, the Unique Item isn't a guaranteed drop, so you may need to pray to the RnG gods in hopes that you can fight him again and again.
Will There Be Other Diablo Bosses Ambushing You?
Personally, I like this idea of a surprise boss to ambush players when they're doing dungeon runs; it makes for entertaining streams and also loot run experiences. My wishlist for surprise boss fights is as follows:
Skeleton King (D1)
Ghom (D3)
Archbishop Lazarus D1)
Andariel (D2)
Duriel (D2)
Baal, or an Aspect of him (D2)
Belial (D3)