[Updated] Call Of Duty: Modern Warfare II Ranked Play – The Best Gunsmith Classes
If you're a Call of Duty: Modern Warfare II fan, then you're likely excited about the new addition to the game – Ranked Play. This new feature allows players to compete at a more competitive level, emulating the Call of Duty League (CDL). But let's be honest, playing casually and playing competitively are two different things, and if you want to be successful in Ranked Play, you need to use the best gunsmith classes. But with so many options available, it can be overwhelming to decide what to use.
Fear not, as I've done the research for you. In this article, I'll be providing you with the best gunsmith classes for Ranked Play based on what the pros themselves use. So, whether you're a seasoned veteran or a newcomer to the game, you'll have a better understanding of what classes to use to climb the ranks and become a true contender in Call of Duty: Modern Warfare II Ranked Play. Let's dive in and take a closer look at the best gunsmith classes for Ranked Play.
It should also be noted that tuning attachments have been Gentlemen's Agreement-ed (GA'd) by the pros, so they all use default tuning. But since it's Ranked Play, feel free to tune however you please as tuning is based on personal preference.
---
Vaznev-9K
Muzzle: Bruen Pendulum
Underbarrel: FSS Sharkfin 90
Rear Grip: True-Tac Grip
Stock: Otrezat Stock
The Vaznev-9K is the go-to submachine gun (SMG) for CDL pros. Due to its decent time-to-kill at the short-medium range, amplified by the extremely generous headshot multiplier, the consensus that it got "nerfed" going into Season 2 is very much an overstatement.
Ever since, Call of Duty: Black Ops Cold War, the pros have realised that it's not always best to utilise all the slots in the gunsmith, and that idea has continued going into this game.
Lachmann Sub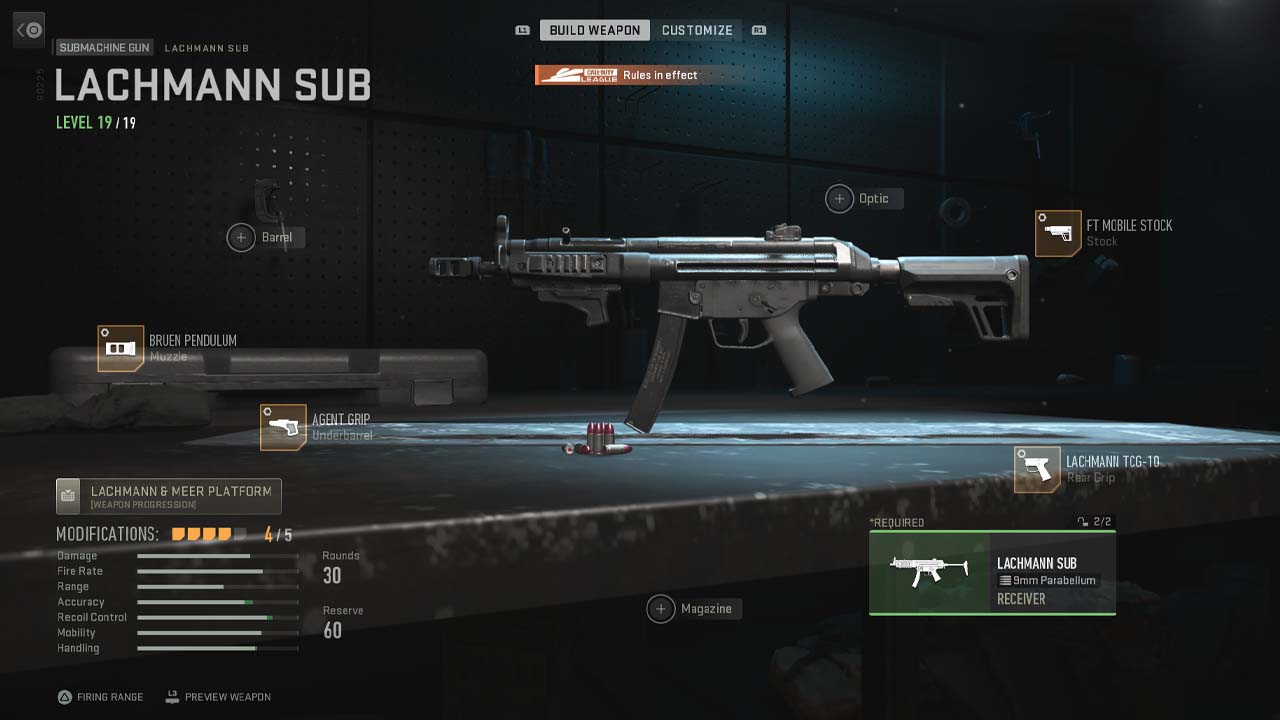 Muzzle: Bruen Pendulum
Underbarrel: Agent Grip
Rear Grip: Lachmann TCG-10
Stock: FT Mobile Stock
If you're looking to change things up as an SMG player then the Lachmann Sub is a good alternative for the Vaznev. Although the Vaznev is superior with its headshot multiplier, the Lachman compensates with the higher fire rate.
The main reason it's not used in competitive is purely because of the damage fall-off and that it just can't compete with the TAQ-56 at range.
TAQ-56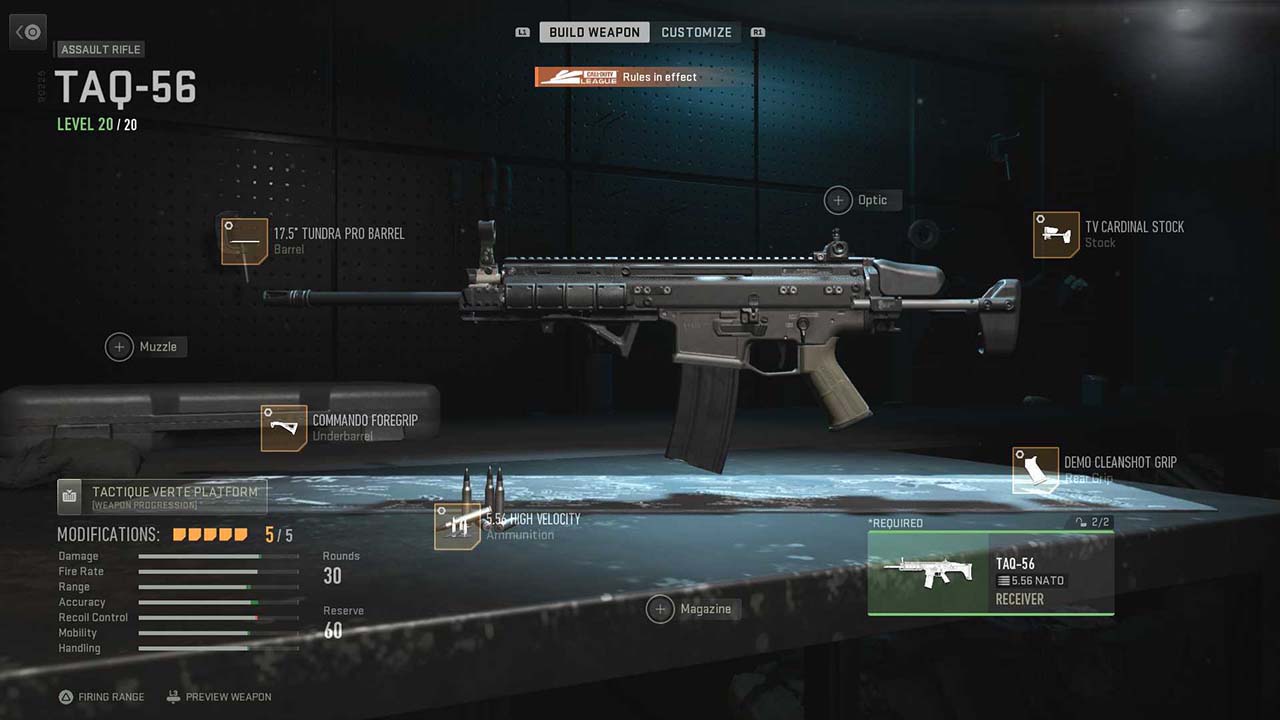 Barrel: 17.5″ Tundra Pro Barrel
Underbarrel: Commando Foregrip
Ammunition: 5.56 High Velocity
Rear Grip: Demo Cleanshot Grip
Stock: TV Cardinal Stock
Now if you're familiar with competitive CoD then you'll know that there are roles, such as a Main AR, someone who typically anchors the spawns or watches a long-ranged angle. In MWII, the TAQ-56 is the go-to assault rifle (AR) since the M4 has been GA'd and banned in Ranked Play.
With an extremely fast time-to-kill and decent mobility, it's the perfect option for a flex player who wants to get aggressive with the AR.
ISO Hemlock – Banned on 23/2/2023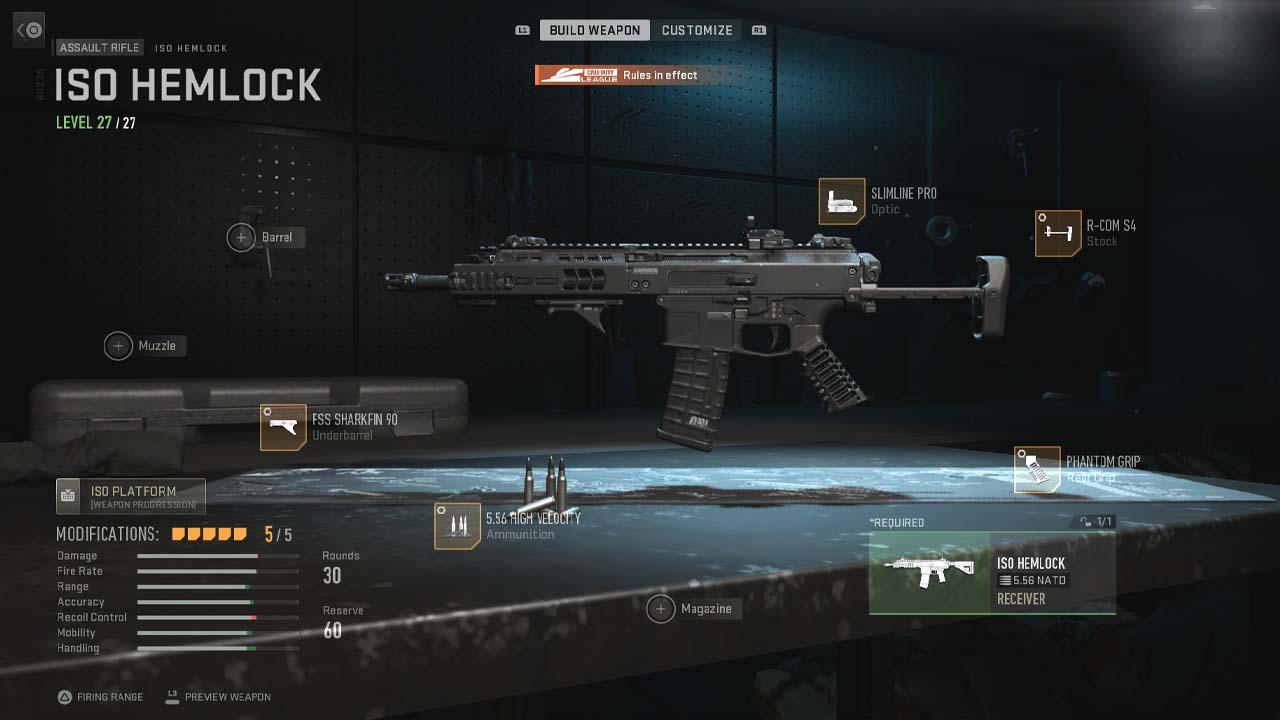 Underbarrel: Commando Foregrip
Ammunition: 5.56 High Velocity
Optic: Cronen Mini Pro (Optional)
Rear Grip: Phantom Grip
Stock: R-COM S4
A new gun coming into Season 2 of Modern Warfare II and Warzone 2.0. With an extremely face time-to-kill along with a fast aim-down-sights (ADS) time than the TAQ-56, the ISO Hemlock is probably the best AR available in Ranked Play right now.
I suggest taking full advantage of it while you still can as I will not be surprised if this gun gets GA'd by the pros for its dominance. Just to put it in perspective, you can easily challenge a Vaznev close range with this and outgun a TAQ-56 at range. Because of this gun's versatility, and the pros wanting a two-gun meta, it's very likely that this gun will only be available in Ranked Play for a limited time as Ranked Play follows the CDL's GAs.
As of writing this, there is no official pro build as the pros are currently busy with the CDL Major III qualifiers, hence they haven't had time to experience the Hemlock in Ranked Play but this is the most common build I've come across on Twitter and from personal experience, is the most versatile.
Do note that the optic is completely optional but I find that the iron sights can be a bit distracting as it takes up a big portion of the screen when aiming.
[Update: Players loading up into Ranked Play on 23 February found that the gun is now restricted.]
MCPR-300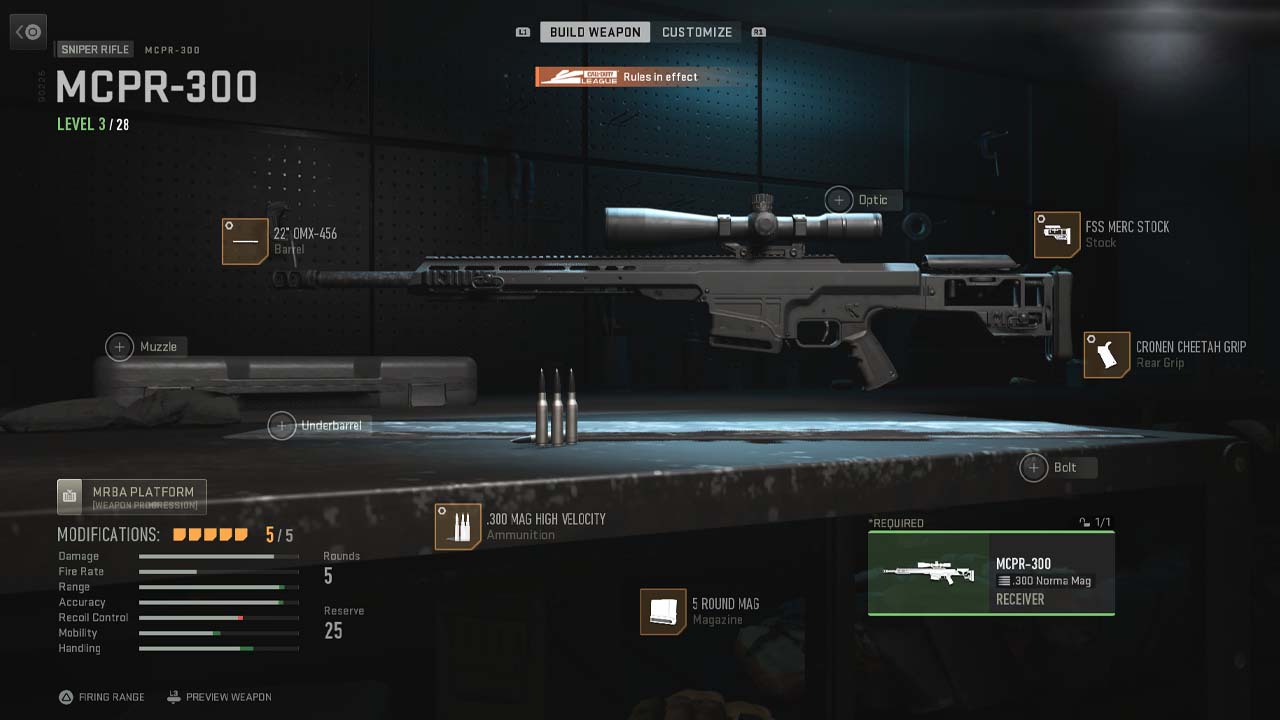 Barrel: 22″ OMX-456
Ammunition: .300 Mag High Velocity
Magazine: 5 Round Mag
Stock: FSS Merc Stock
Rear Grip: Cronen Cheetah Grip
In the CDL, all attachments have been banned as the Sniper is already pretty overpowered on a controller thanks to aim-assist. So to balance the sniper, the pros purposefully GA'd any attachment that helps you ADS faster.
Now with that said, this is Ranked Play and it's not against the rules to use ADS time-decreasing attachments. So have at it with the MCPR-300 which is the pros' favourable sniper.
X12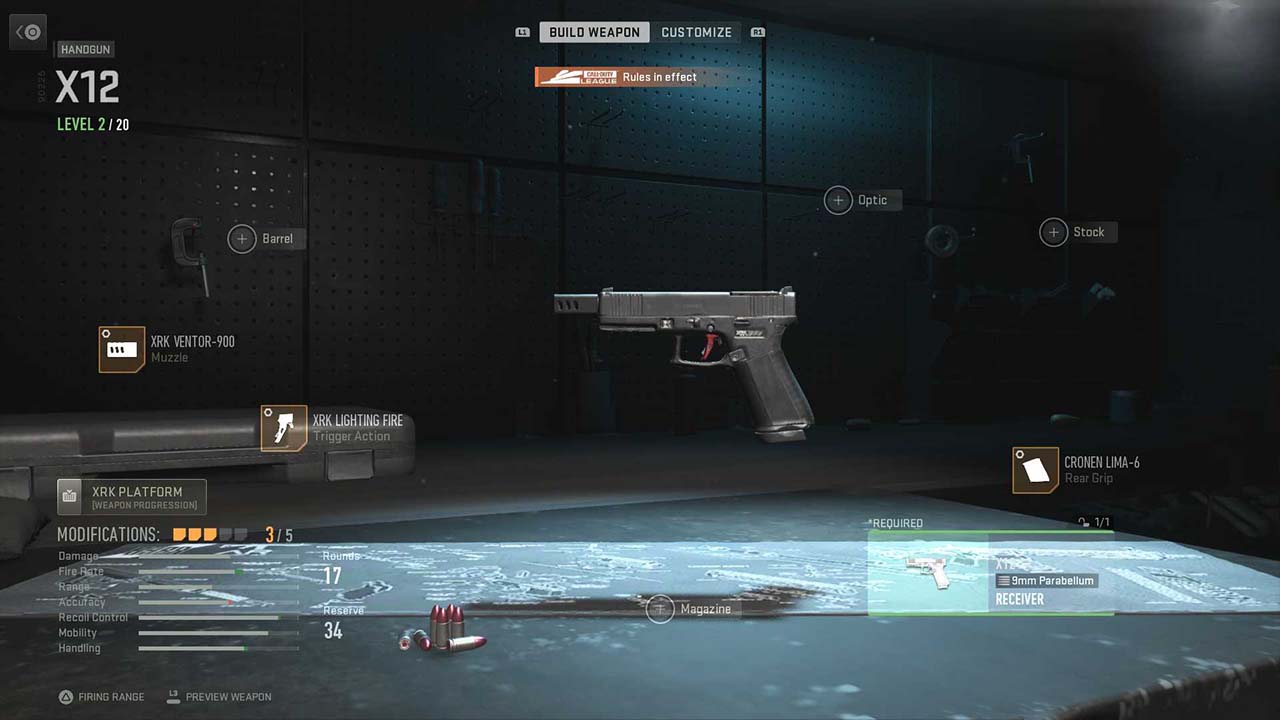 Muzzle: XRK Ventor-900
Trigger Action: XRK Ligting Fire
Rear Grip: Cronen Lima-6
Now secondary weapons are rarely used in competitive play as most pros opt for the combat knife due to its movement speed which can be utilised to get across the map faster. But if you're using a sniper, then you may want a secondary gun, and the X12 is the pros' go-to secondary handgun.
Related