Kabaret is a dark fantasy folklore narrative game (visual novel, basically) based on Southeast Asian culture and myths. The protagonist, Jebat, is cursed and uprooted from his small town to a mystical and unforgiving monster realm. Kabaret's mystery unfolds as Jebat interacts with other Southeast Asian monsters in Kabaret while uncovering the truth about himself.
The game features characters from Southeast Asian myths and legends, and an exploration of minigames based on traditional games like Congkak and Guli. The game's soundtrack features Indonesian band Sambasunda, and Malaysian composer, Tay Cher Siang, with sound design by Hello Universe. Kabaret is funded by Wings and is a part of ID@Xbox.
Kabaret is now available for PC via Steam, Xbox One and Xbox Series X/S.
Check out our full review of the game here.
Here are some tips and tricks for Kabaret before you play it:
Go To Settings And Turn On Fastest Text
It just makes the whole experience better and improved since you don't have to waste time waiting for the text to slowly show up.
During The Tea Ceremonies, Pay Attention To The Facial/Body Reaction Of The Monster
If you're not sure what ingredients to use during your tea ceremonies, pay attention to how the monster reacts when you hover over particular ingredients. Their face/body will change depending on which ingredient you point to. It's funny because the game's tutorial doesn't exactly point this out to the player.
For instance, the Caretaker has three reactions: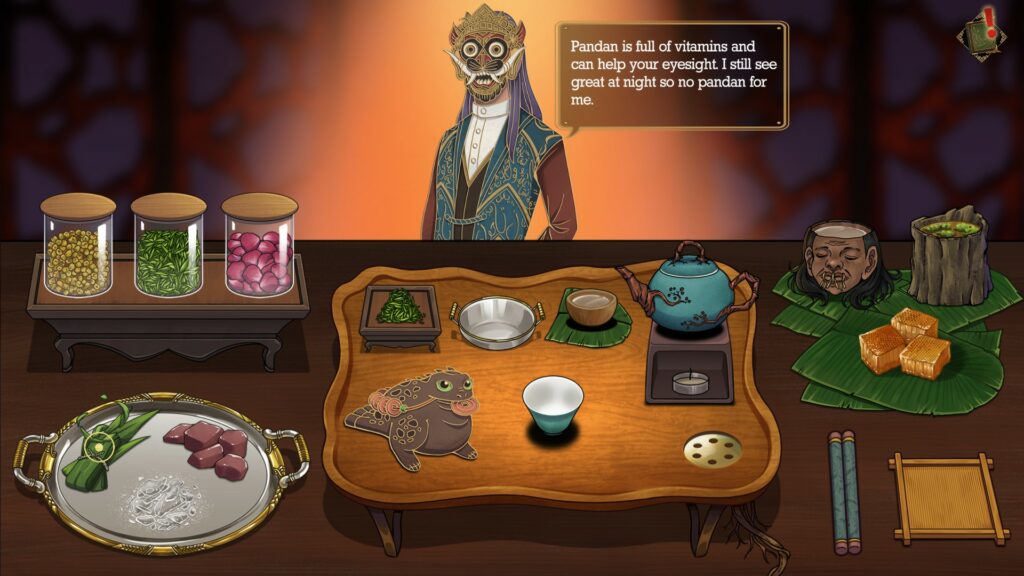 This is Neutral, which means that he's just okay with that ingredient.
This shows that he likes that particular ingredient.
This shows that he hates that particular ingredient.
This example is only for the Caretaker. Each monster has its own unique face/body reactions, so pay attention to them when brewing tea.
However, sometimes you'll be forced to choose an ingredient that the monster hates to brew a specific tea. That's still okay, since it's better to have the right tea for the right monster mood, since choosing all the ingredients the monster likes doesn't guarantee that it's the correct tea.
Make Sure To Talk To All Available Monsters, Play A Game Of Guli And Congkak Before Clicking On Raden To Move On
Talk to everyone and play the minigames before talking to Raden and moving on in order to progress the story. If you can't progress, there's usually someone you haven't clicked on, so look carefully.