Kabaret is a dark fantasy folklore narrative game (visual novel, basically) based on Southeast Asian culture and myths. The protagonist, Jebat, is cursed and uprooted from his small town to a mystical and unforgiving monster realm. Kabaret's mystery unfolds as Jebat interacts with other Southeast Asian monsters in Kabaret while uncovering the truth about himself.
The game features characters from Southeast Asian myths and legends, and an exploration of minigames based on traditional games like Congkak and Guli. The game's soundtrack features Indonesian band Sambasunda, and Malaysian composer, Tay Cher Siang, with sound design by Hello Universe. Kabaret is funded by Wings and is a part of ID@Xbox.
Kabaret is now available for PC via Steam, Xbox One and Xbox Series X/S.
Check out the full list of monsters in Kabaret below; however, there will be spoilers ahead in some of the monster details:
Jebat
The main protagonist is Jebat.
While he doesn't know what kind of monster he is at the beginning of the game, he later finds out that he's a Naga, a divine, or semi-divine, race of half-human, half-serpent beings from Hindu mythology.
Caretaker
The Caretaker is a were-tiger, or a "harimau jadian" from Malaysia's Malay folklore. Instead of a wolf, it's a man who turns into a tiger.
Ekek
In Philippine mythology, Ekek (or Ek Ek) are birdlike human creatures. They are winged-humans who search for victims at night.
Raden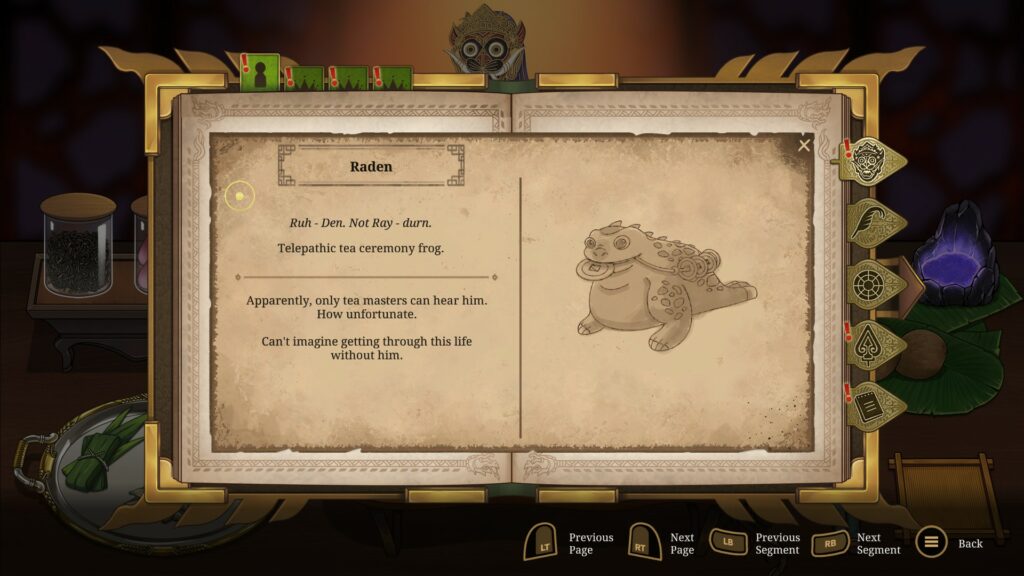 Raden is a Japanese term for one of the decorative techniques used in traditional crafts and woodwork. In the game, Raden is a frog made of wood, so that's probably why.
Pontianak
The Pontianak is often depicted as a long-haired woman dressed in white, and it represents local variations of a vampire in Malaysia, Singapore and Indonesia.
It's one of the most popular ghosts in the region.
Jinn
According to Islamic belief or Arab mythology, the Jinn are creatures capable of causing physical and mental harm to human beings.
Tikbalang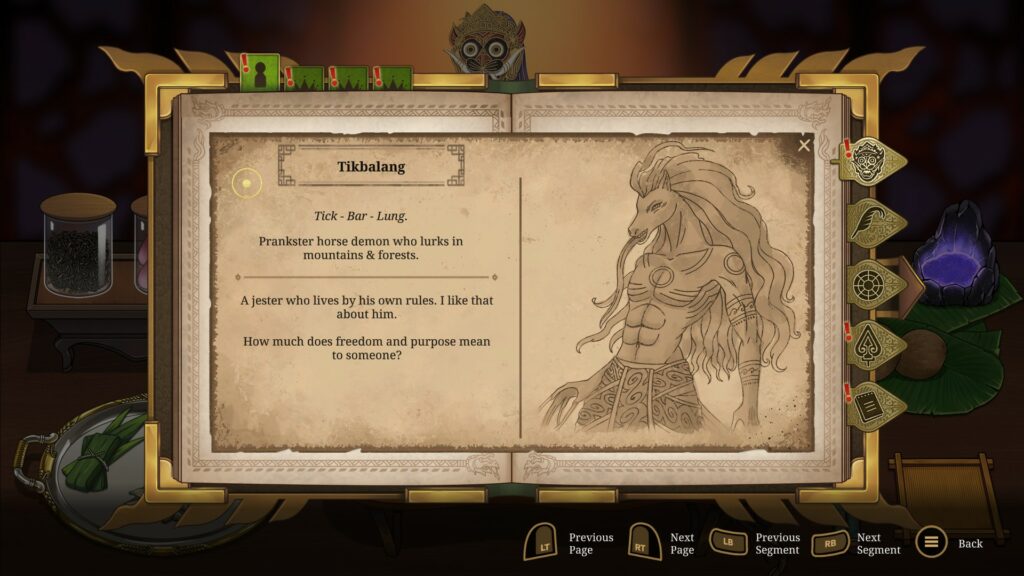 The Tikbalang is a creature of Philippine folklore said to lurk in the mountains and rainforests of the Philippines. It is a tall, bony humanoid creature with the head and hooves of a horse and disproportionately long limbs, to the point that its knees reach above its head when it squats down.
Kuman Thong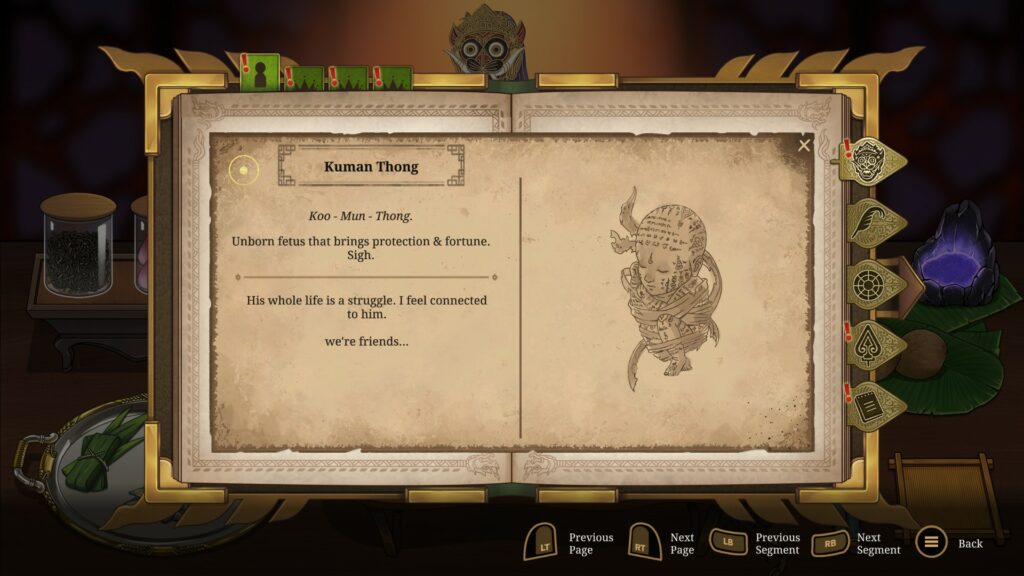 Kuman Thong is a household divinity of Thai folk religion in Thailan. It is believed to bring luck and fortune to the owner if properly revered. Kuman, or Kumara (Pali) means "Sanctified young boy" (female kumari); thong means golden.
Rosie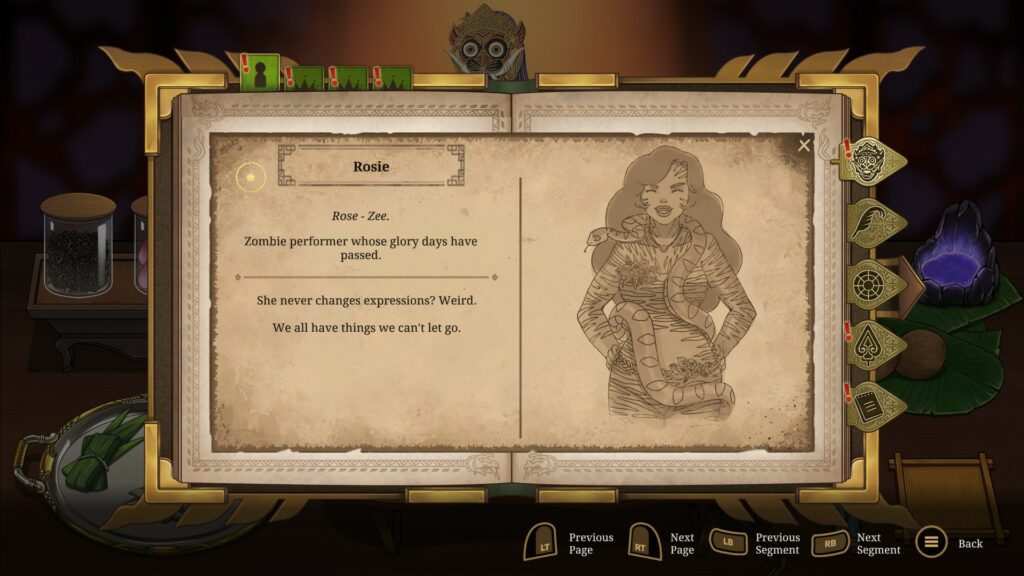 She's just a zombie. We all know what zombies are from the movies.
Ghost Boy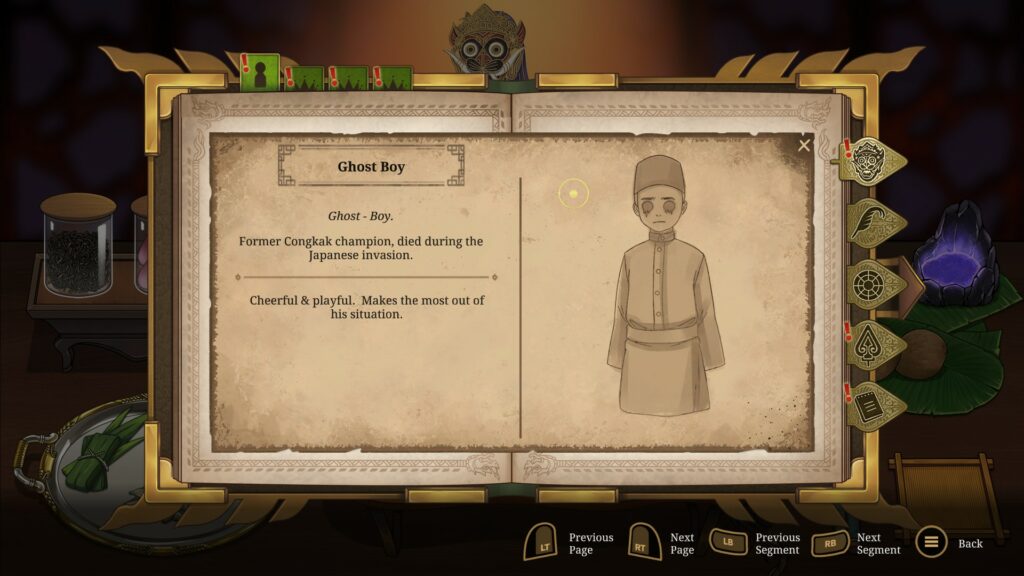 Just a simple ghost boy, but interestingly, he died during the Japanese invasion of Malaya (the former name for Malaysia) in 1941, which was a real tragic event that actually happened in history.
Ghost Lady
She also died during the Japanese invasion, and is now a ghost.
Ghost Man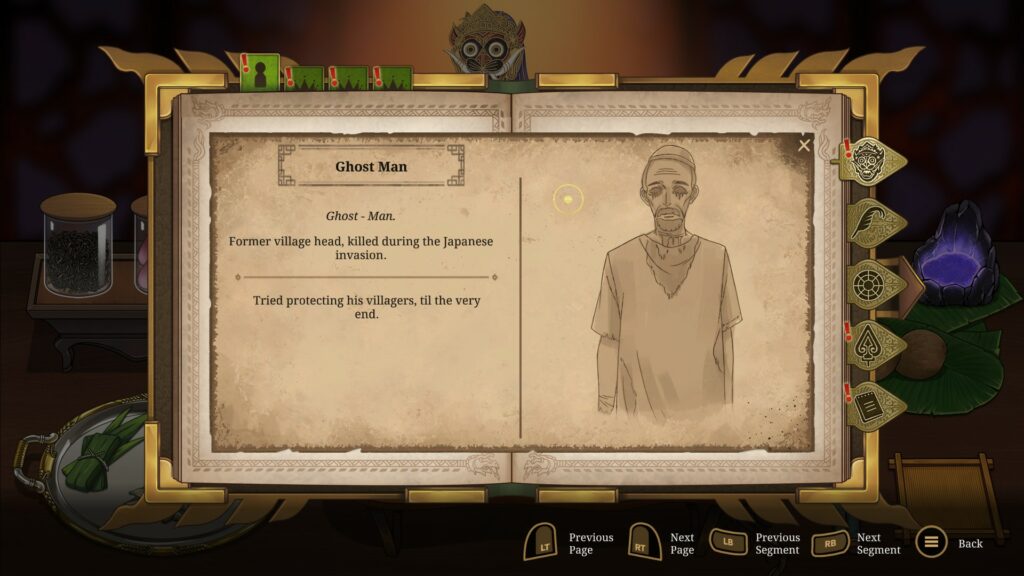 He also died during the Japanese invasion, and is now a ghost.
Sad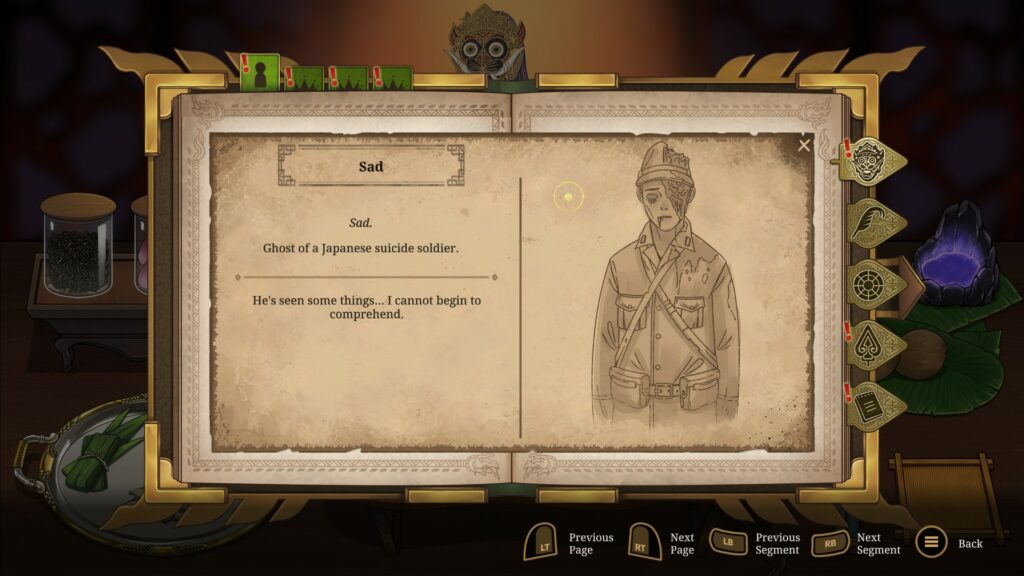 Ghosts of Japanese soldiers are prevalent in local Malaysian horror tales, and this is inspired by that. He's one of many Japanese soldiers who died in Malaysia during the invasion/occupancy.
Patriot
Another Japanese ghost soldier.
Mayang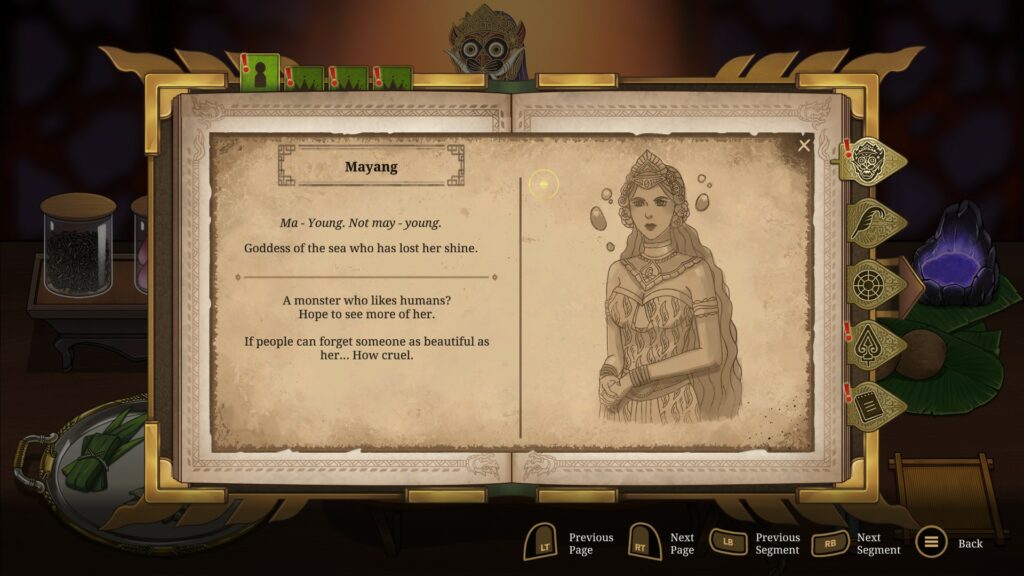 From Malaysia, the Ulek Mayang is said to have its origin in an ancient tale about a sea-princess who fell in love with a fisherman. The princess abducted the fisherman's soul, leaving his body unconscious. His friends entreated a bomoh (shaman) to heal him. When the bomoh conducted the healing ritual to bring the fisherman's soul back, the princess appeared and responded by calling on five of her sisters to her aid.
The battle between the bomoh and the six princesses continued until seventh and the eldest princess appeared and put an end to it. The grateful bomoh and the fisherman's friends present the princess with coloured rice as an offering to the spirits of the sea. This practice, along with the Ulek Mayang dance, continued until the Islamization movement of recent decades.
Rangda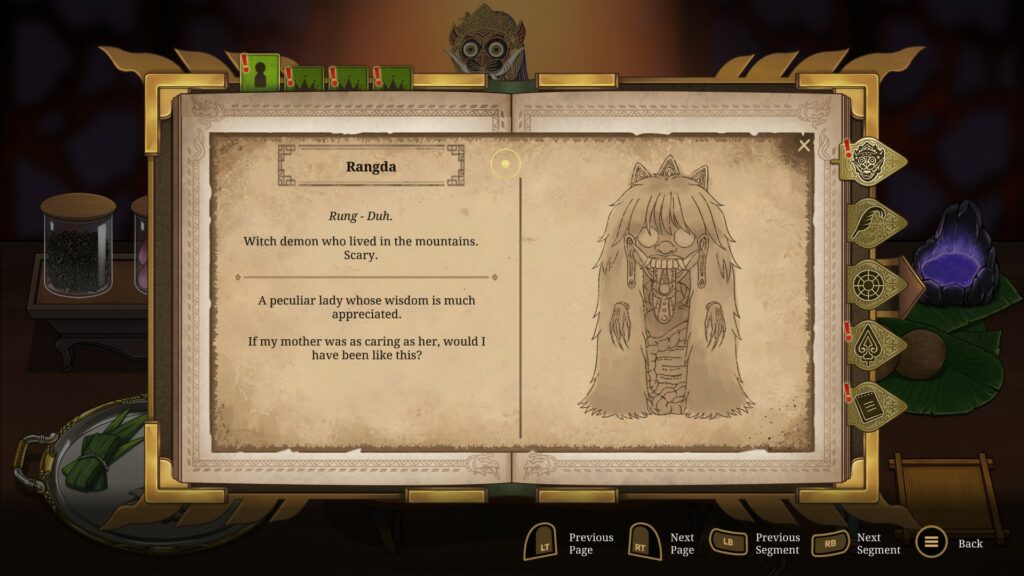 Rangda is the demon queen of the Leyaks in Bali, according to traditional Balinese mythology. You might also recognise it from the Shin Megami Tensei and Persona games.
Jerangkung
From Malaysia, the Jerangkung are spirits of the murdered, taking the form of skeleton corpses. It is believed that Jerangkung is summoned by bomohs (Malay shamans) for the purpose of protecting him or herself from harm, especially when being cursed upon by others. A Jerangkung can cause harm to whomever's body they possess.
Nabau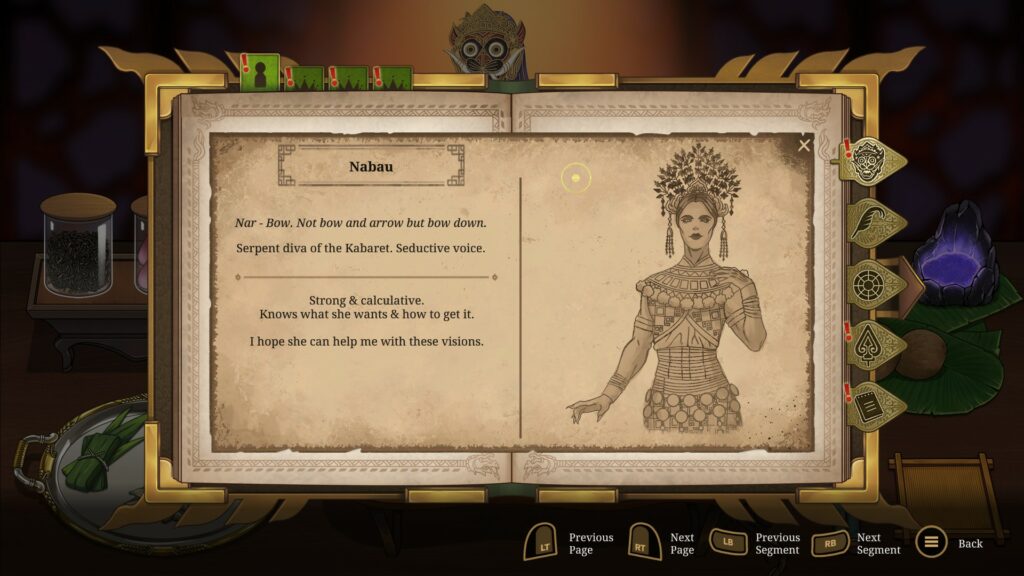 From Malaysia, according to Iban Borneo legend, Nabau is a giant snake comparable to the circumference of a drum and is more than 100 feet in length. Among the Iban folk tales, Nabau is like a "petara" (god) which has supernatural powers.
Sweet & Dream
They look like they're inspired by Yin and Yang, but not by any specific mythology.
Babi Ngepet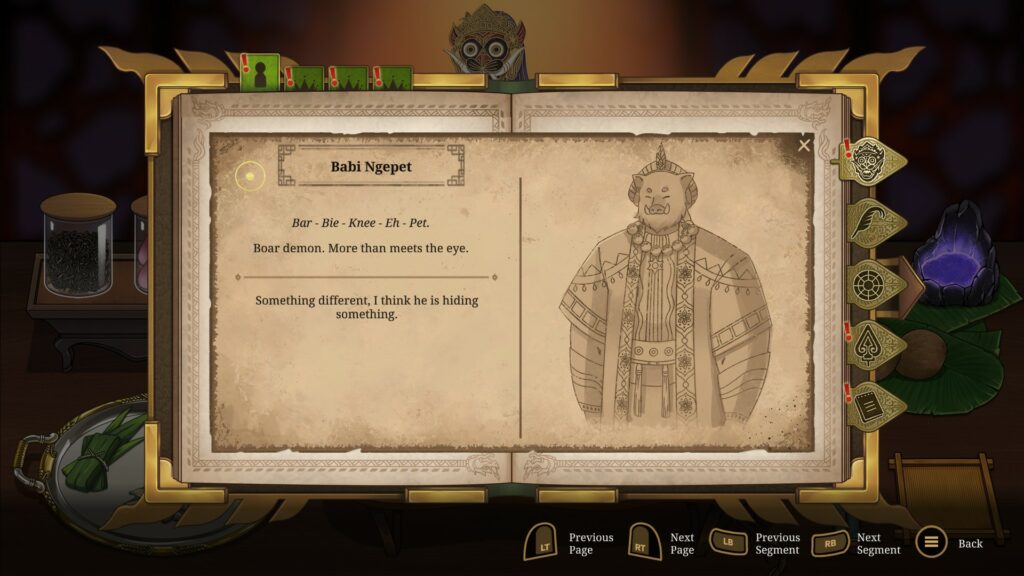 Babi ngepet is a boar demon in Indonesian mythology. Babi ngepet are commonly known in Java and Bali. According to local myth, the creature is believed to be the manifestation of a person practising black magic.
Garuda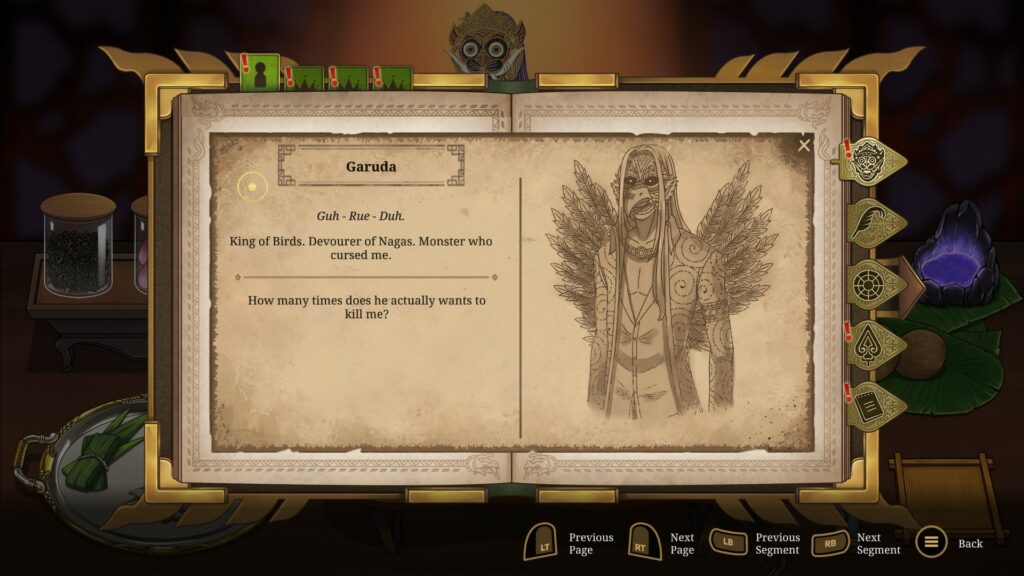 Garuda is a Hindu demigod who is primarily depicted as the mount (vahana) of the Hindu god Vishnu. Garuda is a part of state insignia of India, Indonesia and Thailand.
Pelesit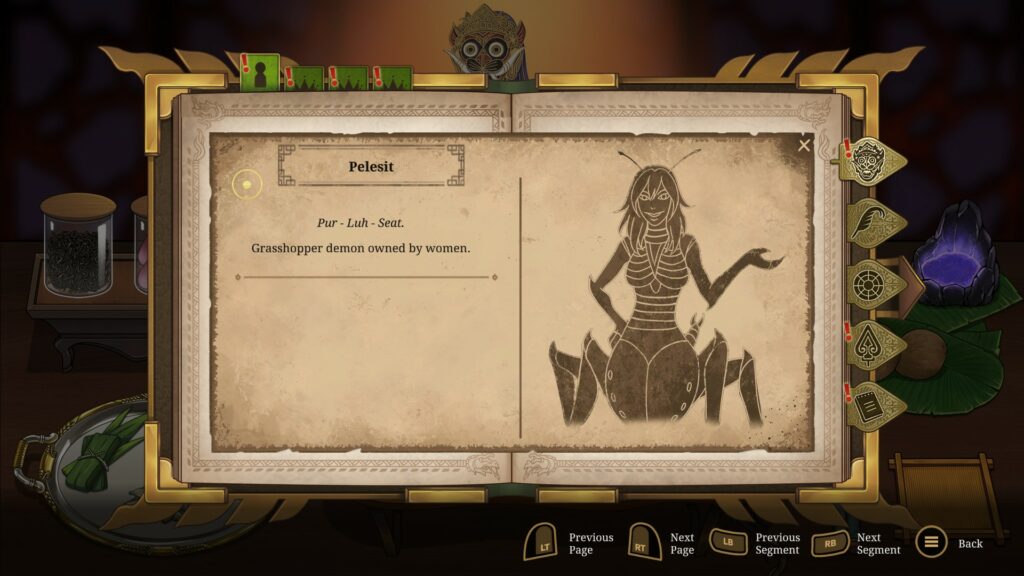 Pelesit is a type of familiar spirit in Malay folklore from Malaysia. It is generally a cricket, or occasionally a grasshopper. The term literally means "buzzer" from the root word lesit meaning to buzz or whizz, as an insect does.
Wawak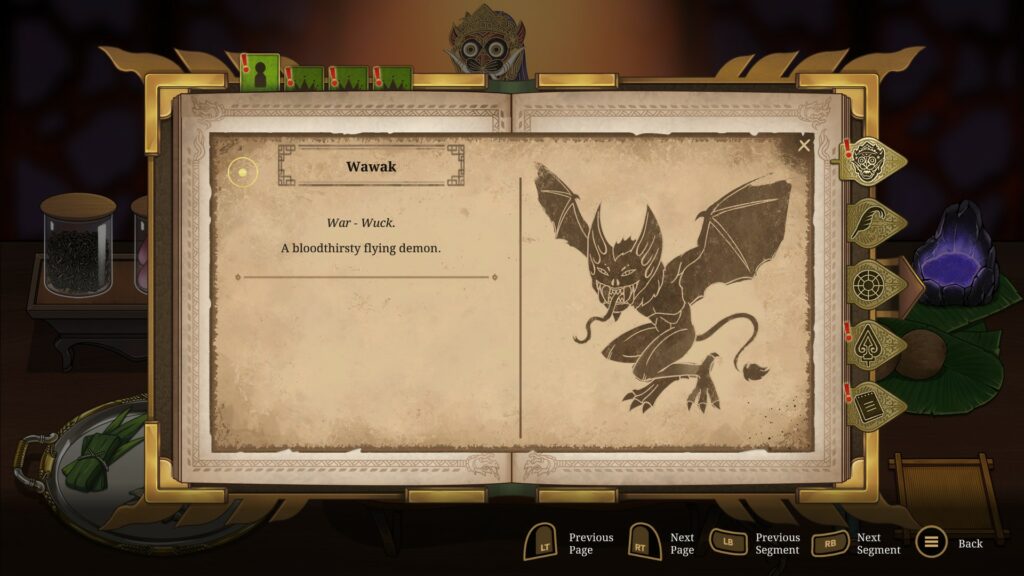 The Wakwak is a vampiric, bird-like creature in Philippine mythology.
Kinnara
A kinnara is a creature from Hindu and Buddhist mythology. They are described as part human and part bird, and have a strong association with music and love.
Tengkorak
It's just a demon skeleton. Tengkorak is literally skeleton in Malay.  However, it looks like he's wearing the traditional garb of a tribe from Sabah or Sarawak in Malaysia.
Buto Ijo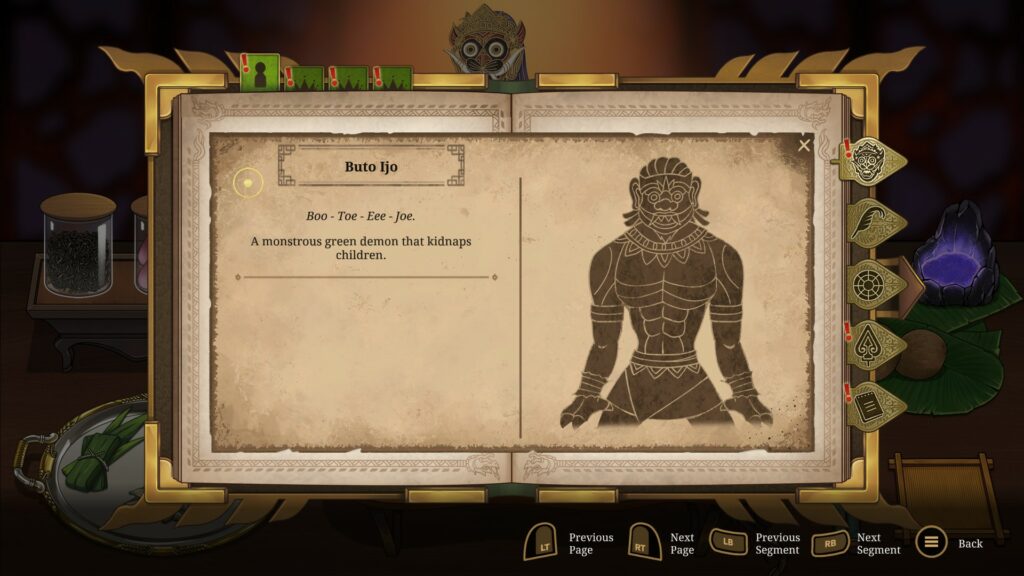 From Indonesia, the Buto Ijo are a species of giants. Buto means giant in Javanese, while Ijo just means green.
Kuman Nee
It's a female version of the Kuman Thong.
Badang
Badang was a legendary Southeast Asian strongman from the Malay world in Malaysia. The written record of the legend of Si Badang is found in the Malay Annals, an important collection of oral folklore from the Malay World.
Toyol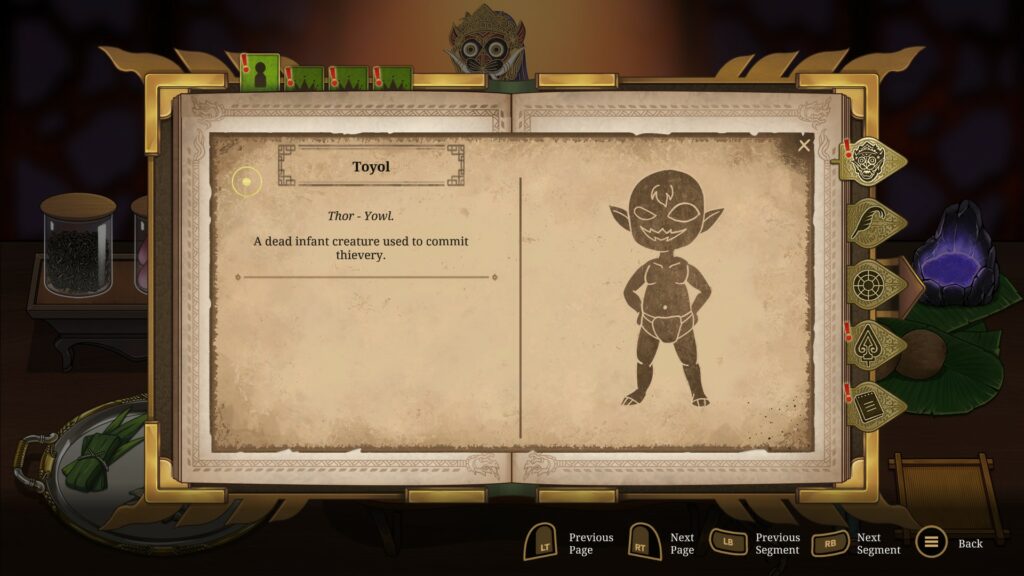 A toyol is an undead infant in Indonesian and Malay folklore from Malaysia. It also appears in the various other mythologies of Southeast Asia and is typically invoked as a helper by shamans (dukun, pawang, or bomoh) by means of black magic.
Penanggalan
The penanggal or penanggalan is a nocturnal vampiric entity from Malay ghost myths. Its name comes from the word tanggal meaning to remove or take off, because its form is that of a floating disembodied woman's head with its trailing organs still attached. From afar, it twinkles like a ball of flame, providing an explanation for the will-o'-the-wisp phenomenon.
Gumum & Kemboja
Derived from the legend of the dragon in Lake Chini in Pahang, Malaysia. One of the legends involved a princess named Gumum falling in love with a prince named Kemboja.
Vashuki
Vasuki is the second king of the nagas in Hinduism. He is described as having a gem called Nagamani (serpent's ornament) on his head.
Manasa & Kaliya
Manasa is a Hindu goddess of snakes and a sister to Vasuki. Meanwhile, Kaliya was a venomous N?ga living in the Yamun? river, in V?nd?vana in India.
Sheshya
Sheshya is a serpentine demigod (naga) and Nagaraja (King of all serpents), as well as a primordial being of creation in Hinduism.