Street Fighter 6 is coming out on 2nd June, which is just less than a month away. As such, the game's roster for its launch is set with 18 characters, each with their various playstyles.
In this entry, we'll be focusing on the sumo wrestler extraordinaire E.Honda.
Note: This guide is still in development.
All inputs are in numpad notations. For example, Hadouken from player 1's starting side is 236P.
Attack buttons are as follows: LP, MP, HP are light punch, medium punch, and heavy punch respectively. LK, MK, and HK are light kick, medium kick, and heavy kick respectively. None of this Fierce or Roundhouse bulls*** in Asia. 
Info & video credits: Fighting Game Anniversaries, WoolieVS, FlawlessDeku, Capcom, Reversal
Street Fighter 6 E.Honda Overview
E.Honda is a heavy-hitter who relies on getting in close with his patented Sumo Headbutt. He also has footsies that can deal a lot of damage.
Use moves like Sumo Headbutt to close the gap, do simple hard-hitting up-close combos with Hundred Hand Slaps (now a motion input), and catch people sleeping with a command grab and a Sumo Smash. He can also negate projectiles with his Neko Damashi and buff up his Hundred Hand Slaps with Sumo Spirit.
New to E.Honda's classic arsenal is Sumo Dash, a sumo shuffle move that has follow-ups to help with your pressure game. Or just a straight-up launcher for potential combos which will most likely end with Sumo Headbutt.
Play If: You like heavy-hitting characters with good footsie tools, you like a mix of charge and motion inputs for special moves, like big damage at mid-range
Avoid If: you like rushdown characters and playstyles more, prefer faster & mobile characters
Street Fighter 6 E.Honda Move List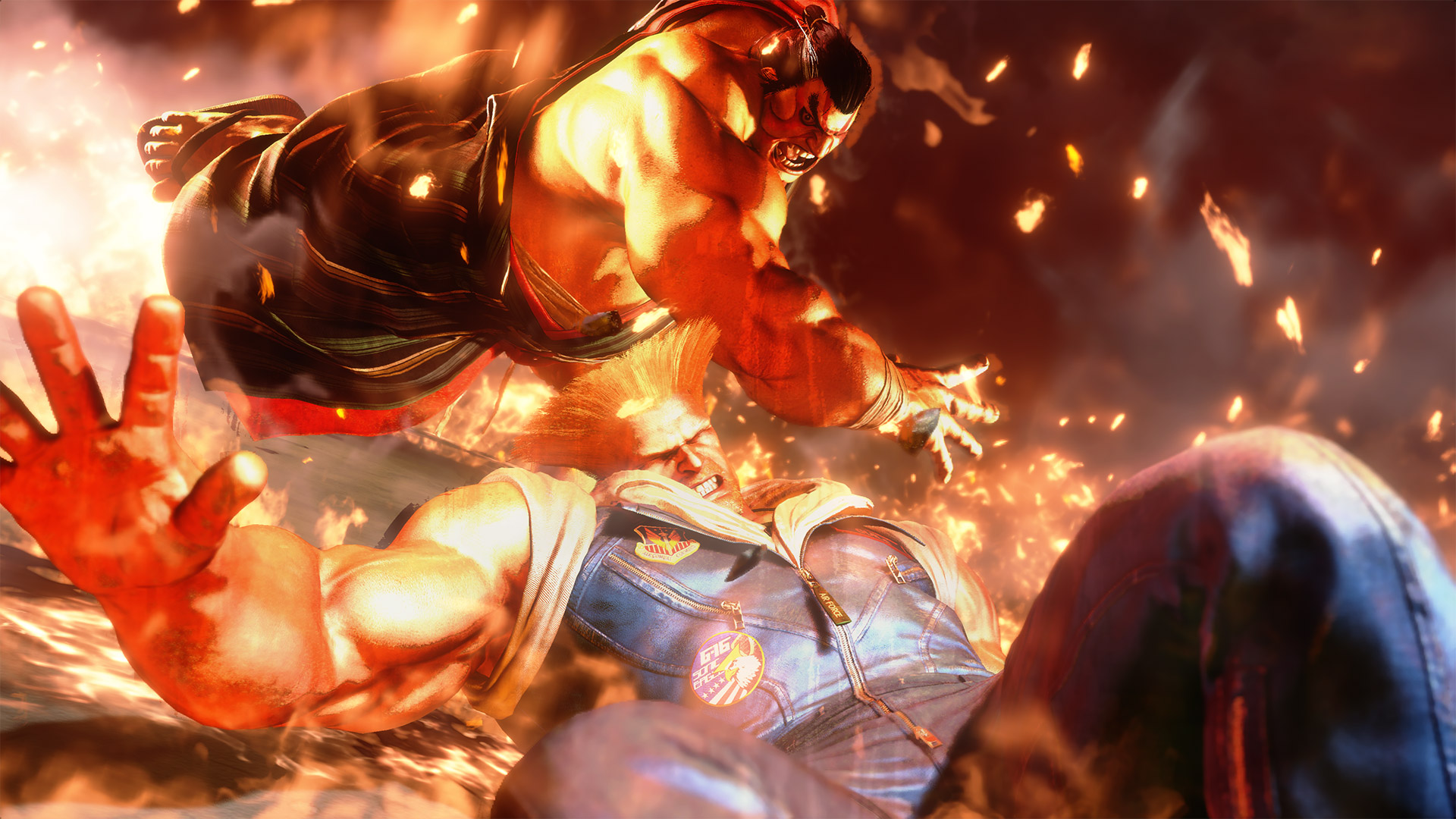 Special Moves
Hundred Hand Slaps: 214P. Now a motion input, not an attack you can mash. Still good to create combos from normal moves.
Sumo Headbutt: [4]6P or [1]6P. Great combo ender and a good way to catch opponents off-guard from full-screen.
Sumo Smash: [2]8K or [1]8K or [3]8K.
Oicho Throw: 63214K. Command grab. Good to surprise enemies.
Sumo Dash: 236K. Sumo shuffle dash with follow-ups. P>P for follow-up attack, 2P for launcher.
Neko Damashi: 22P. Negates projectiles, but can also be used as an attack.
Sumo Spirit: 22K. Powers up your Hundred Hand Slaps.
Super Arts
Show of Force (Level 1 Super): 236236P. Good as a wake-up/reversal option.
Ultimate Killer Head Ram (Level 2 Super): [4]646K. Horizontal Headbutt attack with big damage; goes through projectiles and can be worked into combos.
The Final Bout (Level 3 Super): 214214P. Has long reach and comes out quick.
Unique Attacks
Harai Kick: 6HK. Trademark poke. Cannot be blocked standing.
Power Stomp: 3HK. Overhead.
Flying Sumo Press: While jumping, 2MK. Can cross-up enemies.
Double Slaps: LP>MP. Target combo. Can be cancelled into special moves.
Toko Shizume: MP>3HK. Target combo with the second hit being an overhead.