Xenoblade Chronicles 2 Voice Actress Finds Issue With Xenoblade 3's Ending; Fans React
The internet JRPG community is at it again, and it involves yet another voice actor in the business.
Skye Bennett is known for voicing Pyra and Mythra in Xenoblade Chronicles 2, two prominent main characters in the JRPG entry as well as in Super Smash Bros. Ultimate. She recently finished Xenoblade Chronicles 3, and seems to take issue with one particular endgame moment.
Naturally, fans are vocal about this. We'll be adding spoiler tags as this topic is dealing with the ending of Xenoblade Chronicles 3, a JRPG that came out mid-last year.
Skye basically saw the picture with Xenoblade 2 hero Rex, his pals, and three of his "wives" Pyra, Mythra, and Nia holding a baby each. This was a short clip in the massive ending of Xenoblade Chronicles 3 where the world it's set in has to split up, with help from Melia of Xenoblade 1 and Nia from Xenoblade 3. Melia and Nia have long lifespans and have outlived their friends and lovers(?), and are thus tasked to preserve their respective worlds.
Long story short, Rex f***ed all three women, and VO Skye does not accept this as canon in the Xenoblade universe. 
" I've decided to pretend the XC3 3 wives thing is not canon. In my head, Rex friendzoned Nia, Mythra is single and loving it and Pyra is the one he actually ended up with. Rex doesn't have enough game to pull all 3 lol and also just no. P&M are basically sisters like??? no"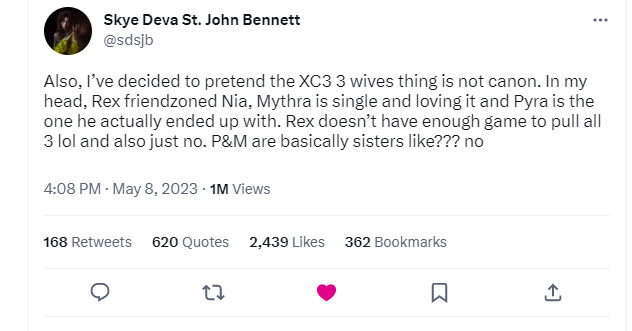 The post she did has 1 million views, 168 retweets, and 620 quotes at this point of writing. Her name is even trending on Twitter over a couple of hours ago. The replies have been interesting, with Skye replying appropriately.
Skye Bennett's reaction THAT photo:
by u/Bl_nk7 in Xenoblade_Chronicles
Despite the voice actress having an issue with this, the developers have made it clear with the Future Redeemed DLC that Rex's polygamy is indeed canon and has a kid out of it: Glimmer (technically, since the Glimmer in the DLC is a clone of the real one who probably died ages ago) and maybe Mio. If you haven't, you should play Future Redeemed.
In any case, do respect her opinion and do not harass her if you feel different about it. There are far too many cases of VOs being harassed by dumb angry fans who just want to pick fights to the point of ruining their lives.