Publisher Sony Interactive Entertainment, developer Insomniac Games and Marvel Comics released a Marvel's Spider-Man 2 comic that serves as a prequel to the upcoming game on 6 May 2023.
About why they decided to do the prequel comic, Insomniac Games narrative director Jon Paquette said:
When we initially sat down with the team at Marvel, we explored a few different ideas about what kinds of stories we could tell in a prequel comic. But we kept coming back to the same core premise—What if Peter, Miles, and MJ had to team up against a new Super Villain whose powers they didn't understand?

Additionally, we wanted to make sure that we could get a peek into what this heroic trio has been doing since the events of Marvel's Spider-Man and Marvel's Spider-Man: Miles Morales. What is Pete up to now that there are two Spider-Men in the city? How is Miles doing in school? And how is MJ's journalism career going?

In this story, their lives collide as Peter, Miles, and MJ attempt to balance their responsibilities to the city, and each other. They keep coming back to one of the main themes of the comic: is magic real? Because in this action-packed issue, a beloved Super Villain makes their first appearance in our universe and appears to have supernatural abilities that defy mere webs and fists: none other than The Hood.
Here are the biggest takeaways from the Marvel's Spider-Man prequel comic:
Introducing Tarantula, The Hood and The Foreigner Into The Marvel's Spider-Man Gamerverse
The prequel comic introduces two new villains into the Gamerverse (the official name for the universe of Insomniac Games' Marvel's Spider-Man).
In the comics, there have been many people behind the Tarantula mantle. This is probably either Anton Miguel Rodriguez or Luis Alvarez, both of whom have superhuman strength and wore retractable razor-sharp finger claws in their gloves and two retractable razor-sharp spikes in their boots anointed with harmful or lethal drugs and poisons.
Meanwhile, The Hood AKA Parker Robbins is a supervillain who is a well-known figure in the New York City criminal underworld and eventually formed his own crime syndicate. In the comics, he has actual magic powers, but not the Gamerverse version, it seems.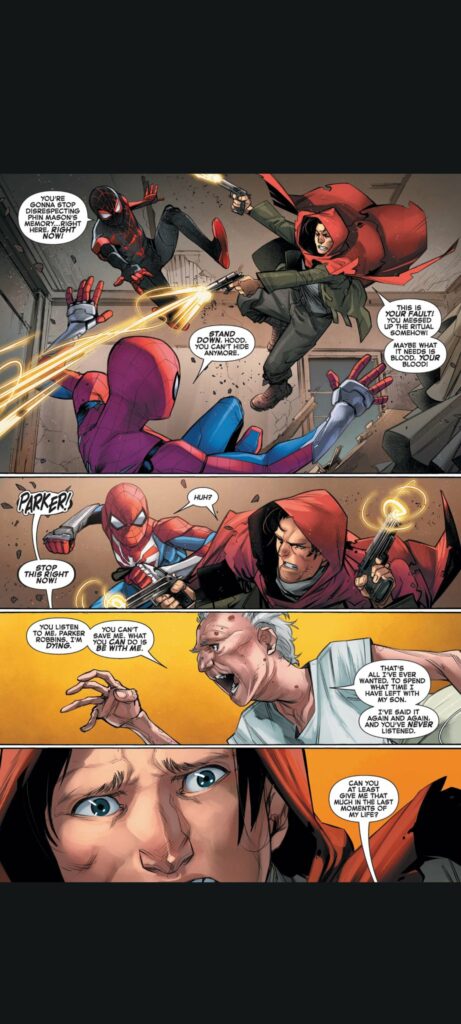 Last but not least, Miles also mentions "The Foreigner". In the comics, The Foreigner is a supervillain who was formerly married to Silver Sable. He is a mercenary and assassin. Although he has no superhuman abilities, he has trained his body to be in absolute peak physical condition, is among the greatest martial arts practitioners in the Marvel Universe, and is a professional assassin, who has evaded detection by various international law enforcement agencies, is highly intelligent.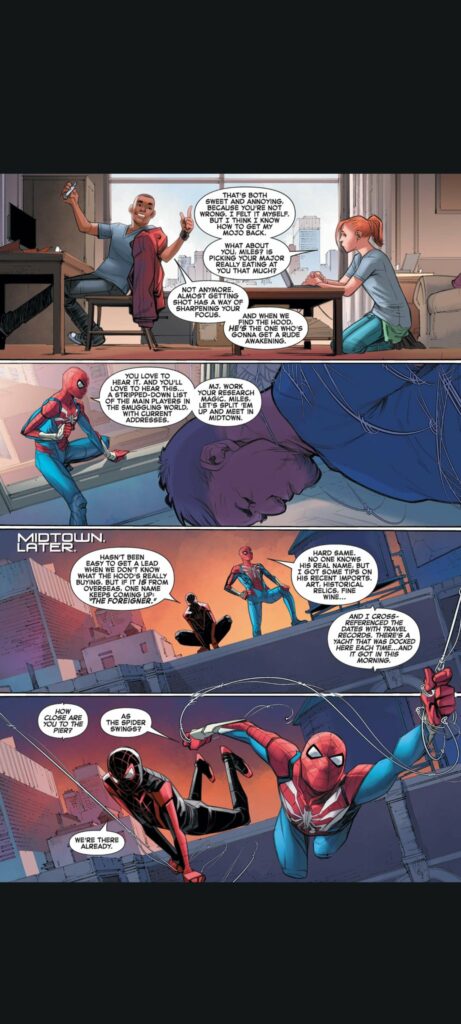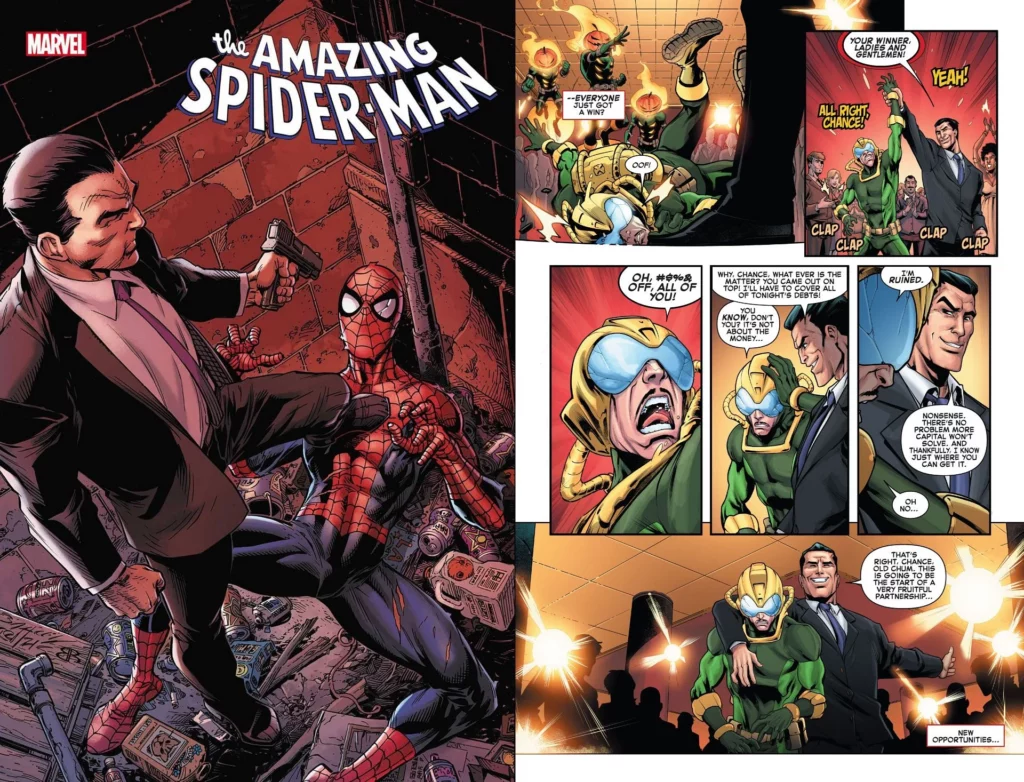 Keep a look out for these names, they might appear in Marvel's Spider-Man 2. Venom can't just be the only villain in the game.
Peter Parker Is Now Living At Uncle Ben And Aunt May's Old House In Queens, Which Means That Queens Might Be A Potential New Location In Marvel's Spider-Man 2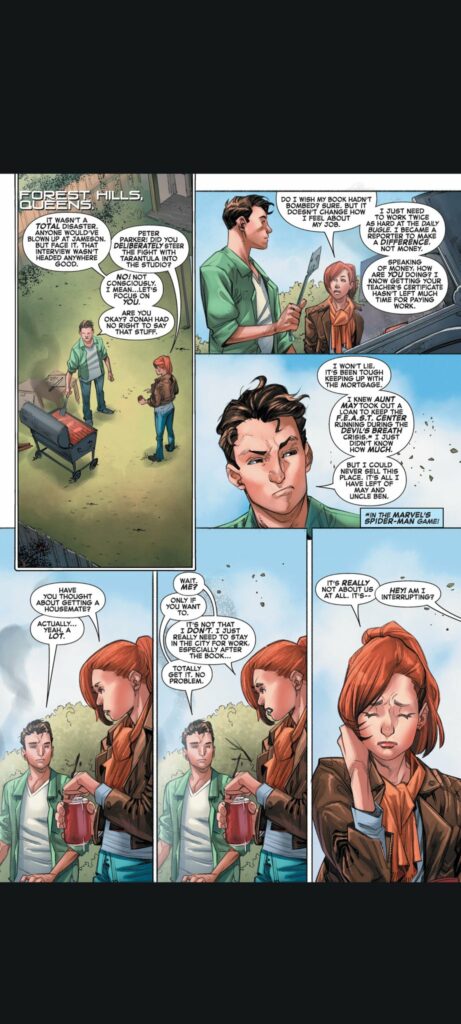 The comic reveals that Peter is no longer living at his apartment in the first game. He's now living at the house of his late Uncle and late Aunt May located in Forest Hills, Queens, New York.
This is interesting because it means that we might be getting new areas to explore in Marvel's Spider-Man 2, especially since this time it will be a true PS5 exclusive instead of being a cross-platform title like Marvel's Spider-Man Miles Morales. In Marvel's Spider-Man 1, players could only explore the island of Manhattan and not any of the other New York boroughs like Queens or Brooklyn.
Miles Is Going To Empire State University, The Same One That Peter Went To When He Was Younger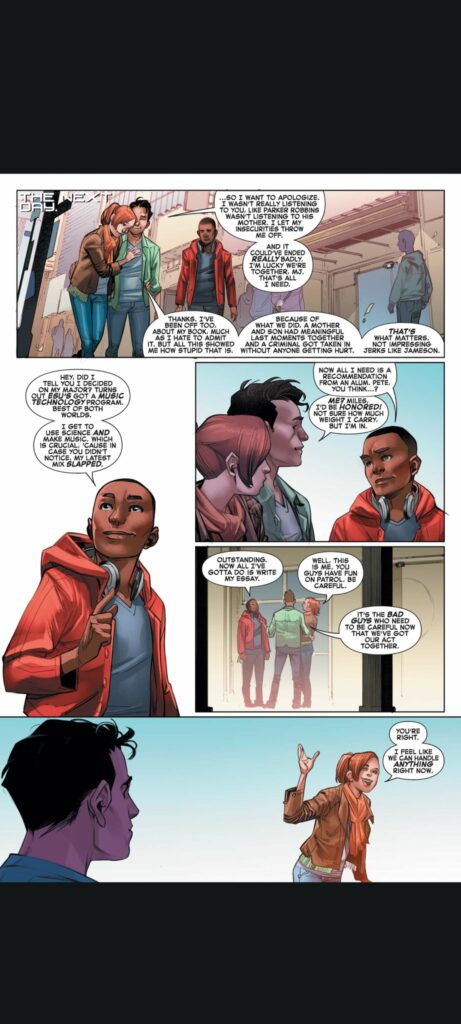 Miles is applying to enter Empire State University (ESU), the same university that Peter is an alum of and which players can actually visit in the first game. No more high school stuff in future games, so that's a win. Spider-Man storylines really need to move past the "school" stage by now, and that includes Spider-Man in all media (live-action, animation, etc.).
J. Jonah Jameson Is Back To Being The Editor Of The Daily Bugle And Is Now Mary Jane's Boss
Remember how it was unique that J. Jonah Jameson had a podcast in Marvel's Spider-Man 1 instead of being the editor that he usually was in past comics and movies? Well, in Marvel's Spider-Man 2, he's set to return to his original role and become the editor of the Daily Bugle again. What's interesting is that this also means that he's now the boss of Mary Jane, since this version of MJ is a journalist at the Daily Bugle.
There you have it, folks. This is the new status quo of the world in the Gamerverse heading into Marvel's Spider-Man 2. Previously, it was only officially confirmed that the game would be launching for the PS5 sometime in fall 2023.