Level Up KL 2023: MDEC Reaffirms Malaysian Gaming Footprint At Tokyo Game Show 2023
By Mr Toffee|September 27, 2023|
Ahead of Level Up KL 2023/MYDCF this weekend (28 September to 1st October), the Malaysian Digital Economic Corporation announces its successful overseas booth at this year's Tokyo Game Show 2023.
MDEC and the Malaysia External Trade Development Corporation (MATRADE) hosted a Tokyo Game Show Malaysia Pavilion booth which housed a number of Malaysian studios -some of them gaming-related- for meetings, showcasing, and overall booth presence. Booking a space at a prestigious show like TGS 2023 is not exactly cheap (plus there are the business day entrance fees), so having the folks at MDEC and MATRADE footing the bill and getting the appropriate sponsors for this endeavour is great for their visibility and presence.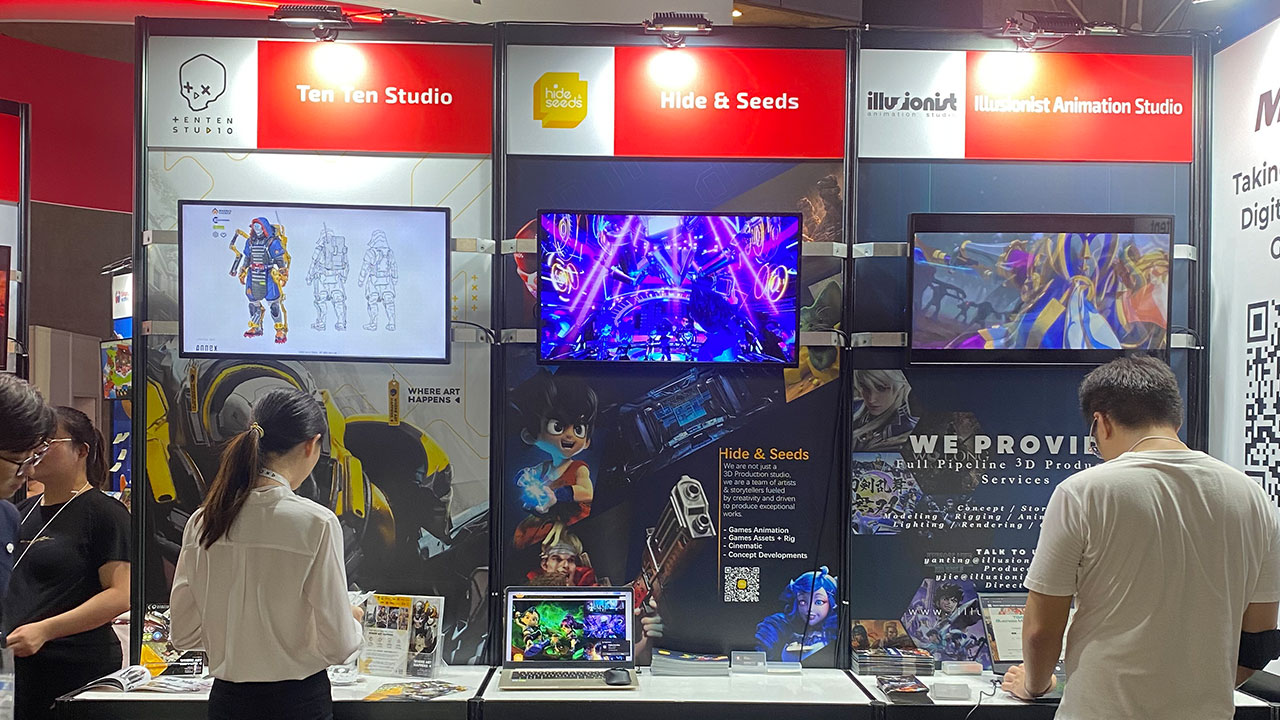 The 16 companies that were present at TGS 2023 for this are:
Acxyn – is a game creator portal that helps game developers navigate
challenges and ease their adoption into Web3 value economics.
(www.acxyn.xyz)
Ammobox Studios – Technology focused, and highly agile AA / Indie Game
Development studio located in Malaysia. Developed and published own IP, as
well as IP products for external clients. (www.ammoboxstudios.com)
Glow Production – One of the few cinematic developing companies based in
Malaysia. (www.glow-production.com)
Hide & Seeds Production – An award-winning CG studio working with brands,
marketing agencies and production houses to create TV commercials and
animations. (www.hideandseeds.com)
Illusionist Animation Studio – Produces a diverse range of animated content,
including films, series, game cinematics, and original intellectual property (IP).
(www.illusionist.com.my)
XI Creatives – Provides digital content creation and related services.
(www.ixi.my)
Kaigan Games – Kaigan Games is one of the leading indie game developers
in Southeast Asia. (www.kaigangames.com)
Magnus Games Studio – Game development company founded by two
brothers. (www.magnusgamesstudio.com)
Quurk – Pioneers game-based learning, propelling coding into the universal
language league. (www.quurk.xyz)
Syncraft – Art studio that delivers top notch illustration and design services.
(www.syncraft.my)
Ten Ten Studio – Dedicated art service provider focusing on design and
illustration services tailored for the video game industry.
(www.tentenstudio.com)
Weyrdworks – Game development studio known for its award-winning
eccentric games with a penchant for creating experimental interactive
experiences. (www.weyrdworks.com)
The Illusion Picture – Specializes in high-end character animation,
environment, fluid, dynamic effects, TV Commercial, digital media, VR, AR and
high-quality cinematics, and we specialize in providing our services to film
agencies, producers and top directors in Southeast Asia. (www.illusionpicture.com)
Dreamfact – Game art outsourcing studio based in Malaysia, was established
in 2021 and is led by veteran artist with vast experience in AAA art production.
(www.artstation.com/dreamfact)
Metal Brain Studio – 3D production studio Games Animation.
(www.okoleleofficial.com)
Fly Studio – Animation & VFX production studio in Malaysia that offers
services including VFX, Animation, In-Game Assets, and Game Cinematic
production. (www.flystudio.my)
MDEC CEO Mahadhir Aziz (who also appeared on Kakuchopurei and RTM show Main Game) said the following about this joint venture and booth presence:
"For the longest time, MDEC gave its all to help those within the digital content production space and empower them with proper tools, expansive funding support, and life-long words of encouragement. This list of 16 is just a small selection of what Malaysia has to truly offer and I'm confident that what is being shown at TGS2023 will serve as a repeating statement to reinforce the notion that it is ready for even more investments for this market segment."
In related news, Magnus Games Studio (Re:Legend) has partnered up with Sueisha Games as its publisher for its next game Project Survival.