By Kenn Leandre|November 1, 2017|
Step aside Seoul Dynasty. The coolest name and logo combo in the Overwatch League now belongs to the Houston Outlaws. Owned by OpTic Gaming, the official press release read "The team name references this rebellious streak, and the star, longhorn skull, and twin revolvers in the team logo are also emblematic of the Lone Star State."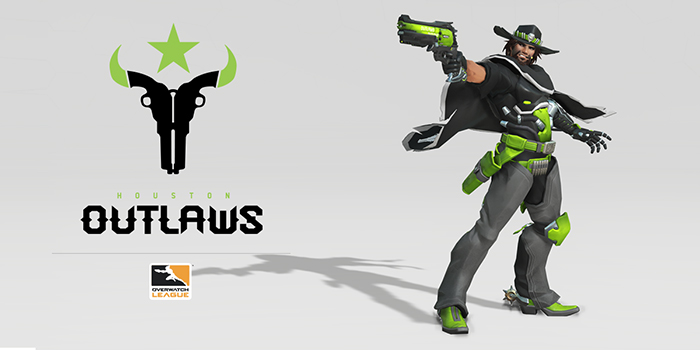 It adds "Last but not least, the green in the team's colors is a signature shade for Outlaws parent organization OpTic Gaming, whose rabid fans are collectively known as "the Green Wall." Not our favorite colors but we feel this color scheme on McCree could grow on us.
"I'm incredibly excited to finally be able to reveal this roster, and I could not be prouder of the final result," said Outlaws General Manager Matt Rodriguez. "Every player has such a distinct personality, and all of them are pumped to be able to call each other teammates. The mindset and the attitude of the team have been inspiring thus far, and we will continue developing and promoting a winning mentality throughout the inaugural season of the Overwatch League and beyond for the city of Houston."
Also revealed were the full team roster which include former FaZe Clan flex/ support,Shane "Rawkus" Flaherty; former Luminosity Gaming DPS Jake "JAKE" Lyon and former FNRGFE flex player, Matt "coolmatt69" Iorio – all who will be representing the United States in the upcoming Overwatch World Cup. Another interesting fact is that the team will be coached by 2016 Overwatch World Cup winner, TaiRong.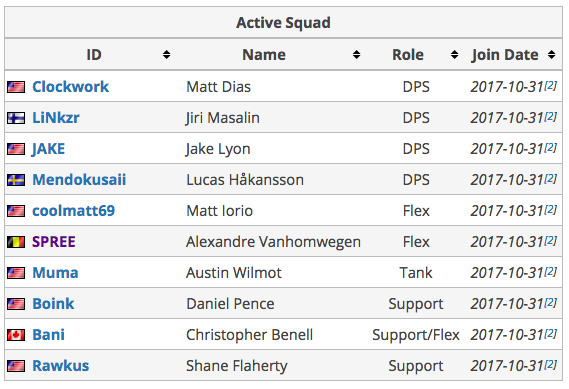 With player registrations for Overwatch League now closed, expect to see more reveals in the upcoming days. To date, eight teams have confirmed their names, roster list as well as team logo. Check it out:
Which team will you be supporting? Tell us in the comments section below!
---