Because calling your repackaged game "Game Of The Year Edition" isn't going to cut it anymore, Square Enix is re-releasing Final Fantasy XV: Royal Edition for the PS4 and Xbox One. But the big news here is that they're also releasing the PC version of Final Fantasy XV, dubbing it Windows Edition.
Rejoice! Both of them will be out on March 6 and will cost US$49.99.
What's new with the Royal Edition and Windows Edition of Final Fantasy XV? Both versions will contain the base game and  ALL of the DLC and Season Pass content like those Ignis and Gladio episodes. They'll also feature new enemies, new side quests, a new first-person camera mode, and a new dungeon called Insomnia City Ruins.
Exclusive to the Windows Edition is 4K resolutions support and NVidia Gameworks integration which include Nvidia TurfEffects – Realistic Grass Simulation, Nvidia HairWorks – Advanced Hair Simulation, and Nvidia Flow – Combustible Fluid, Fire & Smoke Simulation. Essentially, stuff will look prettier and probably run in 60fps because PC master race folks need to hear all that lingo to get a decent erection.
Low-hanging fruit jabs aside, here are the specs. They seem decent so far unless you're thinking of pulling off the 4K display manoeuvre. Hope you have 100GB-200GB of free space on standby: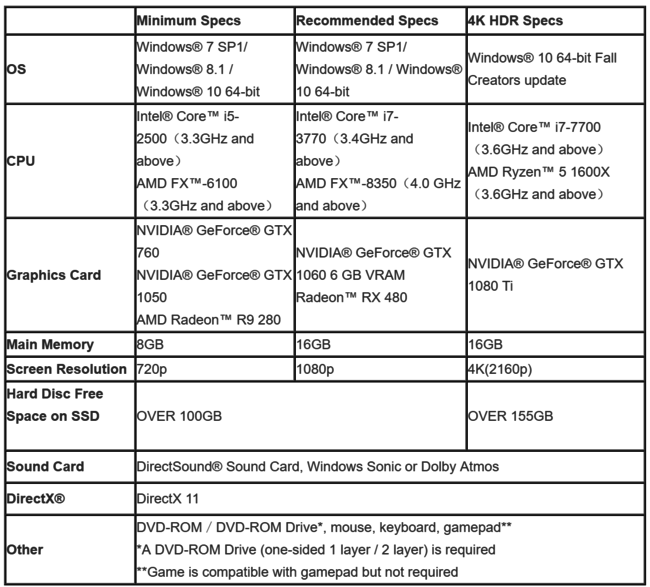 If you own Final Fantasy XV on PS4 and Xbox One, fret not: there will be a Royal Pack DLC out to get all of that new content if you have US$19.99 to spare. Check out the trailer below; there's honestly a ton of nice additions that will give FFXV some more legs before the eventual sequel(s).