It'll be a while until we can shut up about God of War, but goddamn if that Leviathan Axe recall doesn't feel good every single time. You chuck your axe at some poor fool, then press Triangle to recall it.
So what's the magic behind this simple-yet-satisfying move?
Simple: hard work, obsession, and dedication. The combat designers and devs put a LOT of thought into what seemed to be a simple task. According to Santa Monica Studio lead systems designer Vince Nappali, he stated on his blog that it was one of the earliest game mechanics to prototype.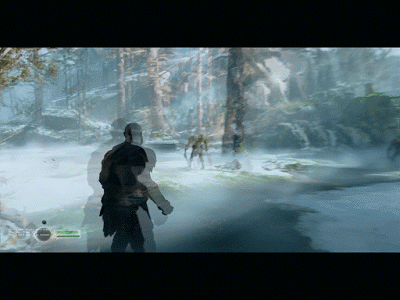 Vince also shared a ton more:
The team was still putting the finishing touches on the axe recall months ago.
It was originally supposed to be Kratos being stationary and raising his hand high up in the air in a grand fashion. Like below:Â 
The first thing the team did to make the "axe catch" work was to make it feel more casual and less stressful by simply lowering Kratos' arm. The second thing they did was rotate Kratos towards the camera, in order to play into the camera a bit more so players can see more of his chest /upper body and not just his back.
On top of that, the team also emphasized both the initial recall moment and the catch moment with a few specifically placed frames and 0 tween time.
They originally wanted the axe to travel back in a straight line. The problem was twofold: (i)The further away you were from the Axe, the longer it would take to get back to you, which equals player frustration, and (ii) travelling in a straight line often meant you didn't see it.
For the speed issue, the team eventually came up with the idea to use a hard time-out in addition to a base speed/acceleration. With a lot of tweaks, the devs can easily control the max possible time that the player would be spent waiting for the Axe.
For the axe's sound, the team attached a sound emitter to the Axe itself so that players can actually hear it come closer. The sound itself is also actually tied in with the rotation speed of the Axe. There are actually 3 separate rumbles used on the recall — one for the initial triggering, one for the flight, and one for the catch. Talk about detail!
You can get the full details of the Leviathan Axe's story here. And if you still need a God of War fix, we have a strategy guide as well as a look at the most memorable bit in the game.