Top image credit: Reddit
It's 2018, and yet there are just some things you aren't allowed to say on TV and on livestream. One of Singapore's finest esports players learned that the hard way.
According to Tilt Report, Daryl "iceiceice" Koh allegedly dropped a racial slur while streaming on Twitch, specifically the N-word. Because of this, his streaming platform was shut down. Also, team Mineski apologized for his behaviour.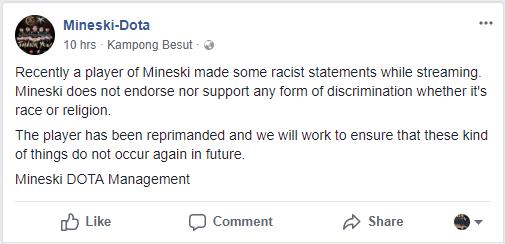 How did it all happen? After he and his team became the first-ever Southeast Asian team to win a Dota 2 major, iceiceice was talking about his son's name on Twitch. When one of his teammates suggest he call him Daryl Jr., he said the following:
"I don't even like the name Daryl. Daryl is like a n****r's name. It's not an… I mean OK, it's a black person's name. I'm not a big fan of, like, Daryl. My parents named me Daryl after watching a show."
While he may have said it in a joking manner, since he is well-known to have a playful persona to match his high-level Dota 2 skills, the folks at Twitch think otherwise. Iceiceice's channel is no longer accessible due to "terms of service violations". It's not clear whether his account will be back up again.
You can check out the clip below and draw your own conclusions. This may have future repercussions for the player and for Mineski, so iceiceice may have to take down his outspoken persona a notch.