Overwatch League Playoffs: London Pulls Off Epic Six-Map Win Streak to Deny All-LA Semis
The London Spitfire did the unthinkable yesterday at the second Overwatch Quarter-finals when they pulled off an epic, six-map reverse sweep to deny the Los Angeles Gladiators a meet with the second-seeded Los Angeles Valiant.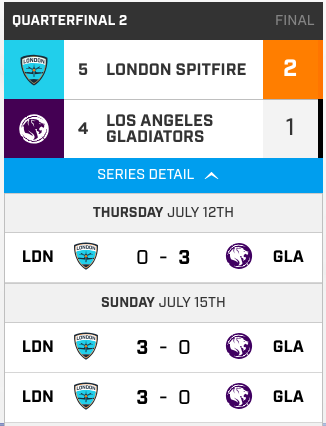 After losing tamely 0-3 in their first match on Thursday, the Spitfire was written off by many, including the casters and the analyst desk. To many, the gulf between the two teams was too huge, even more considering how both teams finished the regular season, with the Gladiators finishing Stage 4 9-1 while the Spitfire only managed a 4-6 record.
This result was even more apparent following the absence of the Gladiators' talisman throughout the nine maps played, Fissure, as they opted to play iRemiix on main tank instead. That decision seemed to work for a while thanks to the 3-0 win on Thursday but the Spitfire were more than prepared this time around and easily won both remaining games 3-0. It was indeed a disappointing defeat for the Gladiators who topped Stage 4 of the Overwatch League and sat fourth overall.
"The difference between Wednesday and today is that it finally clicked—we realized that in this meta, we need to switch [compositions] a lot more," said London support Jong-Seok "Nus" Kim.
"Whatever we saw the Gladiators do, we knew what we had prepared, and we just made those switches as fast as we could. The coaching staff had drilled it into us, so it became a part of us."
The Spitfire will now face another team from Los Angeles, the well-rested Valiant who finished the season in second place. The two teams met three times during the regular season with the Spitfire coming out on top two times and the Valiant winning their most recent meet in June. The winner of the contest will meet either the Philadelphia Fusion or tourney favorites, New York Excelsior in the finals.
---
The full schedule for the semi-final series are as follows:
*All times are correct according to Malaysia/ HK/ Singapore times*
---