By Burhanudin Zamri|August 21, 2018|
Fans of FromSoftware and samurai games, rejoice! Activision has just announced that Sekiro: Shadows Die Twice will be released on the 22nd of March 2019.
If you're dying to be one of the first to play the full game, you can start pre-ordering a digital copy right now. Can't wait that long to get a taste of the game? Then head over to Hall 7.1 at Gamescom as there'll be a playable demo available.
Do not despair if you can't make it to Gamescom, there'll be a lot of new gameplay footage coming out soon and with that, probably a slew of analysis videos from Soulsborne lore experts.
The Collector's Edition of the game has also been announced and there are some really interesting things being included.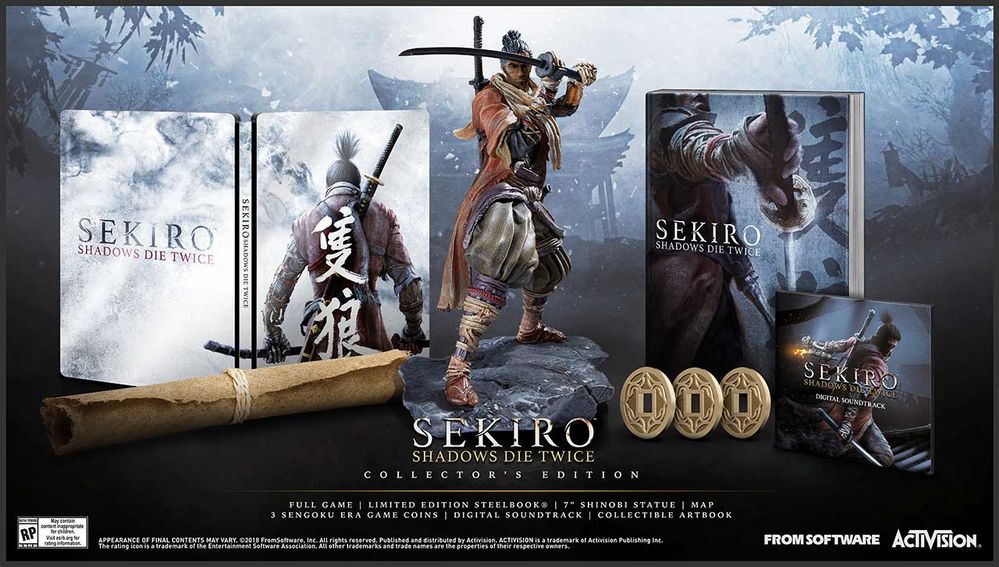 The Collector's Edition comes with:
The full game in limited steelbook cover
7″ statue of the shinobi main character
A digital soundtrack
An Artbook
Map
Three replicas of Sengoku Era coins
The minimalist yet soulful design of the steelbook cover is reminiscent of one of Bloodborne's cover art in which where a hunter has his back turned towards the audience and blood like substance flows from his body.
Judging by FromSoftware's track record of worldbuilding and storytelling through intricate details on characters, items and environments, it'd be wise to assume that the artbook, map, and coins might play bigger roles than simply serving as collector's rewards.
Gamescom 2018 starts today on 21st August 2018. While we wait for more info and gameplay from the showfloor, here are some newly released screenshots to enjoy (and to be analysed to the smallest details).