Update: set pics have surfaced! 
As many of you have heard, Capcom plans to bring its franchises to the big screen. One of them is Monster Hunter, with Paul W.S Anderson (the guy who directed the Resident Evil films) to direct and Milla Jovovich to star in alongside Ron Perlman, Meagan Good, Tony Jaa, and Diego Boneta.
And if this recent picture of cast member Diego Boneta -playing Sergeant Marshall- in his Monster Hunter gear is anything to go by, we're off to a great start! (via Diego's Instagram).
We already have some of the vocal fans already talking about the official picture.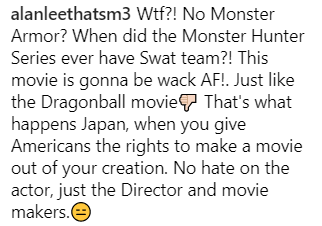 The whole modern weapons schtick is actually tying in with the movie's plot where a bunch of UN soldiers enter a portal that leads to the Monster Hunter-verse. You know, a simple "guy in MH armour fights a ton of badass monsters" is enough of a plot and makes more sense, but what do we know?
A couple more set pictures have surfaced online. Seems like Paul W.S Anderson has a fetish for deserts. Here is his justification for it (via Variety, Deadline):
"The Monster Hunter world includes these huge deserts that make the Gobi Desert look like a sandbox, and they have ships that sail through the sand. These full-on galleons, but rather than sailing on the ocean waves, they sail through waves of sand.

You're fighting these giant creatures, some as big as a city block. They live underneath the Earth and when they burst out, it's like the best of Dune. We've found a way of connecting the Dune-like sand-covered world of Monster Hunter with our world. So we're bringing this massive Japanese game into the world of America."
We'll be sure to keep watch on this faithful recreation of the medieval fantasy-esque film that somehow has bowguns that look like M4s and AK-47s and Rathalos scale armour that looks suspiciously like kevlar.