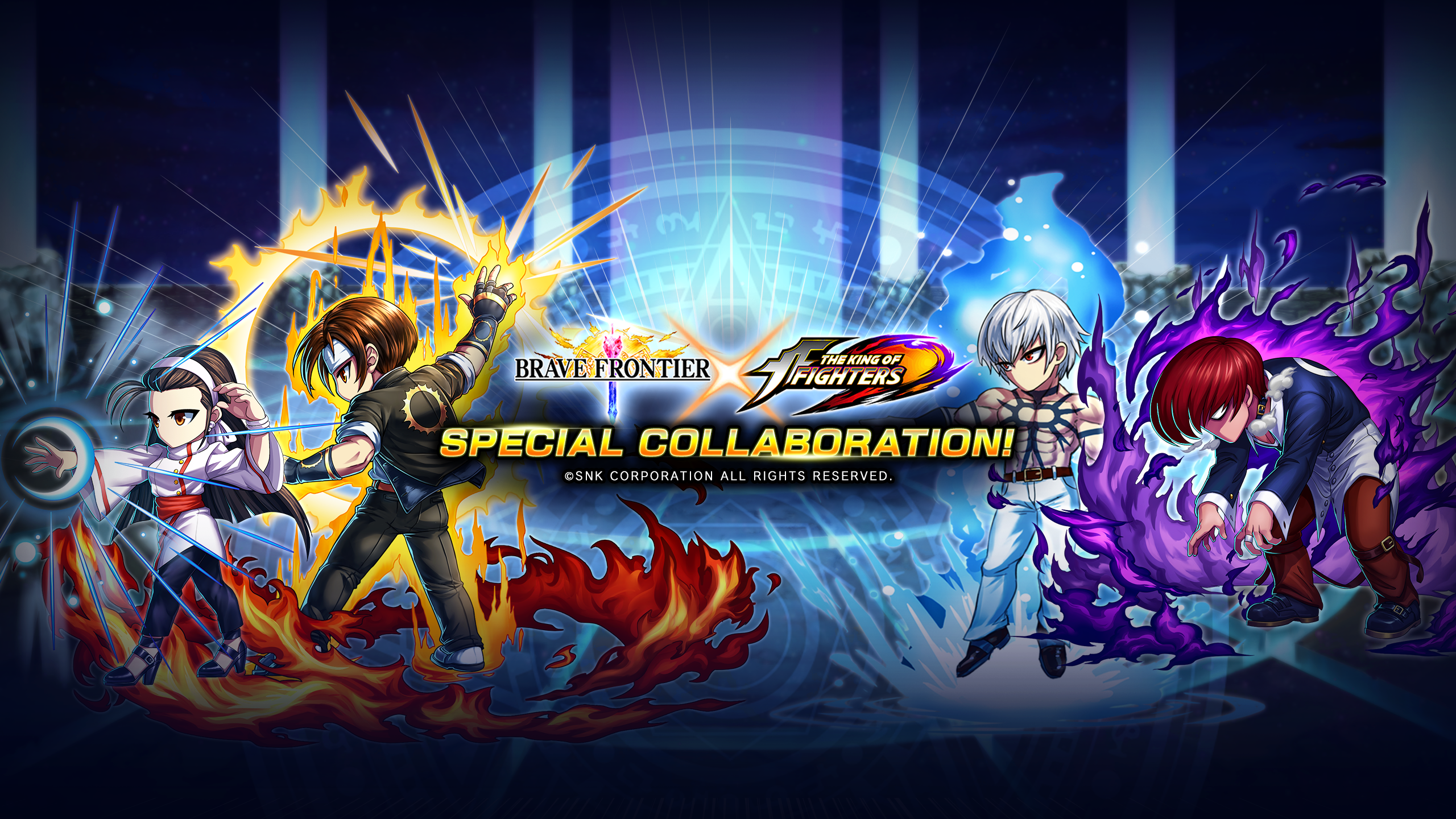 by in
gumi Inc has just announced the collaboration between Brave Frontiers and THE KING OF FIGHTERS. Starting from 22 April to 24 May, players will get the chance to acquire 4 new characters as well as some old favourite fighters from the series.
Here are the new characters featured in the collaboration;
Chizuru Kagura, who is one of the scions of the three families that had sealed the creature known as Orochi, Chizuru Kagura was a priestess, a martial artist, and an accomplished woman in her own right.
Also, her KOF '96 arranged theme is hailed as one of the best fighting game anthems of all time. Mr Toffee's words, not mine.
Orochi: a powerful avatar of nature personified. Orochi began to spread its dark influence around the world to eradicate mankind from the world but was sealed away by three families after a mighty battle. Not as top tier as other SNK Boss Syndrome candidates, but still a pain to fight nonetheless.
Orochi Iori: A strong warrior with no recollection of himself. The only thing he could remember was his desire for blood. Edgelord rating: off the charts.
Kyo Kusanagi: a fighter with the power to manipulate fire. Also the hero of the KOF series who is usually paired up with a judo giant and an effeminate ladies' man with Super Saiyan-like hair.
These new characters will be up for grab alongside other fan-favourites from the series, such as;
Terry Bogard
Iori Yagami
Omega Rugal
Benimaru Nikaido
Kula Diamond
Athena Asamiya
Mai Shiranui
Leona
THE KING OF FIGHTERS Arena
This collaboration also features new dungeon mechanics in which players can choose different paths as they complete the dungeon. Those who are victorious will be rewarded handsomely with limited run items such as The King of Fighters Sphere, Materials, and Gems.
Get Login Rewards
As per standard for mobile games, players who login daily during the collaboration are entitled to enjoy 21 days of rewards, such as Gems and Summon Tickets.
---
Brave Frontier is available to download globally on iOS, Android, Amazon, and Windows Phone devices.