The Recent eSports Malaysia & 2019 SEA Games Malaysia Selection Controversy In A Nutshell
You can't ever take politics out of anything Malaysian, even if it's competitive gaming on the line. In this instance, eSports Malaysia is now the target of Malaysian internet users due to them accused of not offering financial support and having their own minister-level champion pulling off an alleged "no-show".
Here's a breakdown of the two controversies.
Episode I: Oh Brother, Where Art Thou?
-Esports Malaysia (ESM) shared updates on Facebook during the first day of the Malaysia Esports selection for the 2019 SEA Games. This post was made on 4 May and listed the brother of Youth and Sports Minister Syed Saddiq, Syed Abdullah, as one of the event's guests of honour.
-However, his name was removed later on the same day. These edits can be tracked publicly, which leads to people accusing Syed Abdullah for representing the minister at the event.
-Syed Saddiq responded with the following via Twitter:
"It's so wrong because it's untrue. ESM has already come out with a statement correcting this".
He said that his brother turned up at the event uninvited and did not require any special treatment. Here is the ESM statement, issued on 6 May:
-Even Razer's Min-Liang Tan chimed in and defends his BFF:
https://twitter.com/minliangtan/status/1125595400486801408
…followed with some comments from the restless denizens of the web and key folks in the Malaysian media scene. Some of them even accused Syed's brother of "gatecrashing" the event, conveniently all dressed-up and able to secure a VIP pass.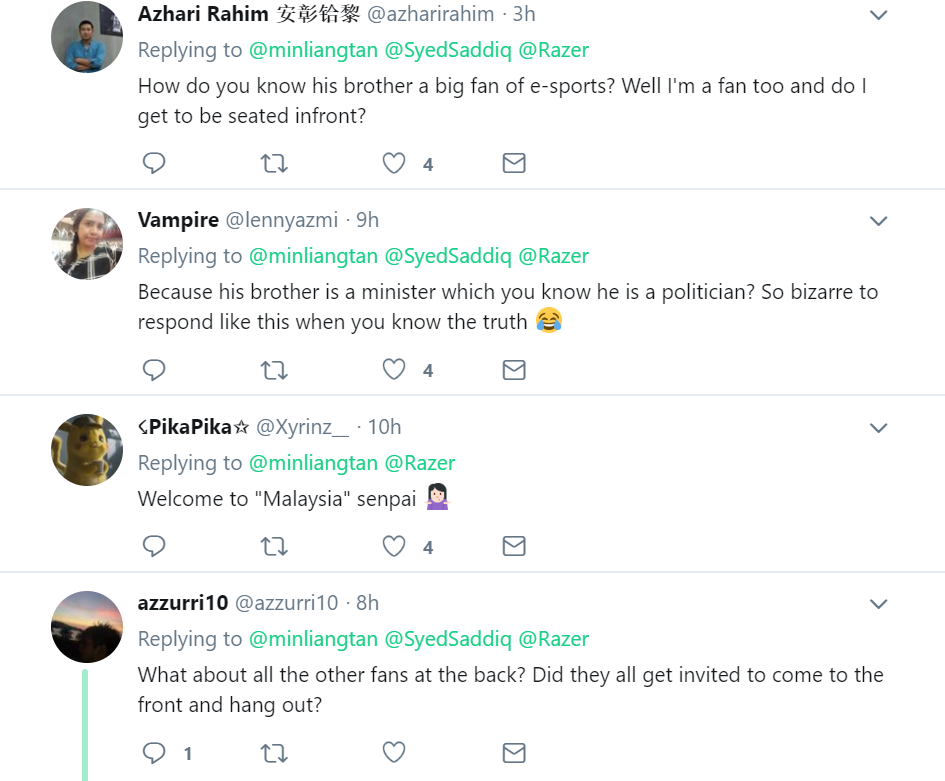 https://twitter.com/1Obefiend/status/1125722569129119746
Episode II: Fund Times In Esports High
-The next day, 7 May, Majlis Sukan Negara/National Sports Council (NCS) criticized ESM for accusing the NCS for not providing financial support for the 2019 SEA Games Malaysia Esports Selection. This was laid out on an Astro Awani report.
-This prompted an official response from the NSC director-general Ahmad Shapawi. In summary, the NSC held several meetings with ESM and agreed to contribute RM750,000 on the condition that an official request and budget breakdown would be submitted by them.
-Unfortunately, Shapawi claimed that ESM proceeded to organise the selection tournament without responding accordingly. The official request for the funds came two days after the event.
"NSC can only provide financial assistance to a sport association as long as the sport association can provide a financial justification and a budget breakdown for all planned programmes.

ESM should be grateful for the government's efforts in recognising their sport as a new and important sport as part of national sports development plans. ESM should now focus on identifying the players who can make an impact at the Manila 2019 SEA Games and improving their internal management as soon as possible."
The full statement below:
-In addition, verified sources close to Kakuchopurei said that there was no cash prize pool, no transportation, and lodging for the Malaysian athletes due to the lack of funding from the NSC.
Long story short: this seems like two supposedly separate tales, one on a minister's brother allegedly representing him for a no-show and one on late funds request, all linking towards eSports Malaysia. So far, it's not painting a good light for the national esports body, at least for the latter controversy.
Image credits: eSports Malaysia FB page
Related