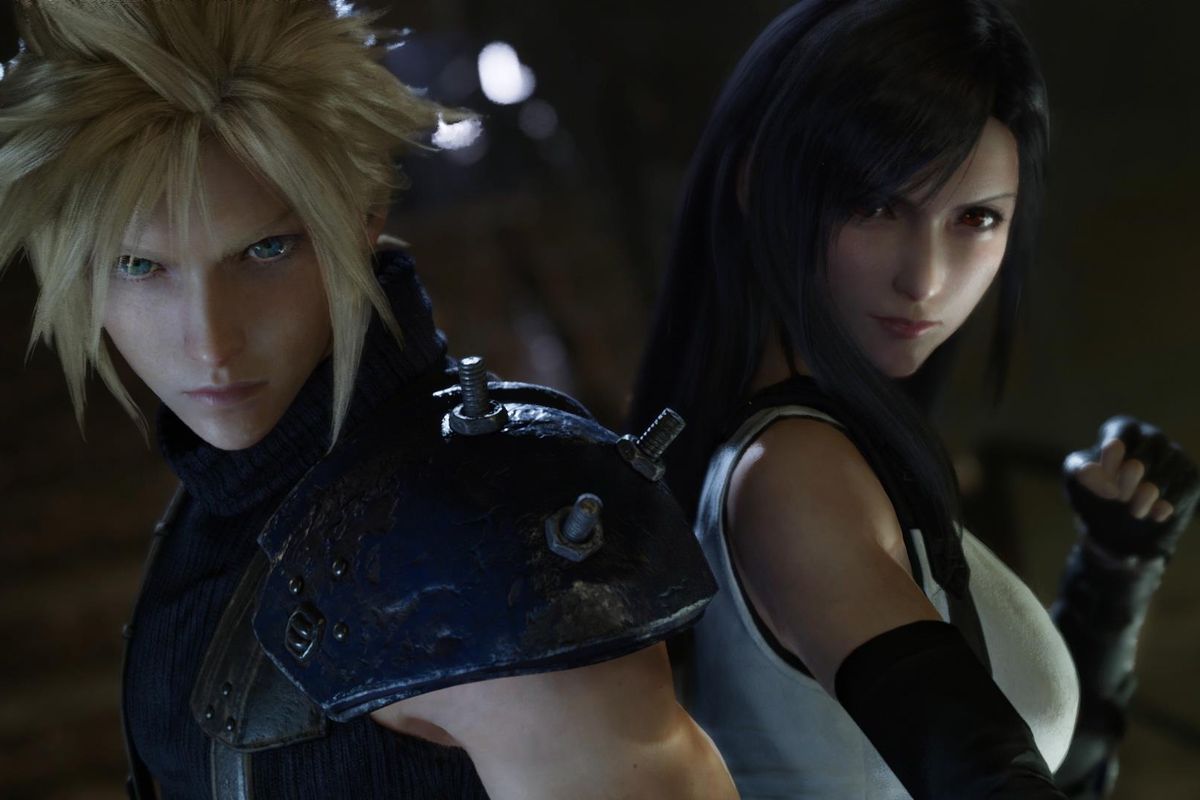 by in
With Sony PlayStation's absence looming over E3 2019, it was everyone else's golden opportunity to grab and take advantage of.
Unfortunately, no one really stepped up in terms of huge surprises or really giving fans what they wanted. Just as all hope seemed lost as another E3 is about to close up, Square Enix swoops in and takes the crown.
Square Enix's E3 2019 press conference began and ended with two highly-anticipated games; Final Fantasy VII Remake and Marvel's Avengers, respectively.
It was enough to make the internet and gamers around the world roar, exclaiming that E3 2019 is saved just on the virtue of Tits McGee Tifa Lockhart's reveal alone.
Final Fantasy VII Remake Wows And Astounds
Prior to Square Enix's E3 2019 press conference, fans and naysayers alike were already grunting over the lack of updates for Final Fantasy VII Remake, wondering if the fabled game would ever arrive or remain stuck in development hell like Final Fantasy XV and Kingdom Hearts 3 were.
Nomura and the folks at Square Enix surprised everyone yesterday with the announcement of Final Fantasy VII Remake's release date, but they gave us all what we wanted and more when they unveiled actual gameplay footage for the long-awaited game.
I won't mince words: Final Fantasy VII Remake looks incredible, like a more refined and dynamic version of Final Fantasy XV combat mechanics. There are many improvements over the flawed 2016 JRPG, including the ability to switch between characters in battle at the press of a button, and a much better ability and spell system.

It seems like it requires actual strategy/tactics to master, and not too reliant on button-mashing. 
Oh, and we finally get to see Tifa Lockhart in action, which was enough to send any long-time fan and resin figurine owners wild and hysterical. This is what E3 press conferences should be like: an event for gamers just like Sony PlayStation usually does it, and I miss it.
Still, the nostalgic kindling from seeing iconic FF7 scenes of the past upgraded in 2019 for us to cherish and witness is a weapon Square Enix loves using, and it's not going to stop anytime soon because it just works.
Square Enix Re:Minds Us Of Upcoming Games And Updates
After an exceptionally strong opening with the Final Fantasy VII Remake, Square Enix proceeded to remind everyone of existing and upcoming games like new episodes of Life Is Strange 2, Dragon Quest Builders 2, the Final Fantasy XIV Shadowbringers expansion and more, as well as revealing release dates for several highly-anticipated games.
Nintendo Switch exclusive Dragon Quest XI: Echoes of an Elusive Age Definitive Edition finally receives a release window (fall 2019), and Kingdom Hearts 3 Re: Mind DLC is finally officially unveiled to the world with a winter 2019 release window.
That's not even mentioning unexpected surprises like The Last Remnant Remastered coming out for the Switch and classic JRPGs; SaGa Scarlett Grace and Romancing SaGa 3 making their debut in the west.
Final Fantasy VIII Remaster And Outriders
Just before the last announcement of the press conference (which they saved for Marvel's Avengers), Square Enix once again made veteran fans cry in joy with the official announcement of the rumored Final Fantasy VIII Remaster. While it may not be a full-on remake, it's enough for fans, especially since Final Fantasy VIII was previously the only mainline title in the franchise to be absent on most current-gen platforms.
The mysterious game Outriders received a full cinematic trailer, which doesn't really reveal anything substantial about the game. However, the prospect of a new game by Bulletstorm developers People Can Fly was enough to make gamers hyped for this new IP.
Avengers Re-Assemble
With the Avengers arguably at its peak popularity at the moment (with the release of Avengers Endgame earlier this year), now (this year) was the best possible time for Square Enix to finally unveil the long-gestating Avengers project of Crystal Dynamics and Eidos Montreal.
Square Enix's E3 2019 press conference came to a deafening close as they reveal the first trailer for Marvel's Avengers, which showcased a version of the heroes starkly different from their beloved MCU counterparts. The reveal was confusing and unclear at best, as the developers struggled to clearly define their game without resorting to buzzwords.
Nevertheless, this is to be Marvel's highest-profile game in years, and that's enough to bring even non-gamers into the hype.

With a release date set in stone, it's only a matter of time before we'll see if this game was worth the long wait or if it will turn out to be just another over-expensive disappointment.
Ultimately, if I were to declare any publisher's press conference as the winner of E3 2019, I would say that Square Enix probably deserves it the most at this point.
We only have one more press conference left by Nintendo, so we'll have to see how that goes. I heard it's so secretive, Nintendo ordered a cease-and-desist action against a prominent E3 leaker ahead of the video premiere. I sincerely hope it won't be a rehash of the Super Smash Bros Ultimate fest that dominated last year's Nintendo event.
---