Platform: PC, PS4, Xbox One, Nintendo Switch
Genre: 2D Run-And-Gun Shooter
Welp, with Konami not giving much f***s about its IPs and repackaging games in retro bundles, it's really up to other developers to show its predecessors how it's done. And that's what the new 2D run-and-gun title Blazing Chrome is about: gunning down hordes of bad guys and aliens as you run from left to right, be it on foot or on a hoverbike.
Battle Runner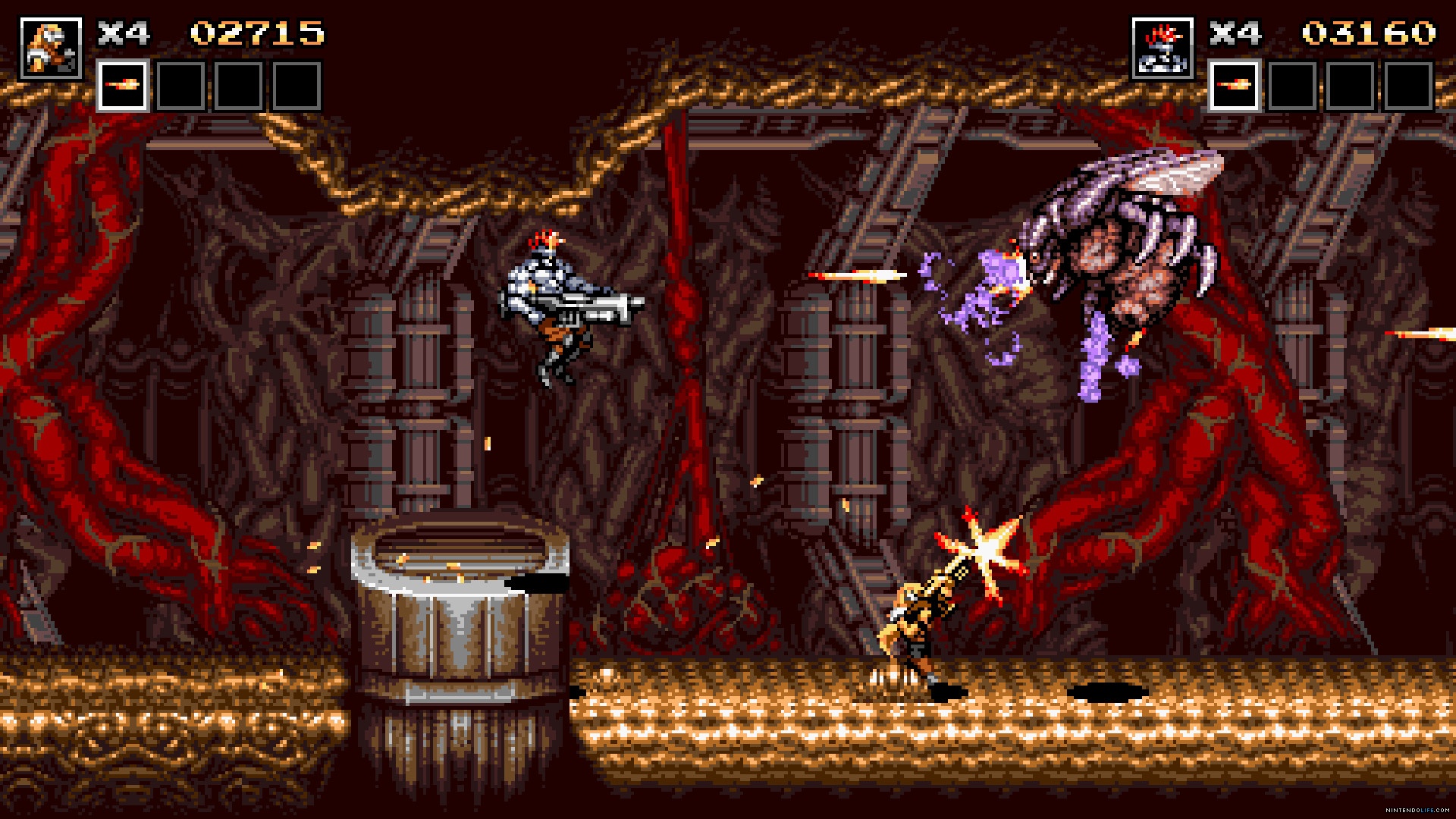 Developer Joymasher and publisher The Arcade Crew essentially created a tribute to Contra III: The Alien Wars, with a dash of Metal Slug robot-riding added for good measure. As either a female commando or a robot rebel, you run, you aim your gun, and blast the heck out of anything in your way that poses a threat. You have no life bar; one hit and you're dead. It's that easy to grasp and tougher to master; you'll need to memorize patterns, use your reflexes to avoid surprise attacks, and select the best weapon to handle the situation. Controls-wise, they're solid and responsive; you can go prone, melee enemies when up-close, roll out of danger, and hold a button to fix your aim to a direction. It's the game's way of saying "if you die, it's mostly your fault".
You won't be fighting empty-handed when traversing the 6 stages. Apart from weapons like the whip gun, the charge laser, and the grenade launcher (my personal favourite), you also have access to drones that power you up until you die. They can either make you run faster and double jump, boost your firepower, or let you take 2 additional hits.
The game's challenge is definitely on the retro hard side of things, but not unfair. The game's default difficulty offers checkpoints, so even if you waste all your lives on your first and second try, you can still continue a few ways back from where you left off. At worst, you'll redo a third of your progress, which isn't too bad. And trust me, you'll need all the help you can get dealing with the plethora of mini-bosses and main bosses. These include giant robots, giant hover jets, an alien with multiple critical spots with tentacles and ooze spurting out of them, and a few cyborg showdowns that remind you of Contra: Hard Corps' last few stages.
It's Time For Revenge
Having said that, I do have a few complaints. The game's melee attacks could use some work as they can come off as inaccurate. Using the default characters when run-and-gunning made me hold the fire button, which means by right I should be able to gun down most hordes. Funnily enough, the first-level bum-rushing baddies (the purple dudes who jump at times) take more than a bullet or two to die. While manageable in the first stage, you'll face swarms of them later in the game, so it can get hectic switching between gunning and meleeing, resulting in too many unnecessary deaths on my side.
There's also the fact that the game is just recreating the challenge of a great run-and-gun shooter filled with great setpieces and boss fights without innovating beyond being a homage. While that's fine and dandy, I do feel that this holds the title back just like Bloodstained: Ritual of the Night did with the Metroidvania genre as a whole. Then again, this game is made by fans of the era; see their past efforts Oniken and Odallus as proof of that.
There's a bunch of added incentives in finishing the game the first time around. Next to boss rush mode and Mirror mode (where the stages are reversed), you'll unlock the game's ninjas Suhaila and Raijin. They offer a unique playstyle; think Strider's hack-and-slash-and-projectile gameplay but you die with one hit. Their melee attacks are fast enough to offset bumrushing baddies, but you'll need to make an effort to dodging projectiles.
No Man's Land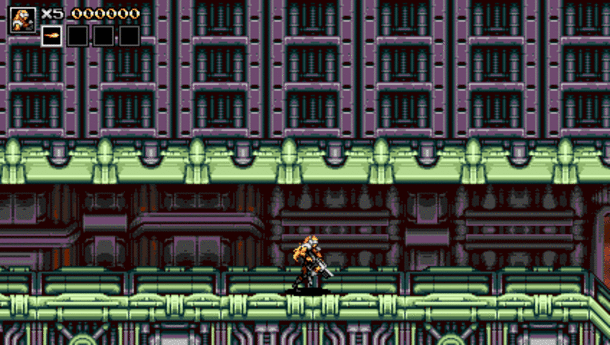 Truth be told, I'm really down with this tribute; I'm fine settling for a game that aims just to add on more to the long-forgotten genre instead of upending it and revolutionizing it as long as it knows it. I just love the thrill of having one life left just downing a giant maniac bot with nothing else but my reflexes and wit, as well as skiing through the snow blasting enemies while re-enacting a fairer version of the Battletoads speed biker jump segment.
Hell, I even love challenging myself when trying to make my joy-ridden battle armour survive a pounding long enough to reach the end of a stage, even if it's futile. Blazing Chrome is challenging, well put-together, and replayable as heck, even if it comes off as familiar at times.
Plus, how could you not love a game that caps off its ending with an 80s-styled synth tune with its own brand of nostalgia-inducing lyrics?
Pros
Great controls and gunplay.
Short-but-sweet action.
Nostalgia-inducing 16-bit graphics and rockin' soundtrack
Cons
Doesn't do much to change up the formula.
Offers little apart from familiar arcade replay value.
FINAL SCORE: 70/100