Platform(s): PC (version reviewed), PlayStation 4, PlayStation 5
Genre: Skating & shooting game mashup with 80s Running Man vibes
Not content with its skateboarding indie odyssey that is OlliOlli World, Roll7 is making another extreme sports game exclusively for PC and PlayStation consoles. Though this time, it comes with a more mature vibe akin to your 80s dystopian universes where people kill each other for fun and games.
Rollerdrome is essentially that, except your main character is packing heat and comes with tricks of her own. Does that make for a fun experience? Absolutely.
Blood Sport
In Rollerdrome, you play a rookie named Kara Hassan who has to shoot and skate her way to glory, fighting off rivals called House Players in an arena with whatever they have in tow. There's a bit of a narrative bit where she explores her surroundings pre-match, either in the locker room or in the TV station that's broadcasting the Matterhorn-sponsored blood sport. But generally, you're playing an arcade game here: survive, get a high score, perform tricks and stylish kills, and then proceed all the way to the finals.
Unlocking future stages require you to complete a set number of challenges in each previous stage, meaning you will need to replay them over and over to get them right. These range from collecting 5 stage tokens to performing a specific trick or rail grind and then killing enemies while doing so. They're creative and add a ton more replayability so that you aren't bored with just the usual "survive until they're all dead" structure that you will go through. As long as you're doing chain kills and doing tricks constantly, you'll nail a couple of these challenges and can proceed onward.
As if that wasn't enough, Out For Blood mode is the game's post-campaign mode where all enemies will pop up on the map and they deal more damage than usual. You have all your weapons and should be familiarized with the maps, but the enemies are more aggressive than usual in this mode. If anything, this is what you play Rollerdrome for: the arcade mode where you survive while aiming for the lowest time and longest kill chain possible. Gameplay-savvy players who just want the meat and bones of a third-person shooter with extreme skating mechanics will be playing this for months on end just for leaderboard bragging rights; it's fun and challenging at the same time as you're playing similar stages but with way more attrition shoved your way, with only the skillful being able to survive.
Simply put, Rollerdrome is a fun combination of the Jet Set Radio series and your favourite third-person shooter with bullet time mechanics, with all of its mechanics and extreme sports nuances combined to form one tangible and exhilarating experience. You have to do stunts to reload and get points. When you aim, you slow down time for a bit to get a clear shot. Weapons like the Shotgun deal more damage if you time your shots just right to the prompt on your reticule. Being on the move and jumping around is a surefire way to stay alive, but you have to kill everyone and try to do this as quickly as possible for the best time. Your perfect dodges can result in instant ammo reloads and also a super Reflex Mode where your shots deal double damage and you get a free "bullet time" segment.
A Bit More Greasin'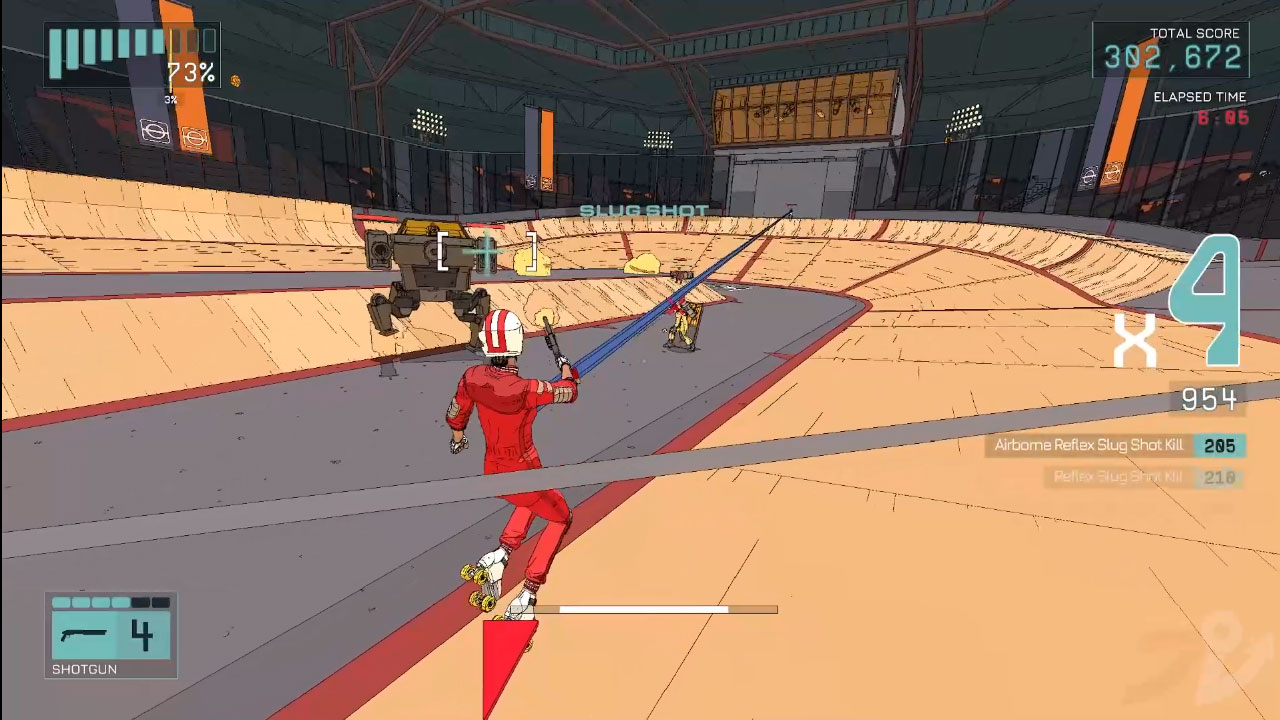 Having said that, Rollerdrome's learning curve and familiarity with its controls can take a while. While the gist of locking on, slowing time down, and doing tricks to reload your gun is easy to grasp, it's when you have to do them consecutively under enemy fire that gets tricky. Coupled with some wonky camera angles and controls, as well as some "heat of the moment" portions where you end up doing a half pipe when you wanted to get over to the other side of the ramp, resulting in tons of rockets exploding in your face.
The dodge button can only do so much; sometimes the later stages of the game can get brutal and unfair. Still, you'll feel a huge sense of accomplishment when you survive the heat, only to realize that you need to unlock subsequent changes and have to replay stages to complete the number of challenges required.
Still, it's a small bunch of gripes to what essentially is a thrill ride that comes with guns blazing, a reason to welcome crossbreeding between two genres, and a nod to classic 80s films with dystopian carnage marathons where the strong survive. Give this roller derby a spin; you'll be glad you did.
Final Score: 80/100