By Burhanudin Zamri|July 15, 2019|
If the lukewarm E3 2019 presentation of Marvel Ultimate Alliance 3 hasn't made you cancel any intentions of buying the game, I've got more news for you. The game's DLCs will come in an all-or-nothing Expansion Pass.
This paid Expansion Pass includes 3 DLC packs, which will become available as they release one at a time after the launch of MARVEL ULTIMATE ALLIANCE 3: The Black Order and will not be sold separately.
– Expansion Pass store on page on official Nintendo website.
Similar to Legend of Zelda: Breath of the Wild's Expansion Pass, you have to buy all the DLC packs even if you're interested in just one of them. So if you just want the Fantastic Four DLC pack and don't really care about the X-Men and Marvel Knights pack, you still have to buy all three.
The DLC packs will be released one-by-one with the first pack coming out on Fall 2019, the second one arriving a bit later after that, and the last one will be released in 2020. It's not specified yet which expansion pack is the first and which is the last.
It's worth mentioning that the Expansion Pass is priced at US$19.99 (≈RM85) which is a substantial amount, to me at least. Telling fans of your game "You don't need options, just buy them all!" is pretty anti-consumer especially in a time where DLCs can be easily sold digitally.
Super Smash Bros. Ultimate actually sells its DLC packs separately so it's not like nobody else is doing it on the Switch. There's still the Fighters Pass which is an all-in-one expansion pass that gets you all expansion packs but it's not a compulsory buy to get any specific DLC packs.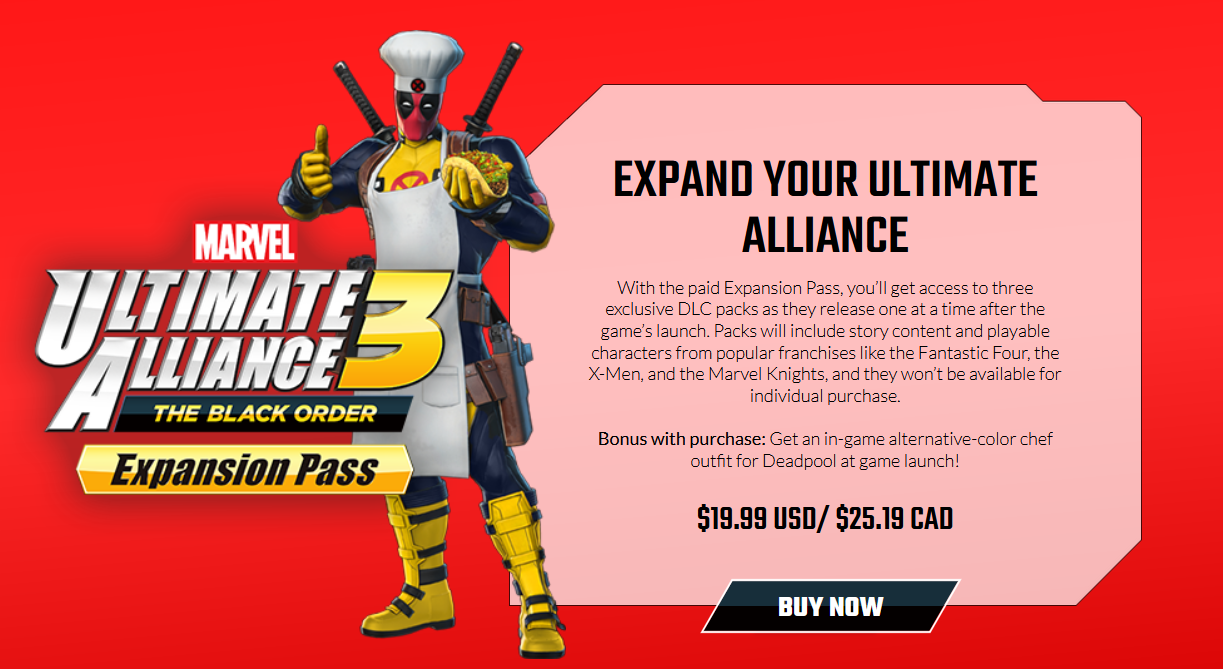 Oh, you also get an in-game alternative-colour chef outfit for Deadpool at game launch. This is probably supposed to be the "Sure you might have to buy all the packs but hey, you even get this cool bonus!" band-aid. Sigh…