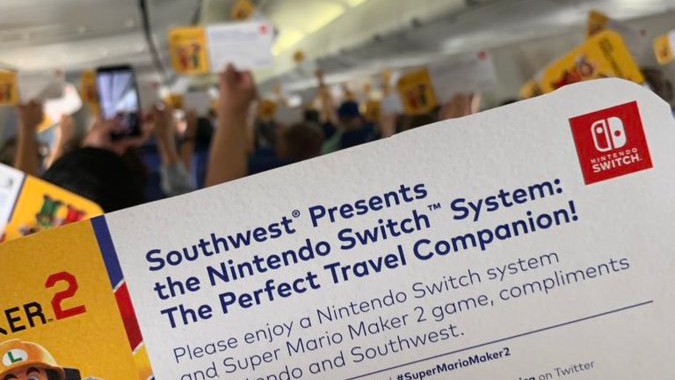 by in
Is it just part of Nintendo's mission to spread joy or do they just do that involuntarily? I'm asking that because every single passenger on a flight to San Diego was unexpectedly surprised with a voucher for a free Nintendo Switch console and a copy of the recently-released Super Mario Maker 2.
The most surprising thing about it all is that Nintendo didn't even announce the sudden giveaway. It went viral through social media when flight passengers like Funimation social media manager Nicholas Friedman tweeted about it.
!!! pic.twitter.com/11R6BPmc9z

— Nicholas Friedman @ SDCC (@NMFreed) July 17, 2019
In addition, a lot of these folks were on their way to attend San Diego Comic-Con International (SDCC), which is taking place from 18 July to 21 July 2019. Not only are they lucky enough to be heading to one of the biggest geek/pop culture conventions on the planet, but they're also getting a free Nintendo Switch to boot.
It turns out that this is all part of an official collaboration between Southwest Airlines and Nintendo. In a statement to Dallas News, Nintendo of America senior vice president of sales and marketing Nick Chavez said:
"With the help of Southwest, we brought smiles to an entire plane full of people.

We hope that spirit of fun lasts for a long time, as now everyone on the flight has a Nintendo Switch system and Super Mario Maker 2 to play at home or on their future travels."
EVERYONE ON THIS FLIGHT JUST GOT A NINTENDO SWITCH!!! @NintendoAmerica @SouthwestAir #SouthwestxNintendo pic.twitter.com/mUlryf4Kkv

— Lauren 🎤hosting @ Comic-Con (@LaurMoor) July 17, 2019
---