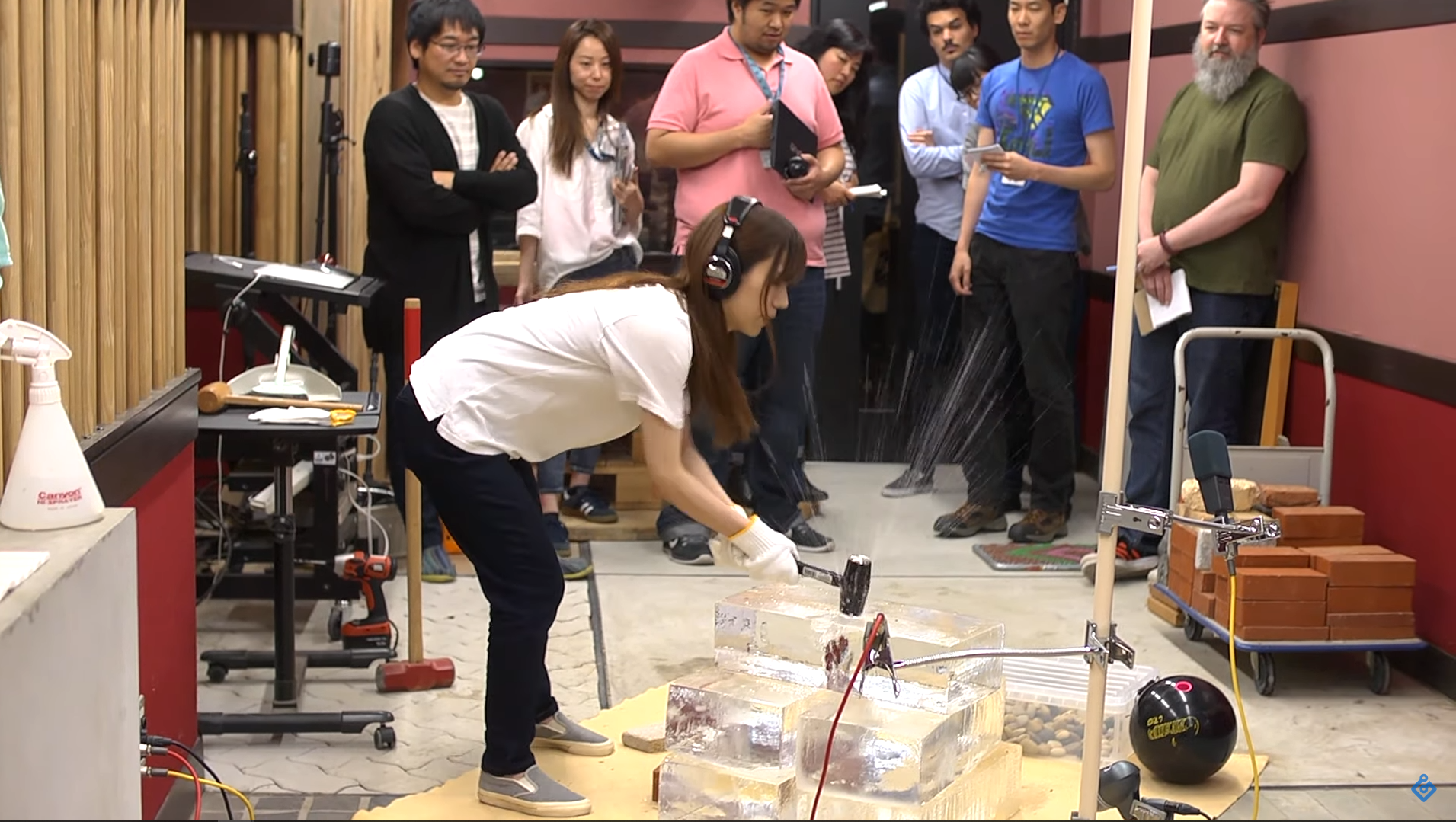 by in
One of the great recipes of a memorable and beloved game is the music and sound design. For a game series like Monster Hunter, creating the thunderous roars and other wild sounds of its various fauna has always been an adventure in itself.
The same holds true for Monster Hunter World and its upcoming major expansion Iceborne. In a recent interview and studio tour with Game Informer, the creative team behind Iceborne's monsters, sounds, and music shed a bit of light on how they came up with the sounds and sights of Iceborne.
Iceborne sound designer Wakana Kuroiwa showed how she used a variety of objects and tools to create the sounds for Velkhana, one of the monsters in Iceborne. After analysing the crystalline and draconic nature of Velkhana, Wakana decided she would have to switch things up to avoid similarities with Legiana, another ice-type monster.
Ice blocks, a few hammers, wind chimes, and more were involved in the creation of Velkhana's sounds. Wakana would smash the ice blocks and record the sounds of the ice breaking and cracking. To add in that crystalline touch, wind chimes were dragged on the broken ice blocks.
After all that, the recorded sounds would be processed in a studio to be edited into something more reminiscent of a monster rather than just stuff being smashed and dragged. This is just one of the many processes that the team goes through in creating unique sounds for the game. The team is also collaborating with Skywalker Sound and yes, they're the people behind the sound effects for Star Wars.
Akihiko Narita, Iceborne's music composer, was also there to explain a bit on how he came up with the game's theme song and other music scores. The expansion's theme song is a collaboration between himself and Yuko Komiyama, a senior of his from the Monster Hunter 2 era.
"So for Monster Hunter World: Iceborne we wanted a theme song that was a little cool and had a mystery behind it."
– Akihiko Narita, Iceborne music composer.
A great working practice that the team held onto was a consistent back-and-forth communication between the sound design, music composition, and monster design staff. The emphasis on feedback and synergy is definitely something that will be visible in the end product.
"I'm involved in the visual and game design, but good sound makes the monster feel real. If we have something that feels realistic, then the player gets a different vibe. They feel different about it."
– Koname Fujioka, Iceborne executive director and art director.
Monster Hunter World: Iceborne will be available starting from 6 September 2019 for consoles. The PC version of the expansion has yet to be given a release date. The expansion will bring back some fan favourite monsters from past games and will feature a lot of new content.