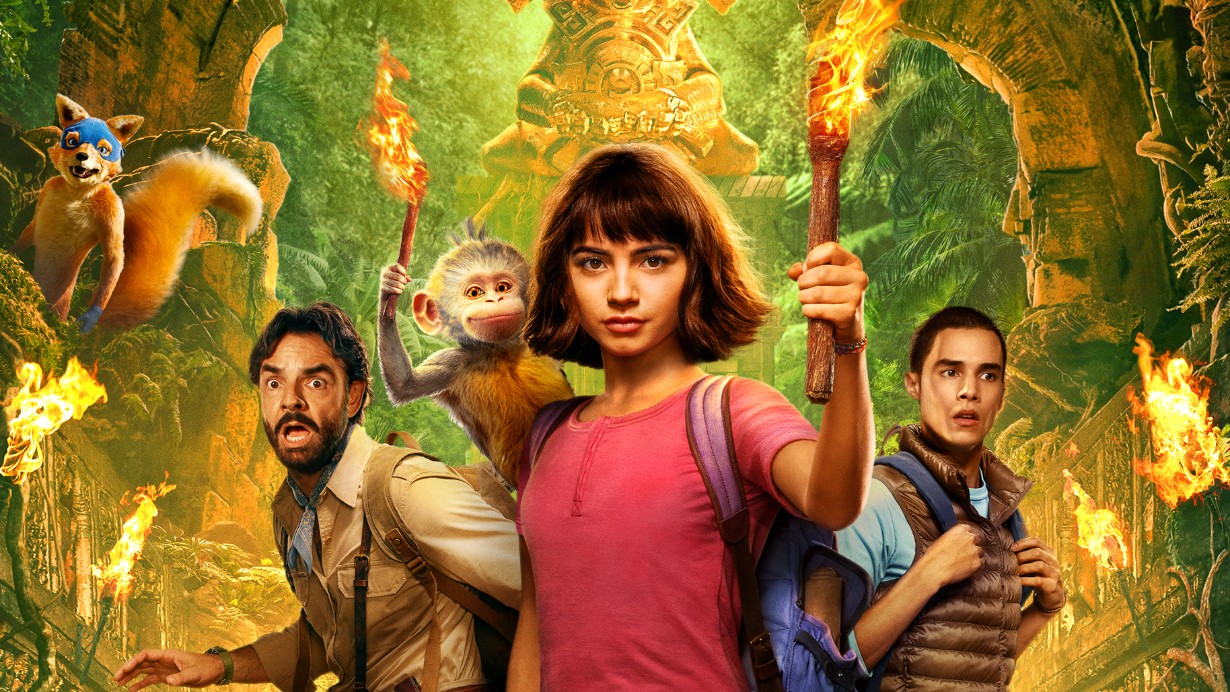 by in
I grew up with the original Dora The Explorer animated series on Nickelodeon back in the early 2000s before I finally grew out of it when I became an angsty teenager who listens to My Chemical Romance on a daily basis. However, never did it popped in my younger self's mind of ever wanting a live-action adaptation, but here we are.
Dora And The Lost City Of Gold is a much better movie than I expected, an all-ages movie reminiscent of classic adventure movies that will tickle the funny bone of adults and children alike, regardless of whether or not you watched the original cartoon.
Going Meta In The Jungle
The movie is essentially a mix between a tamer version of Mean Girls in its earlier parts and adventures movies like The Goonies and Indiana Jones in the majority of its runtime. In Dora And The Lost City Of Gold, Dora spent most of her childhood living in the jungle with her parents, rendering her unused to life with regular humans, especially her own similar-aged peers.
Due to that reason, her parents sends her to the concrete jungle and a real modern high school. She tries to fit in but is chastised for being different. She later unwittingly brings her school mates along with her on an adventure through a jungle to find her missing parents and a lost Inca civilization.
What surprised me the most about Dora And The Lost City Of Gold is how it's a lot less childish or kiddie-centric than I initially thought it would be. The humor and jokes in the movie are mostly not juvenile in nature, and are often smart and meta, even breaking the fourth wall in many instances.
Following in the footsteps of recent movies like The Lego Movie 2 and Ralph Breaks The Internet, the movie acknowledges its animated counterpart, and in the process, doesn't take itself seriously. For example, the movie starts with a false opening, tricking us into thinking that the movie is a literal adaptation of the show, before revealing that it was all the product of a young Dora's overactive imagination.
Fans of the animated series will know that Dora usually breaks the fourth wall and talks with the viewer by looking at the screen. There's a moment earlier on in the movie that makes fun of this particular quirk of Dora's, showing us the first sign of a movie that's not afraid to make fun of its own source material.
There is one particular fully-animated sequence that is the highlight of the entire movie and worth the price of admission by itself. You have to see it to believe it, and you'll likely still be wondering how this scene could happen in a movie like this long after you've seen it.
Isabela Moner Is The Perfect Dora
Back when up-and-coming actress Isabela Moner (of Transformers: The Last Knight fame) was cast as Dora for this movie, many decried the decision, complaining that she was too old for the role of the bubbly and innocent child protagonist.
However, it's not uncommon for young adult actors to portray teenagers in movies, so why should this be any different? Her performance as Dora is incredible, nailing the ernest optimism and naivety of the character without being corny, hammy or cringeworthy. That's an amazing feat, as her mannerisms is as close to animated Dora as can be.
As for the rest of the cast, Michael Pena (Dora's father, Cole) is excellent as always and manages to make an impression despite the small role and few lines he's been given, while Eva Longoria is just sort of there as Dora's mother, Elena.
Viewers will spend most of their time with Diego (Dora's cousin as played by Jeff Wahlberg), as well as Dora's two friends/acquaintances from school, namely Randy (Nicholas Coombe) and Sammy (Madeleine Madden). Both of them are stereotypical caricatures, with Randy being the dork and Sammy being the overachieving mean girl.
I expected these supporting characters to simply be there for the ride and ultimately do nothing of consequence, but they all play a part by helping Dora in her adventure and essential in her coming-of-age story.
Fans won't be disappointed with Swiper and Boots, two of the non-human characters brought to life in the movie. Their CGI looks stylized and not hyper-realistic like the Pokemon in Detective Pikachu, which fits the tone of the movie. You'll definitely be pleasantly surprised to find out who voices these two characters.
Don't Be Fooled By The Trailers
Dora And The Lost City Of Gold does require suspension of disbelief. It is still a kid's movie after all. Certain elements like how no one bats an eye at the fact that Swiper the Fox can talk like a human being, despite none of the other animals in this world exhibiting the same vocal ability.
Don't be fooled by the movie's marketing or promotional trailers so far, as it is actually by far one of the unexpectedly good movies of 2019. Director James Bobin has crafted a movie that can be enjoyed by everyone, and one that fans with nostalgic memories of the original animated series can appreciate even more.
FINAL SCORE: 80/100
We received a special preview screening courtesy of United International Pictures. Dora And The Lost City Of Gold premieres in Malaysian cinemas on 8 August 2019.
---