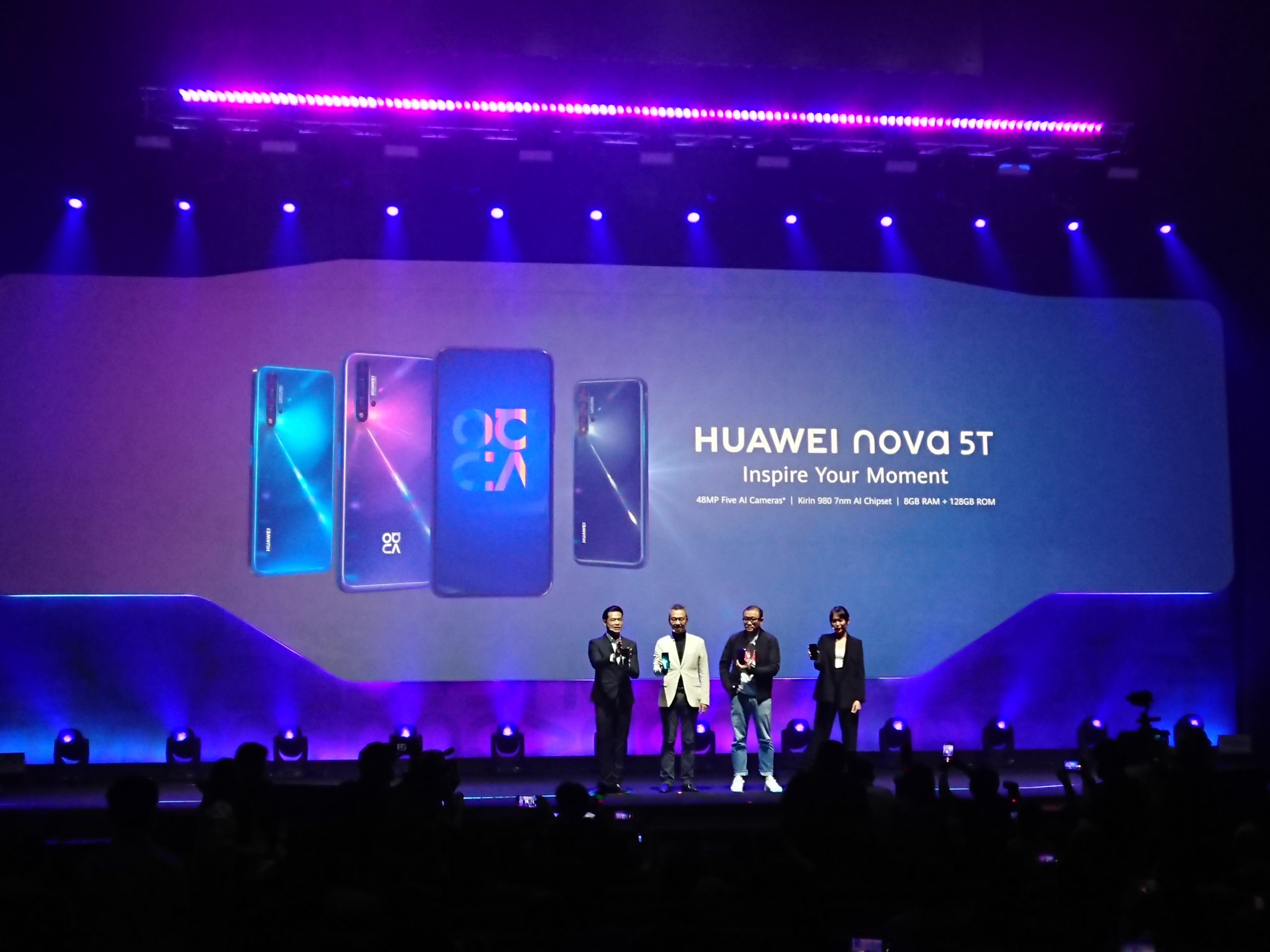 by in
We went to the Huawei Nova 5T global launching event at KLCC earlier today, where the Chinese tech giant unveiled the latest addition to its nova family of smartphones.
Gamers will appreciate the Do Not Disturb mode, which allows them to play games without having to worry about calls or other interruptions. In addition, the GPU Turbo 3.0 grants a stable and constant framerate during gameplay, as well as the ability to increase the FPS (framerate per second) up to an incredible 60 FPS.
This is made possible by the fact that the Huawei Nova 5T is powered by the world's first 7nm mobile AI chipset (and the company's flagship), the Kirin 980. This is further complemented by 8GB of RAM, 128GB of storage space, and a 3750mAH battery.
Plus, the new smartphone is also specially optimized for more than 25 games, including Mobile Legends, PUBG Mobile, Asphalt 9, Free Fire, Subway Surfers, and more.
Bhutanese esports personality and YouTuber Pinda Panda came out on stage to explain what makes the Huawei Nova 5T a potent gaming device. especially for other fellow streamers like her and professionals in the esports industry.
It also comes with a whopping five cameras, with Quad AI at its back (consisting of a 48MP main camera, 16MP ultra-wide camera, 2MP macro camera and 2MP depth camera) and a 32MP front selfie shooter.
Unfortunately, the Huawei Nova 5T doesn't have a Micro SD slot for expanded storage, which means that users will have to make do with the allotted 128GB.
It will be available for pre-order starting from 29 August 2019. Those who preorder between that date and 5 September 2019 will receive gifts worth up to RM325; including Huawei mini speakers and SuperCharge in-car charger.
Available in three gradient colours (Midsommer Purple, Crush Blue, and Black), the Huawei Nova 5T will be available for purchase starting from 7 September 2019 at a price of RM1599.
In addition, Huawei also revealed its latest tablet, the Huawei MediaPad M5 Lite. Featuring a Full HD IPS screen, ab octa-core processor, and quad stereo speakers by harman/kardon,, it is priced at RM1299.
In the meantime, you can get hands-on experience with the Huawei Nova 5T by visiting the locations at the times below:
Sunway Pyramid, Petaling Jaya – (3 August 2019 to 2 September 2019)
Paradigm Mall, Johor Bahru – (29 August 2019 to 2 September 2019)
Imago, Kota Kinabalu – (29 August 2019 to 1 September 2019)
The Spring, Kuching – (29 August 2019 to 1 September 2019)
KB Mall, Kota Bharu – (29 August 2019 to 31 August 2019)
Sunway Carnival Mall, Perai – (3 September 2019 to 5 September 2019)
In the meantime, check out more pictures from the event below.
---