My Southeast Asian Major 2019 Experience Pt. 1: The Esports Tour
Southeast Asia Major.
As a member of the Malaysian fighting game community for almost the past decade now, it seems like we've always acknowledged that SEAM is the biggest, most important annual fighting game tournament in our region.
Whether or not that will actually hold true in years to come remains to be seen, especially given the massive spectacle of a fighting game event that was this year's REV Major in the Philippines.
But as of this year, SEAM still holds the status of being the most important event in the region due to the fact that it plays host to the Capcom Pro Tour Asia regional finals, the Dragon Ball FighterZ World Tour and the Soul Calibur Asia League Finals (but strangely enough, not the Tekken World Tour).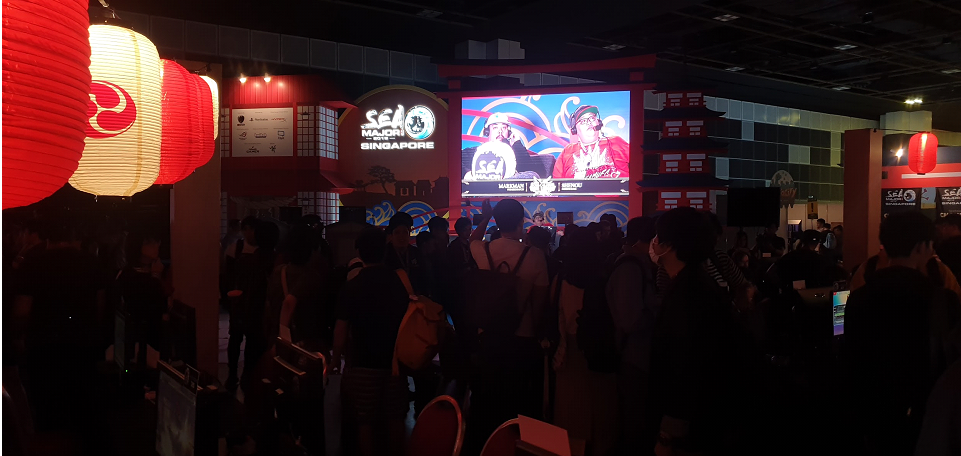 Naturally, the endorsement of SEAM by the developers and publishers of these games lends it a premier status and allows it to attract the best competitors from around the world as they have a greater incentive to travel and compete thanks to the larger prize pools and more importantly – the ranking points for their respective world tour finals.
As we've come to expect from SEAM, the pools from every game were stacked, as always, and all the games on offer had a decent turnout for their respective tournaments.
There was a ton of fighting game action going on over the weekend, so let's go game by game.
Street Fighter V: Japan Nation
This year's Street Fighter V Open Premier didn't bring in as many top western players as previous years, but the vast majority of top players from the Asia-Pacific was in attendance, minus a couple of notable Japanese players. Daigo. Tokido, Fuudo, Sako, Nemo, Bonchan, Itazan, the Denesis boys from Hong Kong, the Australian FGC, Yang Mian, Xiao Hai, Jiewa – they were all there.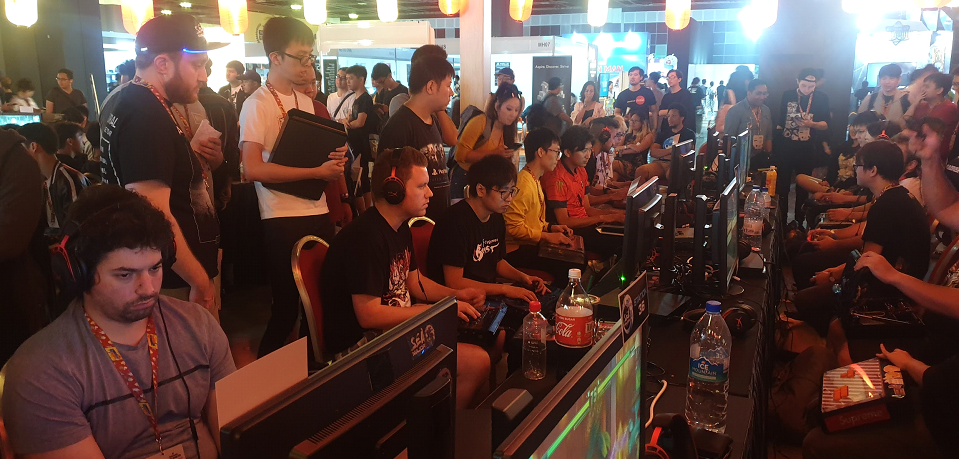 The brackets were an absolute nightmare for almost everybody involved. My second round opponent in pools would've been Bonchan, if he sent me to losers, my opponent would be whoever turned out to be the loser of a first round match between Itabashi Zangief and Tachikawa. I went 0-2 in record time – but at least I wasn't the only one.
Once I'd drowned in my pool, I went over to the other side of the SFV setups, peering between the shoulders of Tokido and Nemo, I saw my fellow Malaysian Kofmaster playing against his first opponent – StormKUBO. Kofmaster won 2-1 in an incredibly tight set. Kofmaster proceeded in to his second opponent, Saunic – a veteran player from Hong Kong who had just beaten Trashbox, the #1 ranked online player in SFV.
Trashbox and StormKUBO would have to play each other in the first round of losers in an elimination game. 1 of these 2 elite players was going to go 0-2. See, when the brackets are these stacked, it could happen to anyone. It happened to StormKUBO. Meanwhile, Kofmaster beat Saunic and what was his reward? A match against Fuudo that he had to win in order to qualify from pools.
I could go on at length about Kofmaster and Chuan's exploits. They fought valiantly against some of the toughest opponents in the Asia-Pacific, beating top players from Japan and Australia, but long story short – between the 3 Malaysians competing in the SFV Open Premier, not one of us made it out of pools. Then again, in a tournament where every single pool has at least 2 players that are good enough to be in the top 8 of EVO, no one can really be guaranteed to qualify out of pools.
Fuudo ended up breaking his 2nd place curse to win the Open Premier in clutch fashion, landing a hit confirm into super to close out the grand finals match against Gachikun in the last round of the last game while being one hit away from death and a bracket reset.
The next day we had the Asia regional finals, and Fuudo was close to being a champion on back to back days on the same weekend, but Tokido wouldn't have it, eliminating Fuudo in losers finals with an emphatic dash-up Raging Demon.
The grand final set of the Asia Finals tournament felt eerily similar to another major event that took place on our shores earlier this year – FV X SEAM 2019. Once again it was Fujimura vs Tokido with the latter fighting from the losers bracket. There was no bracket reset this time around, but Fujimura would beat Tokido once again in an extremely tense match.
And….that was it. There were no SFV or CPT related announcements after the match, and that was a wrap for SEAM 2019. Huh…
Dragon Ball FighterZ: A Battle Of Attrition?
Being a Tenkaichi event on the Dragon Ball FighterZ world tour, it's only natural that at least a handful of top international players would show up for this one.
The scale of this tournament wasn't quite on the level of SFV, but we still had some big names in attendance like Fenritti, BNBBN, Kazunoko, Apologyman, and a whole bunch of high-level players from the Japanese and SEA DBFZ community.
With this being an Asian event and GO-1 being notably absent, the elite Japanese players which we don't normally get to see much of in international events took full advantage to make the presence and skills known.
A presence so strong that it filled 7 of the top 8 slots with Japanese players, with the last slot taken by Xanxus from the Philippines – the lone SEA representative in top 8 of SEAM.

Needless to say, things didn't go well for him there.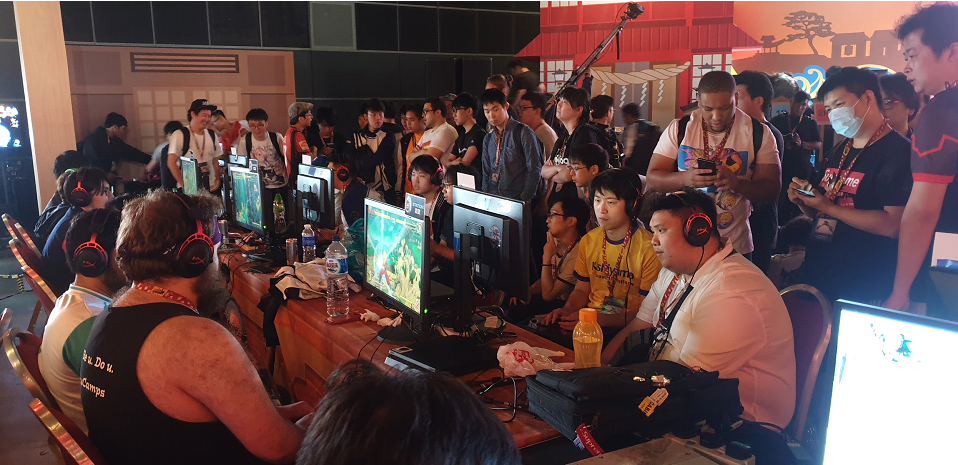 With all of the SEA representatives eliminated like supporting characters in your typical DBZ arc, the mood surrounding the DBFZ tournament was somewhat subdued. The fact that top 8 started at 9am on Sunday (before the event was even open to the public), might've also had something to do with that.
Still, if you're an honest fan of good, clean DBFZ tournament action, the DBFZ World Tour Tenkaichi event at SEAM was a decent showing, even if Fenritti's 3-0 win in grand finals was anti-climatic.
SoulCalibur VI: Singapore Justice Burns
Quite possibly the most stacked tournament at SEAM right next to SFV. With this tournament being the Soul Calibur Asia League finals, the winner would get a spot at the Soul Calibur World Invitational happening in November. As such, pools were packed with EVO finalist calibre players. Even the EVO Champion Yuttoto was there – sponsored to travel from Japan to Singapore by a community effort organised and partially funded by Shen Chan, Singapore's top player and the no.1 ranked player in the Soul Calibur Asia League.
The competition was so stacked that the EVO Japan champion: Keev, was unable to even make top 8 after travelling all the way from France to compete.
Yuttoto would end up winning the Soul Calibur tournament with Shen Chan coming in second place, but the biggest story of this tournament wasn't the result, but the aftermath.
Yuttoto was already qualified for the Soul Calibur World Invitational, and by winning Asia League finals at SEAM, he had unknowingly gatekept Shen Chan from getting the spot in the World Invitational. The Soul Calibur World Invitational organisers had failed to communicate the rules clearly beforehand, and as such, it was only revealed on stream during the top 8 of the tournament that if a player who was already qualified for the World Invitational won the Asia League finals, then the qualifying spot for the World Invitational would actually go to the winner of a last chance qualifier rather than being given to the first runner up, who was Shen Chan.
There has been a huge outcry from the Soul Calibur community on Twitter who have been using the hashtag #justiceforshenchan in order to draw attention to the injustice caused by this rule, with dozens of notable players and community members chiming in. As a result, Bandai Namco has made an official announcement that they will be reversing their initial decision and will be allocating the World Invitational spot to Shen Chan.
Truth be told, there really isn't a more deserving player than Shen Chan to represent Asia in the Soul Calibur World Invitational. He's the highest-ranked player in the Soul Calibur Asia League, a brilliant community leader who has done a lot to build the Soul Calibur scene in his region, and a highly skilled player who finished in 2nd place at EVO Japan and 5th place at EVO this year.
Shen Chan will definitely be a brilliant competitor to have at the Soul Calibur World Invitational to represent both the SEA FGC and the international Soul Calibur scene as a whole. Credit goes to the SCVI community for expressing their support for Shen Chan, and to Bandai Namco Esports for taking the community's feedback into account and acknowledging the shortcomings of the previous rules!
That's it for part 1 of our retrospective/recap! Head here for part 2 where we'll be covering the remaining games that made up the more community-driven side of SEAM 2019!
Top image credit: Resurgence