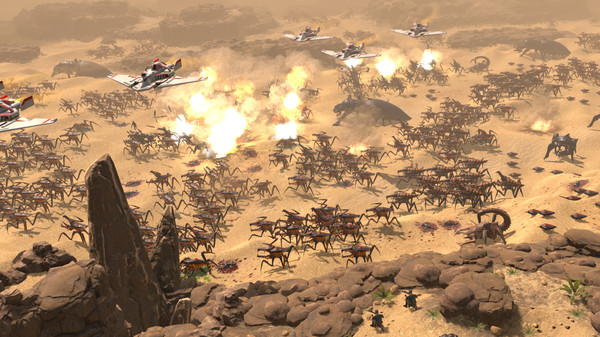 by in
The Starship Troopers franchise has long fizzled out into straight-to-video obscurity after the success of Paul Verhoeven's Starship Troopers movie in 1997. The first movie was the only one that barely managed to capture the satirical and sardonic tone of the original novel by Robert A. Heinlein. Obsidian Entertainment's recent The Outer Worlds is probably a better adaptation, but I digress.
Developer The Artistocrats is currently working on Starship Troopers – Terran Command, an RTS game with a mix of classic RTS elements and tower defence. The Belgian studio is best known for the Order of Battle series and Commander: The Great War.
According to the official announcement by publisher Slitherine, The Artistocrats studio owner and lead designer Lukas Nijsten has developing Starship Troopers – Terran Command for more than two years.
Speaking with Polygon, Slitherine development director Iain McNeil said:
"We aimed to capture the essence of the original movie and its universe.

This is not only achieved by creating a coherent set of units and scenarios, but also by mimicking the language, visual elements, dialogues, and the little details that made the film such an iconic, cult feature."
Starship Troopers – Terran Command is slated to release for the PC sometime in 2020. In the meantime, check out the gameplay trailer below.
---